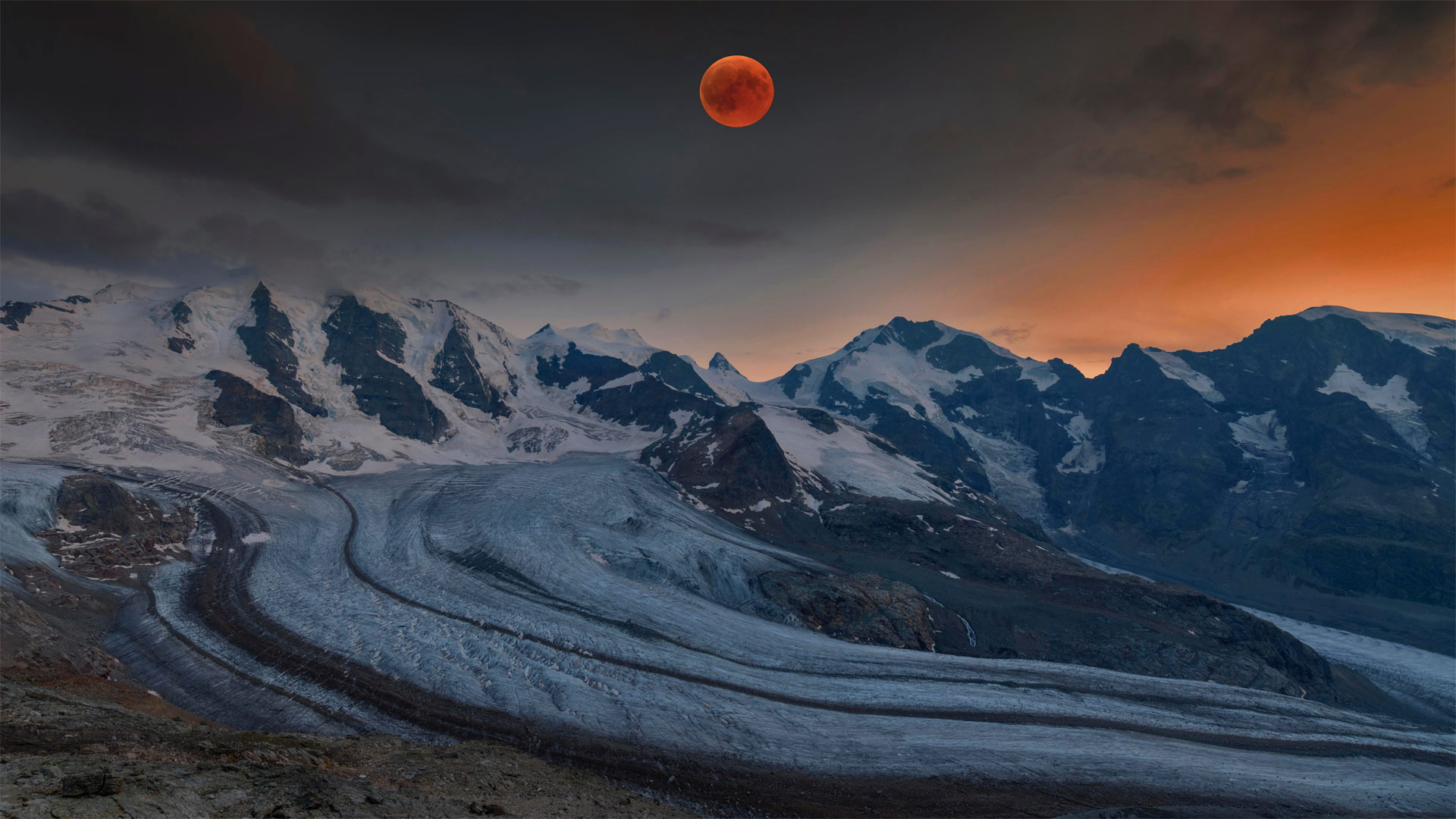 贝尔尼纳山脉和血月,瑞士 Panoramic view of the Bernina Range with blood moon, Eastern Alps, Engadin, Switzerland (© Bernd Zoller/Shutterstock)
准备迎接血月 Get ready for the blood moon
Lunar eclipse
If you're lucky enough to find yourself under a cloudless sky tonight, you'll be able to see one of our solar system's great wonders, a full lunar eclipse, also known as a 'blood moon.' The spooky nickname derives from the reddish hue the moon takes on when Earth casts its shadow upon it. Featured here is a blood moon over the Swiss Alps. A full lunar eclipse occurs when the Earth and moon align perfectly with the sun, and the moon falls directly behind Earth's shadow. When Earth falls behind the Moon's shadow, a solar eclipse occurs.

While total eclipses of the sun get more attention and make a more dramatic entrance, total lunar eclipses are majestic in their own right and are much more user-friendly. For one, you can look directly at a total lunar eclipse without any worry of harming your eyes. And they're viewable by far more people than solar eclipses. That's because a total lunar eclipse can last for hours, while solar eclipses last just a few minutes. In addition, lunar eclipses are viewable anywhere on the nighttime side of the world while total solar eclipses occur only within a narrow longitude on the planet.

Tonight's lunar eclipse coincides with the Flower Moon, the full moon of every May. It can be seen from Europe, Africa, and parts of Asia, but is best viewed from North and South America. While not exactly rare, total lunar eclipses don't occur too often, and even when they do, they can be hidden by cloud cover. If you miss tonight's blood moon, you'll get a second chance this year in November. Your next chance after that will be in three years, so you might want to plan to stay up late tonight.
月食
如果你足够幸运,今晚能在万里无云的天空下发现自己,你将能够看到我们太阳系的一大奇迹,月全食,也被称为"血月"这个令人毛骨悚然的绰号源于当地球把它的影子投射到月球上时,月球呈现出的微红色。这里的特色是瑞士阿尔卑斯山上的血月。当地球和月球与太阳完全对齐,月球直接落在地球阴影后面时,就会发生月全食。当地球落在月球的阴影后面时,就会发生日食。
虽然日全食得到了更多的关注,并做出了一个更引人注目的入口,但月全食本身就很壮观,而且更方便用户使用。首先,你可以直接看到月全食,而不用担心会伤害你的眼睛。比起日食,人们能看到的人要多得多。这是因为月全食可以持续数小时,而日食只持续几分钟。此外,月食在世界夜间的任何地方都可以看到,而日全食只发生在地球上一个狭窄的经度范围内。
今晚的月食与每年五月的满月——花月重合。从欧洲、非洲和亚洲部分地区都可以看到它,但从北美和南美看得最好。虽然并不十分罕见,但月全食并不经常发生,即使发生,也可能被云层掩盖。如果你错过今晚的血月,你将在今年11月获得第二次机会。之后的下一次机会是三年后,所以你可能想今晚熬夜。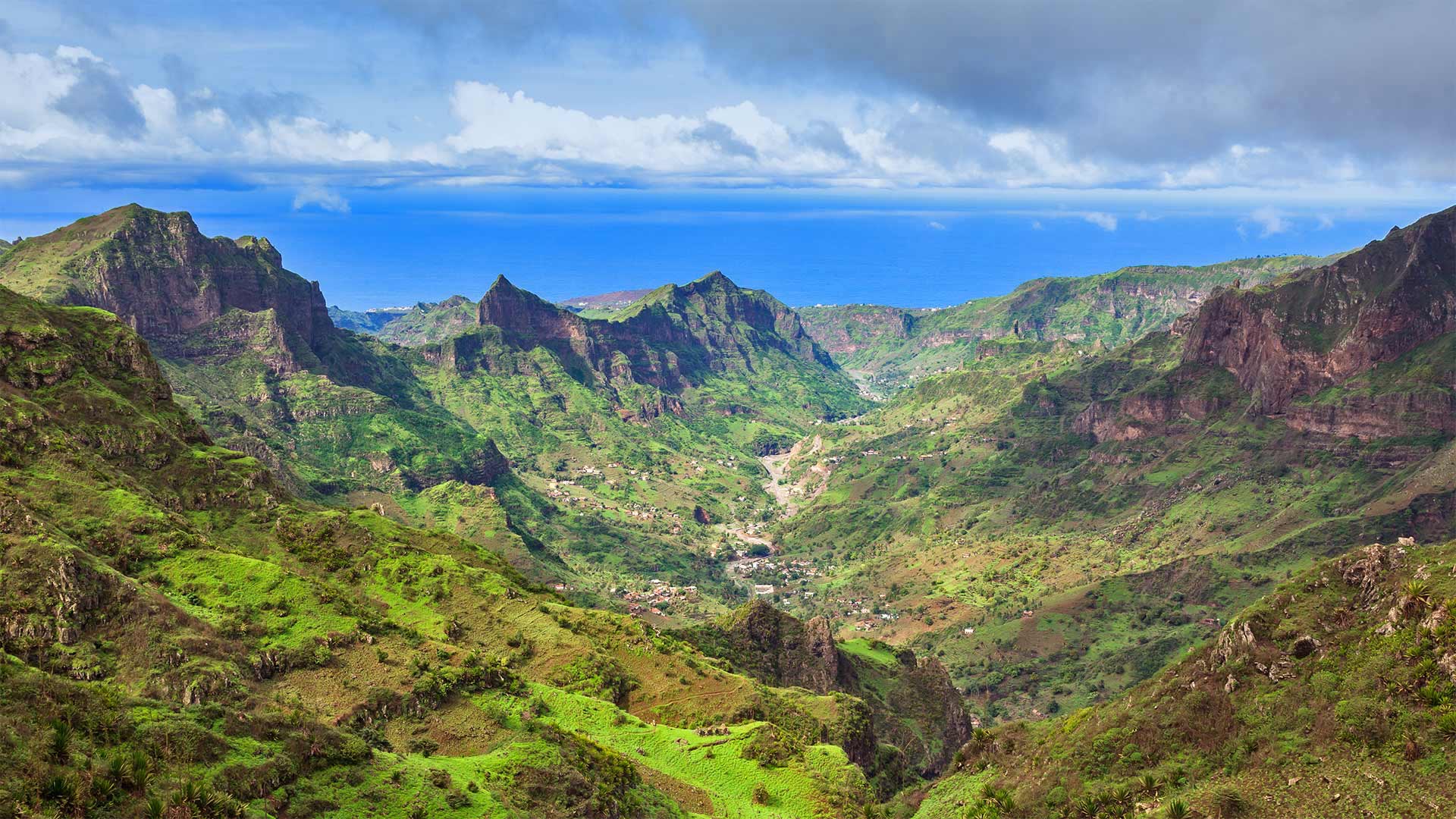 Serra da Malagueta山脉,佛得角圣地亚哥岛 Serra da Malagueta mountains on Santiago Island, Cabo Verde (© Samuel Borges Photography/Shutterstock)
How green is my valley
Cabo Verde ('Green Cape') celebrates its independence today. Located about 350 miles off the western coast of Africa, the country consists of 10 volcanic islands. We're looking at the Serra da Malagueta mountain range in the northern part of the island of Santiago, which is protected as a national park. At nearly 3,500 feet, it's the highest point of northern Santiago and offers views of nearby Fogo and Maio islands, as well as diverse plants and wildlife.

The islands that make up Cabo Verde were uninhabited by people until they were colonized by Portuguese explorers in the 15th century. They remained in Portuguese control until gaining independence on July 5, 1975. Since the 1990s, Cabo Verde has been regarded as one of the most stable democracies in Africa and has steadily developed an economy based largely on tourism.
我的山谷有多绿
佛得角今天庆祝独立。这个国家位于非洲西海岸350英里外,由10个火山岛组成。我们看到的是圣地亚哥岛北部的塞拉-达-马拉盖塔山脉,它被保护为国家公园。在接近3500英尺的地方,它是圣地亚哥北部的最高点,可以看到附近的福戈岛和迈奥岛,以及各种各样的植物和野生动物。
构成佛得角的岛屿在15世纪被葡萄牙探险家殖民之前,一直无人居住。自1990年代以来,佛得角一直被视为非洲最稳定的民主国家之一,并稳步发展了以旅游业为主的经济。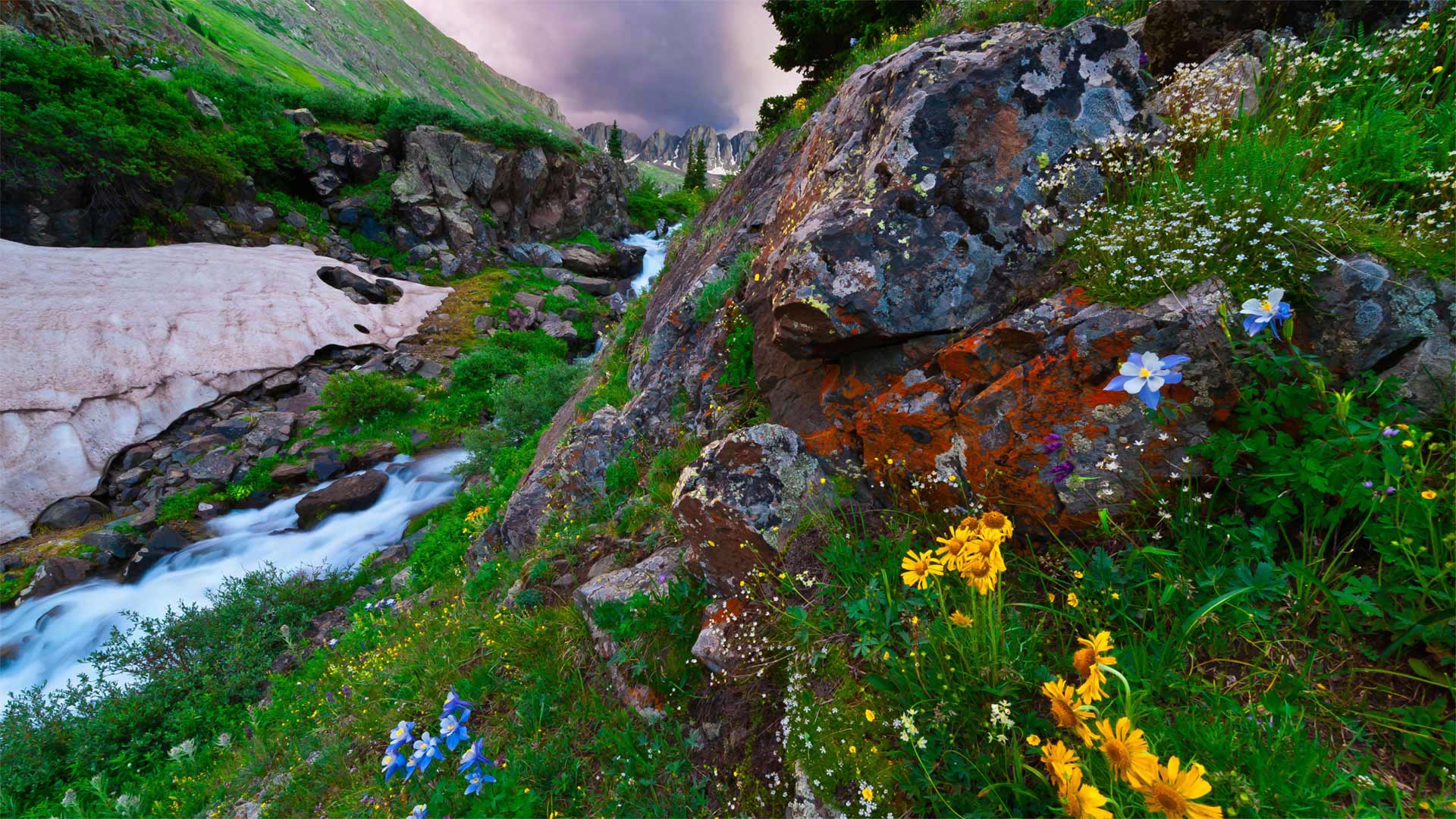 位于科罗拉多南部圣胡安山脉的美国盆地 American Basin in southern Colorado's San Juan Mountains (© Blaine Harrington III/Alamy)
High alpine color in Colorado
Songstress Dolly Parton once sang 'wildflowers don't care where they grow,' but we gotta believe the wildflowers growing in Colorado's American Basin, shown here, are pretty delighted with their surroundings. American Basin is in the San Juan Mountains in the southern part of the state, about a 5-hour drive from Denver. Visitors here will find rocky cliffs, streams, unique rock formations, and some spectacular wildflowers. July and August are the best time to see the blooms—it's the time of year when you'll reliably spot the Rocky Mountain columbine (Colorado's state flower), elephant's head, Parry's primrose, and marsh marigold. Bring us back a bouquet, all right?