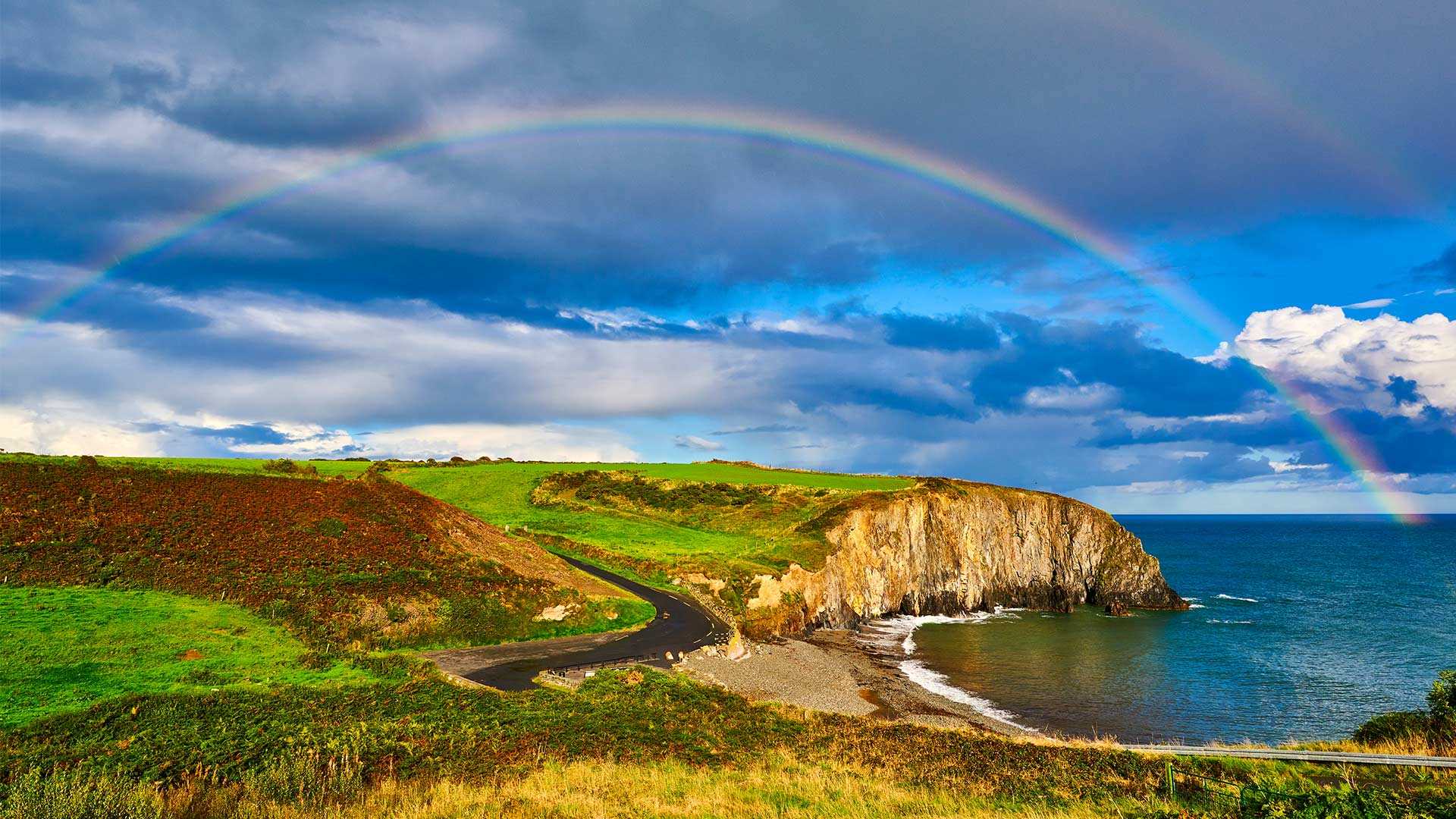 ballyvooney海岸,科佩海岸地质公园,爱尔兰 Ballyvooney Cove, Copper Coast Geopark, Ireland (© Andrea Pistolesi/Getty Images)
彩虹的尽头 Where the rainbow ends
圣帕特里克节
准备好迎接三叶苜蓿、游行和所有绿色的东西吧,因为今天是圣帕特里克节。这个节日起源于1000多年前的爱尔兰,但如今该节日已渐渐成为许多国家共同的节日。圣帕特里克节,也被称为"绿帽子节",是为了纪念爱尔兰守护神圣帕特里克。
今天这张照片拍摄于科佩海岸地质公园,这是联合国教科文组织评选出的世界地质公园之一,位于爱尔兰东南海岸。该地区拥有众多文化和历史遗迹,包括铁器时代的堡垒、刻有文字的石头以及中世纪的教堂废墟。19世纪,这里曾开采过铜矿(copper),科佩(copper)海岸也因此得名。
St. Patrick's Day
Get ready for shamrocks, parades, and all things green, because today is St. Patrick's Day. Many countries around the world recognize the holiday, but the first celebration was in Ireland more than 1,000 years ago. St. Patrick's Day, also known as the Feast of Saint Patrick, is both a cultural and religious celebration recognizing Saint Patrick himself, an Irish, 5th century Christian missionary and bishop.
This view is of Copper Coast Geopark, a UNESCO Global Geopark on the southeast coast of Ireland. The area also boasts a rich cultural heritage, and is dotted with numerous historical sites, including Iron Age forts, inscribed stones, and ruins of medieval churches. This magnificent stretch of undulating cliffs and sandy coves is named after the 19th century copper mines that once operated there.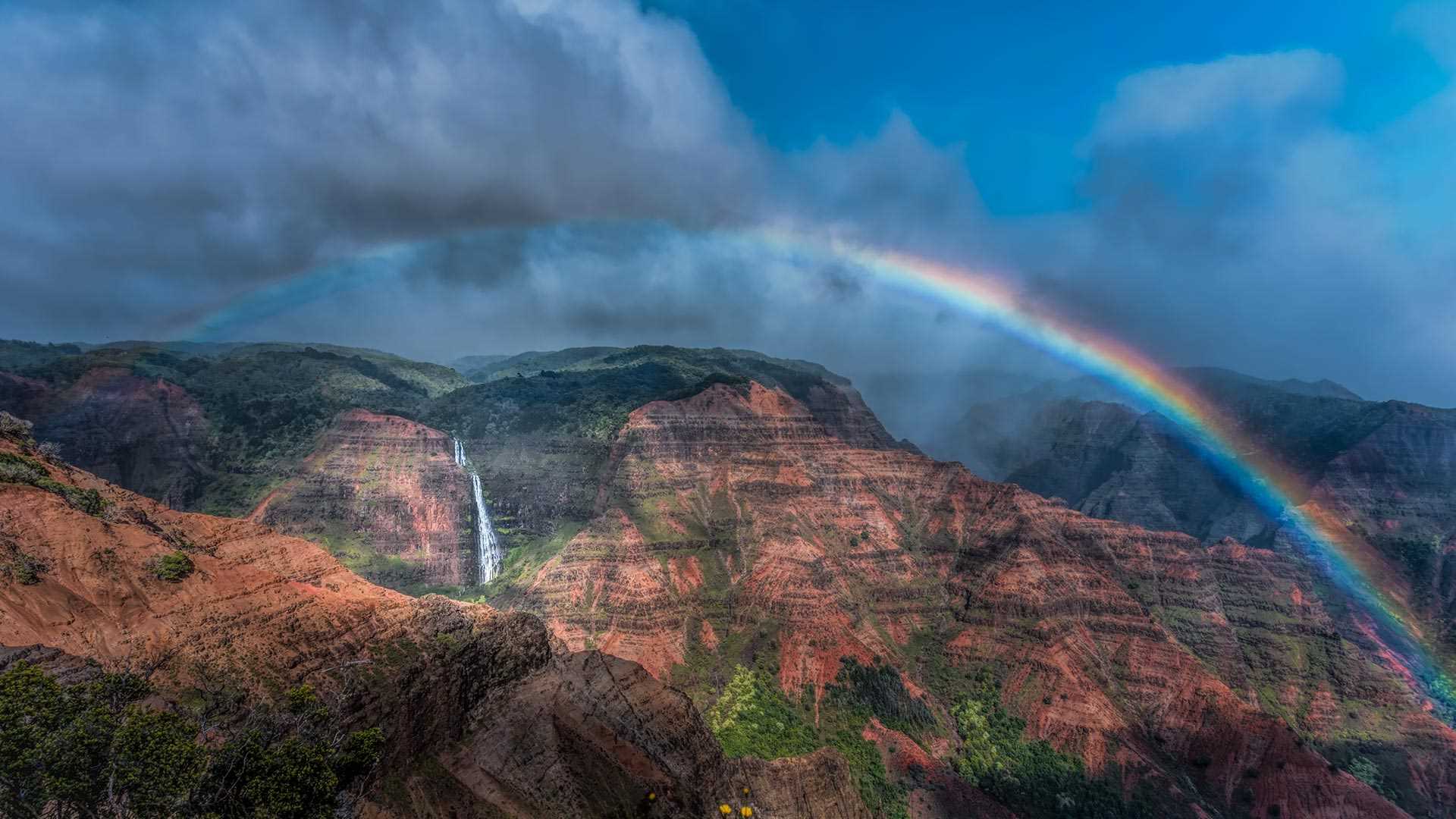 威美亚峡谷和怀波奥瀑布上空的彩虹, 考艾岛, 夏威夷, 美国 Rainbow over Waimea Canyon and Waipo'o Falls, Kauai, Hawaii (© Beverley Van Praagh/Getty Images)
雨后见彩虹 A rainbow that's worth the rainfall
威美亚峡谷上空的彩虹,夏威夷
威美亚峡谷被誉为"太平洋大峡谷",是风景如画的怀波奥瀑布所在地。瀑布和峡谷河流的源头来自地球上降雨量最多的地方之一怀厄莱阿莱峰。大约400万年前,考艾岛火山坍塌了一部分,形成了一个洼地,随着威美亚河流的不断侵蚀,洼地逐渐变成了如今的威美亚峡谷。考艾岛地形多变,风景各不相同,如果你想探寻考艾岛的多样性,可以离开海滩,沿着蜿蜒的550高速公路进入山区,在到达怀波奥瀑布观景台之前,你会在沿途收获海岸和峡谷的壮丽景色。
Waimea Canyon and Waipo'o Falls, Kauai, Hawaii
Waimea Canyon, sometimes referred to as the Grand Canyon of the Pacific, is home to the picturesque Waipo'o Falls. The water that flows through the falls and canyon descends from Mount Wai'ale'ale, one of the rainiest places on Earth. Around 4 million years ago, a portion of the volcanic Kaua'i collapsed, creating a depression that the Waimea River has further eroded into today's canyon. If you want to see the true variety of Kauai, leave the beach behind and take winding State Route 550 into the mountains. Along the way you will see stunning views of the shore and the canyon before arriving at the lookout for Waipo'o Falls.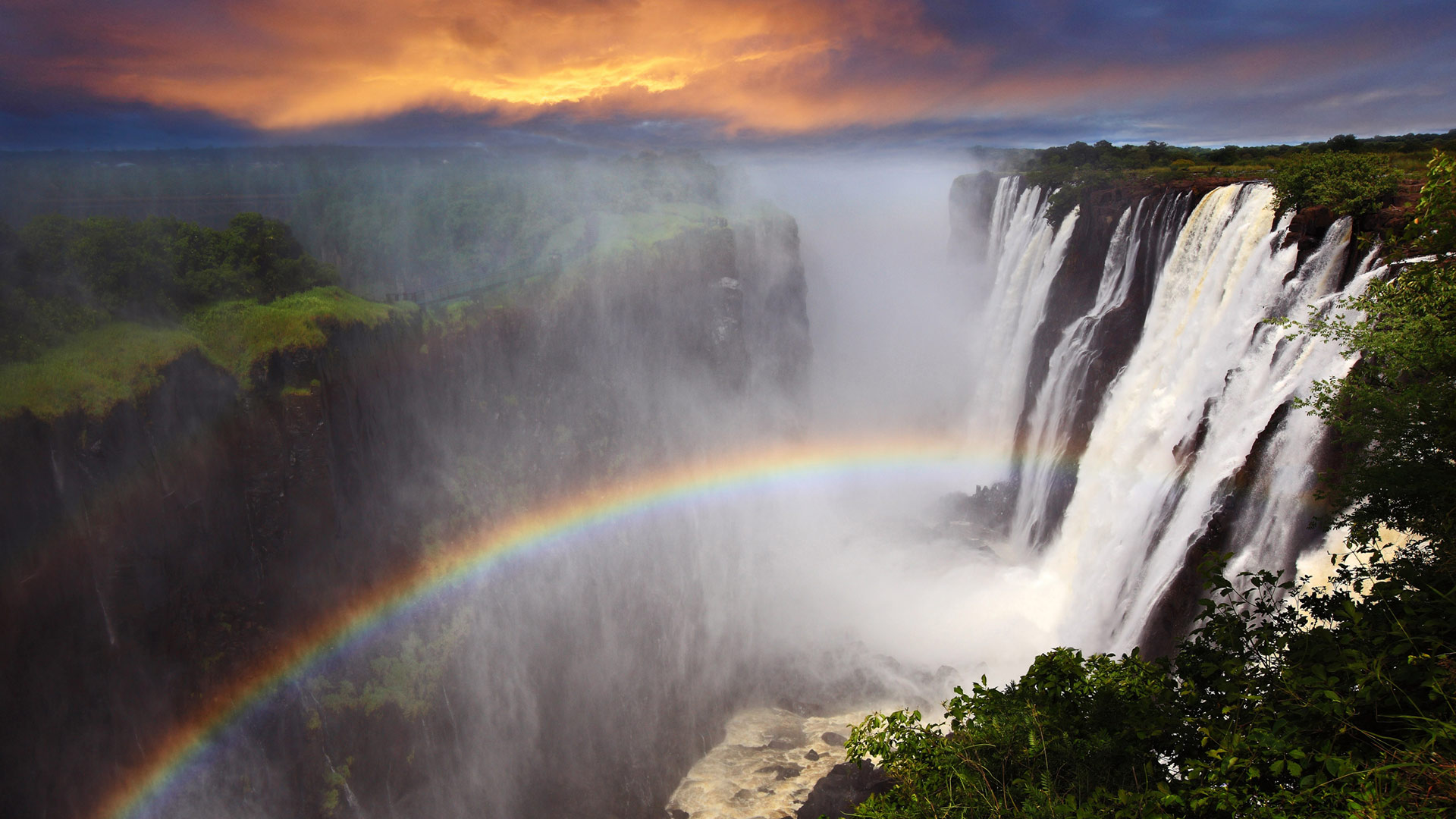 维多利亚瀑布上的彩虹,赞比亚 Rainbow at Victoria Falls in Zambia (© Dietmar Temps/Shutterstock)
The rainbow connection
April showers bring rainbows, and on April 3, the celebration of Find a Rainbow Day. The rainbow shown here is at Victoria Falls in southern Africa on the Zambezi River, on the border between Zambia and Zimbabwe. Scottish explorer David Livingstone named the falls in honor of Britain's Queen Victoria, though it's also still called by its indigenous Lozi language name, Mosi-oa-Tunya, which means 'the smoke that thunders.' According to some historical records, local villagers described the falls to Livingstone as 'Seongo' or 'Chongwe,' which means 'The Place of the Rainbow,' since rainbows usually appear in the fall's constant spray. Under a bright moon, the falls will produce a 'moonbow.'

French philosopher and scientist René Descartes did some of the first studies of optics and rainbows around 1637--but no one at the time understood where the colors came from. In 1666, Isaac Newton explained that sunlight is really a mixture of the colors of the rainbow: red, orange, yellow, green, blue, indigo, and violet.