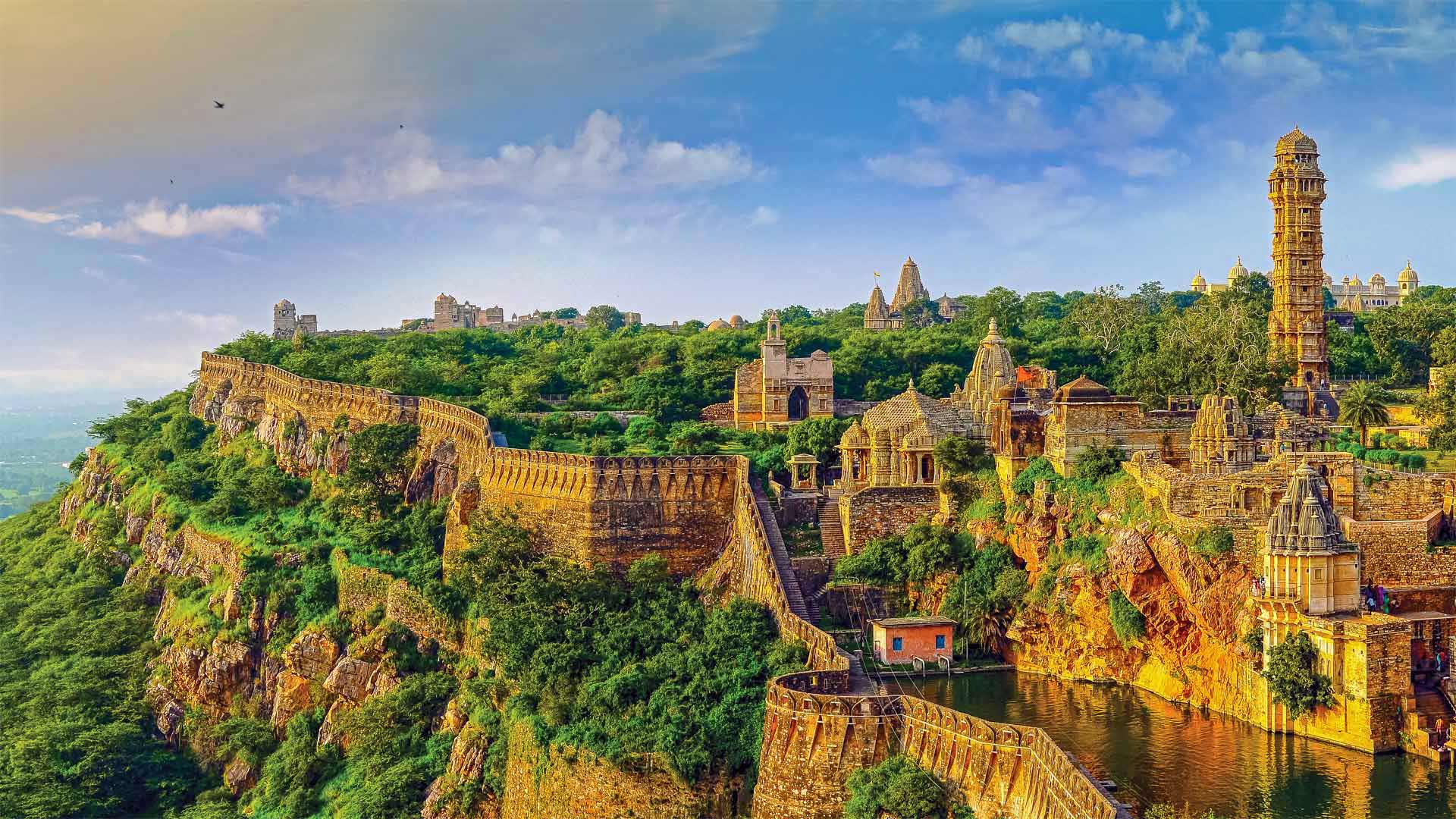 奇陶尔加尔堡,印度 Chittorgarh Fort, India (© Anand Purohit/Getty Images)
Chittorgarh Fort Rajasthan India
At 8 miles in circumference, the Chittorgarh Fort is one of the largest forts in India, a nation with scores of ancient and medieval fortresses. For starters there are seven massive gates from which to enter. Inside you'll find four palaces and 19 temples. At one time there were almost 100 bodies of water, most of them ponds fed by natural catchment and rainfall, although now there are only 20. Chittorgarh ('garh' means 'fort,' so it's also known as Chittor Fort) is so old, no one is sure exactly when it was built, although reports of its earliest capture go back to the 8th century. It is one of a cluster of six large forts in the northwestern state of Rajasthan referred to as the Hill Forts of Rajasthan, all of them collectively designated a UNESCO World Heritage Site. We're featuring this important and ancient complex on India's 75th Independence Day, one of India's three national holidays.

On August 15, 1947, India officially broke free of Great Britain and became a sovereign and democratic nation with the speedy passage of the Indian Independence Act. The paperwork might have been fast, but the struggle for independence from British rule lasted 90 years and cost many Indian lives. The British controlled the Indian subcontinent for nearly 200 years, after winning the decisive Battle of Plassey in 1757. The victory allowed the English East India Company to eventually exercise control over most of the rest of the Indian subcontinent, Burma, and Afghanistan. East India remained the supreme authority in India for a century until 1857 when a massive rebellion by civilians and Indian soldiers against the company was suppressed, resulting in direct British rule, referred to as the British raj.

The ensuing decades saw the formation of the Indian National Congress, the rise of Indian nationalism, various armed rebellions, and many acts of civil disobedience led by Mahatma Gandhi and others, before independence was finally achieved. While India as we know it is still a very young nation, the Chittor Fort reminds us the land and people that created modern India have endured and thrived for millennia.
奇托加尔要塞周长8英里,是印度最大的要塞之一,该国拥有数十座古代和中世纪要塞。首先,有七扇巨大的大门可以进入。里面有四座宫殿和19座寺庙。曾经有近100个水体,其中大部分是由自然集水和降雨形成的池塘,尽管现在只有20个。奇托加尔(Chittorgar,意为"堡垒",所以也被称为奇托堡)非常古老,没有人确切知道它是何时建成的,尽管关于最早捕获的报道可以追溯到8世纪。它是西北部拉贾斯坦邦的六座大型堡垒群之一,被称为拉贾斯坦山的希尔堡垒,所有这些堡垒都被联合国教科文组织列为世界遗产。在印度的第75个独立日,印度的三个法定假日之一,我们将展示这座重要而古老的建筑群。
1947年8月15日,随着《印度独立法》的迅速通过,印度正式脱离英国,成为一个主权民主国家。文书工作可能很快,但脱离英国统治的独立斗争持续了90年,夺走了许多印度人的生命。1757年,英国人在普拉西决定性战役中获胜后,控制了印度次大陆近200年。这场胜利使英国东印度公司最终控制了印度次大陆的大部分其他地区,缅甸和阿富汗。一个世纪以来,东印度一直是印度的最高权力机构,直到1857年,平民和印度士兵对该公司的大规模叛乱被镇压,导致英国直接统治,称为英国统治。
随后的几十年见证了印度国民大会的成立、印度民族主义的兴起、各种武装叛乱以及圣雄甘地等人领导的许多公民不服从行为,最终实现了独立。虽然我们所知的印度仍然是一个非常年轻的国家,但奇托堡提醒我们,创造现代印度的土地和人民已经忍受并繁荣了数千年。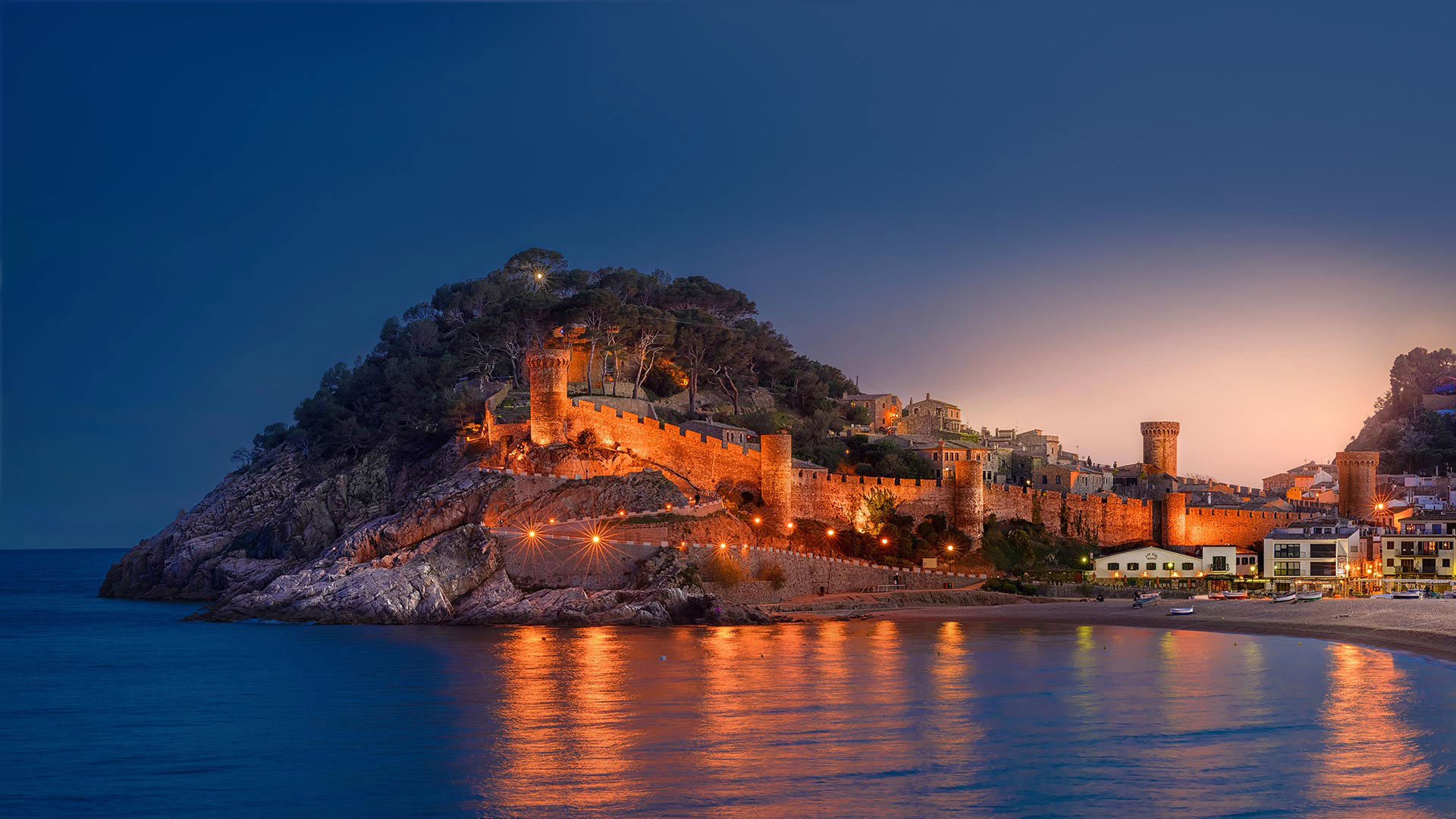 由中世纪的城墙包围着的市镇,西班牙滨海托萨 The medieval walled town in Tossa de Mar, Catalonia, Spain (© dleiva/Alamy)
Blue paradise on the Costa Brava
On Spain's Costa Brava, about 45 miles north of Barcelona, lies a perfectly preserved medieval town just beyond the enceinte (stone wall) you see curving up the hillside. La Vila Vella (The Old Town) blends with the more modern, larger city of Tossa de Mar. Here, the 21st century melds beautifully with the 14th.

Modern hotels are just out of the camera's viewfinder. Visitors can spend their days sunbathing on the beach, diving in the sea or strolling La Vila Vella's narrow, winding streets past centuries-old architecture. Just beyond the defensive walls is the deep blue sea. It was this view that inspired French painter Marc Chagall to nickname Tossa de Mar 'blue paradise.' In fact, Tossa de Mar has long been a haven for artists. Actress Ava Gardner loved the town so much while making two movies there in the '50s that the town has erected a statue in her memory.
布拉瓦海岸蓝色天堂
在西班牙的布拉瓦海岸,巴塞罗那以北大约45英里,坐落着一个保存完好的中世纪城镇,就在你看到的蜿蜒的山坡上。拉维拉维拉(老城区)与更现代化、更大的城市托萨德马尔融合在一起。在这里,21世纪与14世纪完美融合。
现代化的旅馆就在照相机的取景器外。游客可以在沙滩上晒日光浴,在海里潜水,或者漫步在拉维拉维拉的狭窄蜿蜒的街道上,这是一座古老的建筑。就在防御墙的后面是深蓝色的大海。正是这种观点启发了法国画家马克·夏加尔给托萨德马尔起了一个绰号"蓝色天堂"。事实上,托萨德马尔长期以来一直是艺术家的天堂。女演员艾娃·加德纳(Ava Gardner)在50年代拍摄两部电影时非常喜欢这个小镇,以至于小镇在她的记忆中竖起了一座雕像。