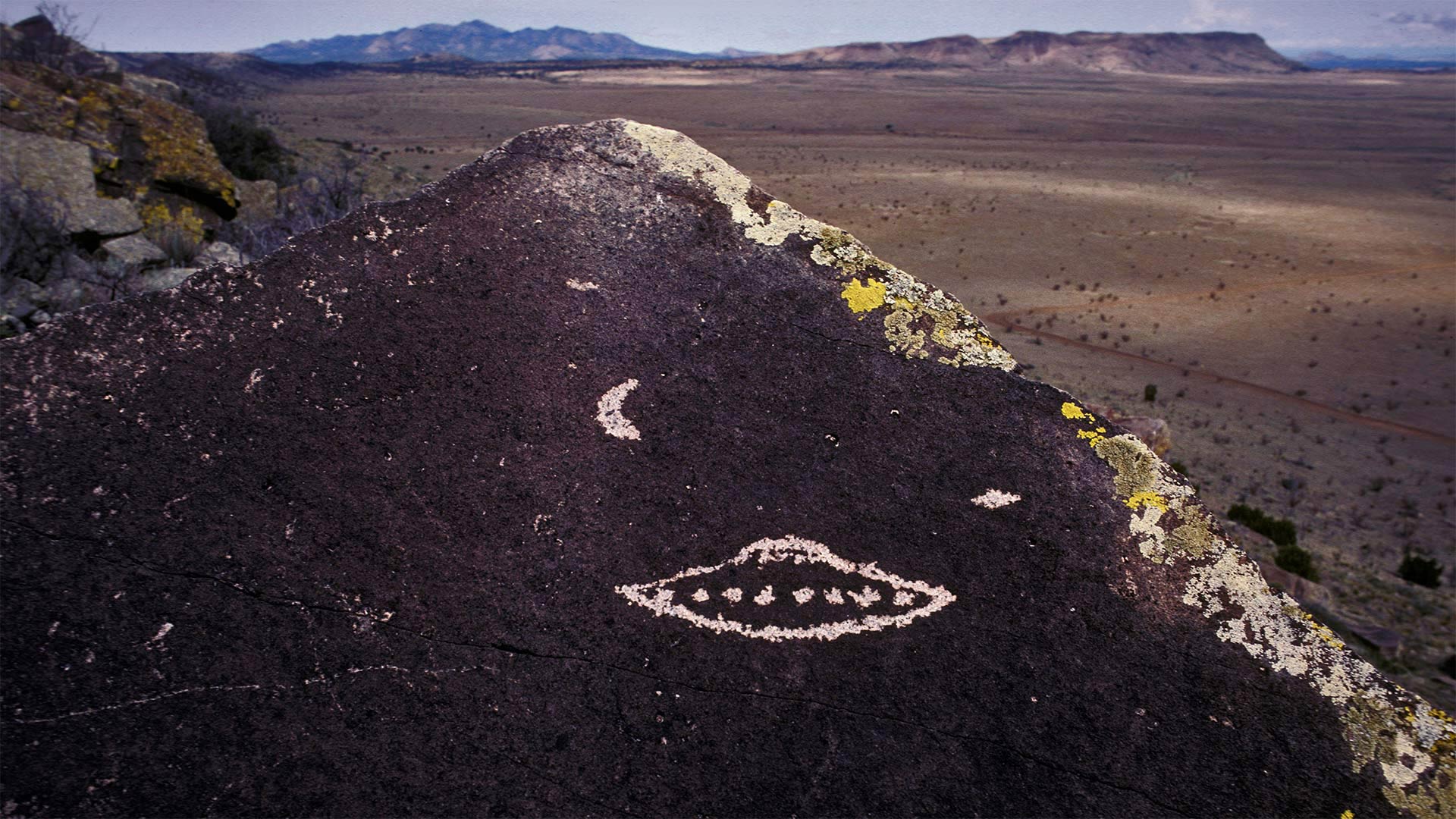 圣达菲附近的岩石艺术, 新墨西哥州 Rock art near Santa Fe, New Mexico (© Scott Warren/Cavan)
真相就在那里,但不是在这块石头上 The truth is out there…but not on this rock
Graffiti near Santa Fe, New Mexico
Evidence of ancient aliens? Nah, more likely the etchings of a prankster hiker. Though Pueblo cultures here in northern New Mexico made pictographs in this style several centuries ago, there's no evidence they were depicting extraterrestrials. But don't get us wrong: We want to believe.

Today is Extraterrestrial Culture Day, a holiday that enjoys official status in New Mexico thanks to the 'Roswell incident' of 1947. Depending who you ask, the metallic wreck found on a remote ranch in New Mexico one July morning was either a weather balloon, a top-secret military device disguised as a weather balloon, or a bona fide alien craft. Whatever the truth, the nearby town of Roswell has gone all-in on UFO lore. It's home to numerous UFO-themed attractions, chief among them the International UFO Museum and Research Center.
古代外星人的证据?不,更像是恶作剧徒步旅行者的蚀刻。虽然新墨西哥州北部的普韦布洛文化在几个世纪前就以这种风格制作了象形文字,但没有证据表明它们描绘了外星人。但不要误解我们:我们想要相信。
今天是外星文化日,由于1947年的"罗斯韦尔事件",这个节日在新墨西哥州享有官方地位。7月的一天早上,在新墨西哥州一个偏远的牧场上发现的金属残骸,要么是一个气象气球,要么是伪装成气象气球的绝密军事设备,要么是一艘真正的外星人飞船。不管真相是什么,附近的罗斯韦尔镇已经完全沉浸在UFO的传说中。这里有许多以UFO为主题的景点,其中最主要的是国际UFO博物馆和研究中心。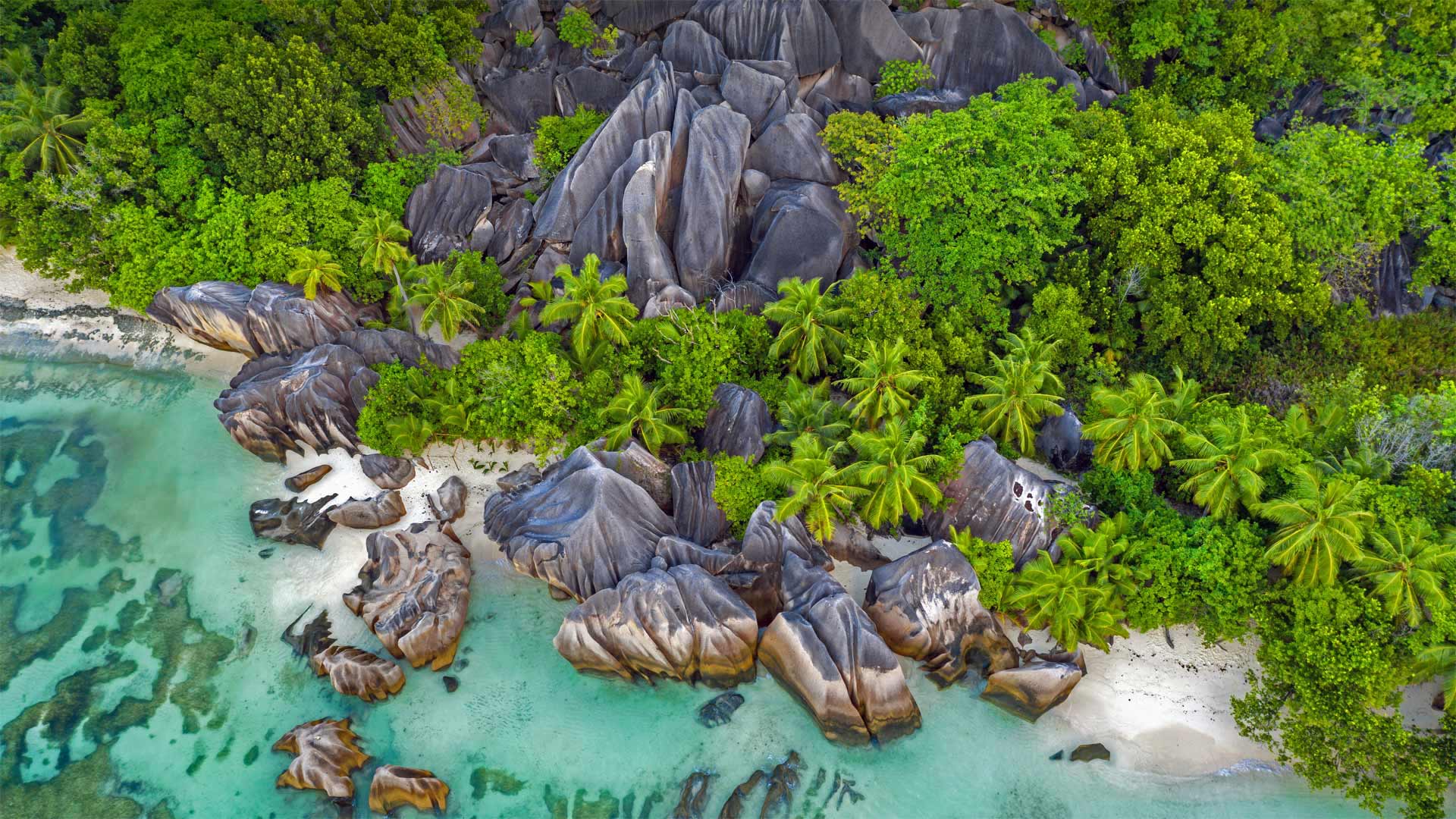 拉迪格岛德阿让海滩上的岩石,塞舌尔 Rocks on Anse Source d'Argent beach, La Digue Island, Seychelles (© Roland Gerth/eStock Photo)
An island hopper's paradise
Welcome to the sunny and sultry Seychelles, a tropical island nation just south of the equator in the Indian Ocean, roughly 900 miles off the eastern coast of Africa. The gorgeous beach you see here is the Anse Source d'Argent on the island of La Digue, one of 115 islands that make up this tropical republic. Anse Source d'Argent has long been a favorite of photographers, who are drawn to its contoured, dark granite boulders, pristine white sand, and turquoise-colored water. Beachcombers and sun worshippers also flock to the Seychelles because of the islands' consistently great weather—daily high temperatures almost always stay within a comfortable range of between 75 and 90 degrees Fahrenheit all year round.

Most any day is a day worth celebrating in the Seychelles, but today is cause for double celebration: June 29 is Independence Day in the Seychelles, commemorating the nation's 1976 independence from centuries of colonial rule under the French and British. It also happens to be the UN's International Day of the Tropics, a day of special recognition for the Seychelles and other locales within the zone between the tropics of Cancer and Capricorn. That accounts for about 36% of Earth's land mass and close to 40% of its population. The intent of International Day of the Tropics is twofold: as a celebration of the extraordinary diversity of this zone while also highlighting the challenges facing the region, like poverty, climate change, deforestation, urbanization, and demographic shifts.
岛上的天堂
欢迎来到阳光明媚、闷热的塞舌尔,这是一个热带岛国,位于印度洋赤道以南,距非洲东海岸约900英里。你在这里看到的美丽海滩是位于拉迪格岛上的安塞岛,它是组成这个热带共和国的115个岛屿之一。安塞源d'Argent一直是摄影师的最爱,他们被它的轮廓,黑色花岗岩巨石,原始的白色沙子,和绿松石色的水所吸引。由于塞舌尔群岛持续的好天气,海滩梳洗者和太阳崇拜者也蜂拥而至,每天的高温几乎全年都保持在75到90华氏度的舒适范围内。
在塞舌尔,任何一天都是值得庆祝的日子,但今天都是值得双重庆祝的日子:6月29日是塞舌尔的独立日,纪念1976年塞舌尔从法国和英国统治下几个世纪的殖民统治中独立出来。这一天恰巧是联合国的国际热带日,塞舌尔和其他位于北回归线和摩羯座之间地区的地区受到特别的表彰。占地球陆地面积的36%,人口的40%。国际热带日的目的有两个:一是庆祝该地区的非凡多样性,同时也强调该地区面临的挑战,如贫困、气候变化、毁林、城市化和人口变化。