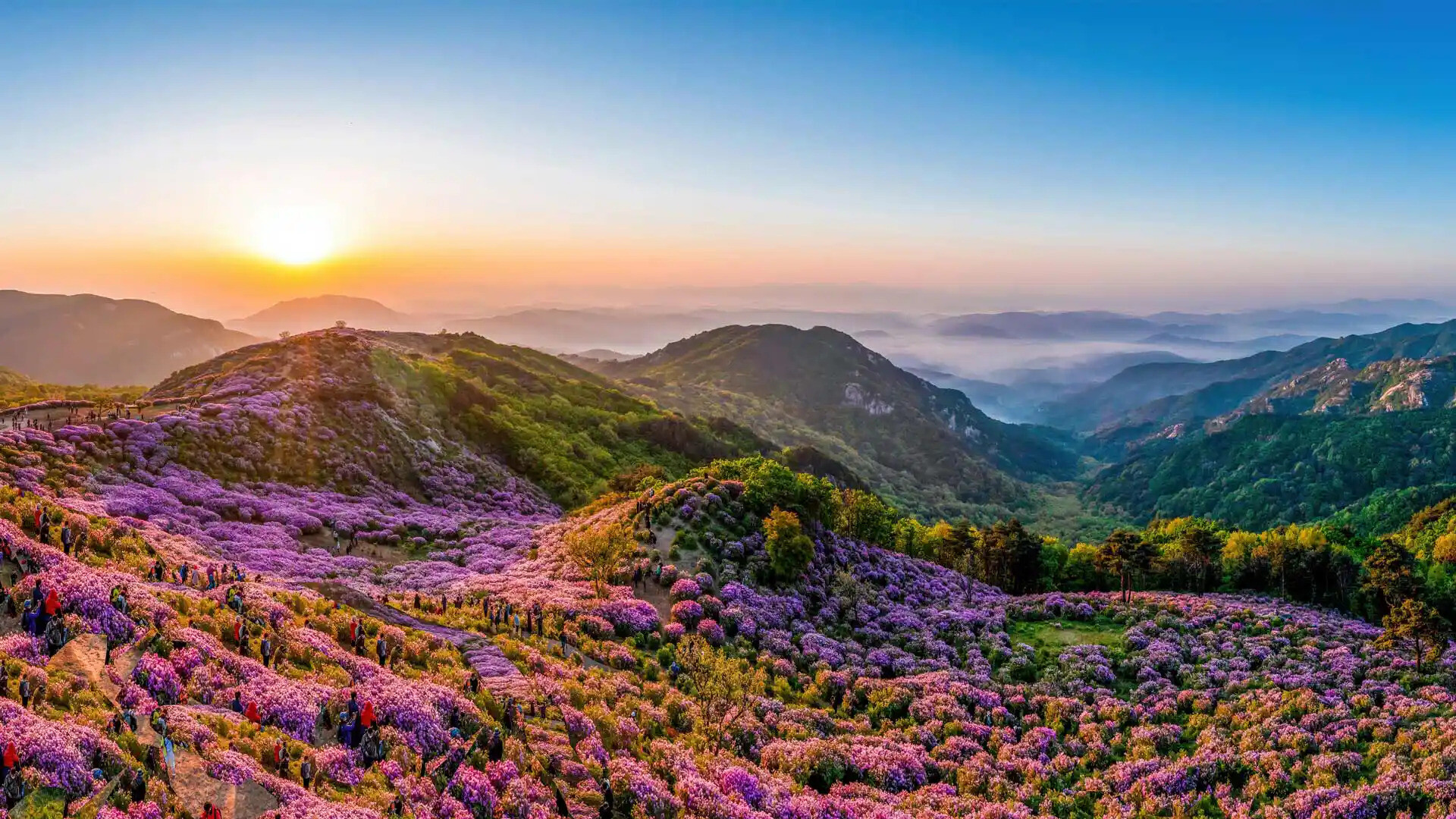 黄前山上盛开的皇家杜鹃花, 韩国 Royal azaleas in bloom on Hwangmaesan Mountain, South Korea (© Stock for you/Shutterstock)
绝对的紫色山峰 Positively purple peaks
韩国黄前山上盛开的杜鹃花
随着夏天的临近,大片皇家杜鹃花将韩国黄前山的两侧涂成了鲜艳的紫色。游客们成群结队地观看这片引人注目的粉红色和紫色的花朵地毯,它是随着奶牛和绵羊吃掉草和植物而逐渐形成的,但留下了遍布山上的有毒杜鹃花。
对于那些想攀登的人来说,黄前山还拥有巨大的岩层、令人惊叹的景色,以及一个传说,任何在山顶祈祷的人都会实现他们的愿望。它的海拔高度约为3650英尺,为徒步旅行者和露营者提供了一个逃离城市生活的宁静之地。那些想在杜鹃花中漫步的人应该在五月杜鹃花盛开的时候去那里。但是,如果穿着得体,在峰会上仍然会感到寒冷。
Azaleas blooming on Hwangmaesan Mountain, South Korea
Vast colonies of royal azaleas paint the sides of South Korea's Hwangmaesan Mountain a vibrant purple as summer approaches. Sightseers flock to see this striking pink and purple carpet of flowers which was created gradually as dairy cows and sheep ate the grass and plants, but left behind the poisonous azaleas which spread across the mountain.
For those who want to climb it, Hwangmaesan also features massive rock formations, stunning views, and a legend that anyone who prays at the summit will have their wish granted. It reaches an altitude of around 3,650 feet and offers a peaceful escape from city life for hikers and campers. Those who want to walk among the azaleas should head there in May, when they come into bloom. But dress appropriately, it still gets chilly up at the summit.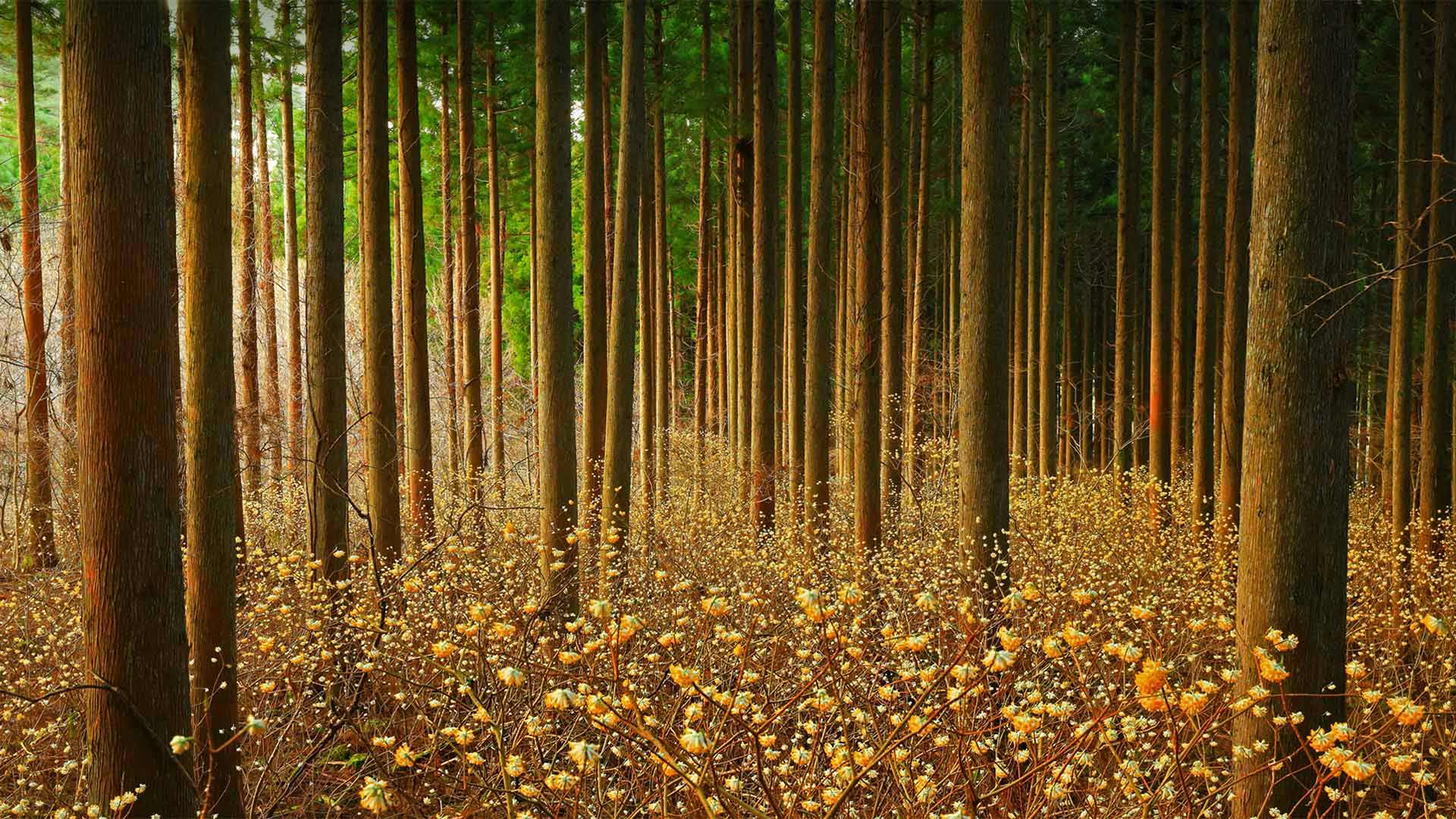 森林中的结香花,日本 Mitsumata (aka paperbush) in a forest in Japan (© nattya3714/Getty Images)
是金色的花朵?还是造纸的灵魂? Golden flowers, paper banknotes?
Mitsumata blossoms
Stress seems to melt away when you gaze at this serene forest protecting the mitsumata blossoms below. While the flowering buds are beautiful in their natural state, the mitsumata shrub (Edgeworthia chrysantha) has so much more to offer. Originally brought from China to Japan by monks, the green plant is now a staple of Japanese papermaking and one of three principle ingredients in washi, traditional Japanese paper. No wonder, then, that it's also known as the Oriental paperbush. Mitsumata washi is dense and holds ink well—it's a favorite of artists and calligraphers—and sheets of mitsumata paper are also used in traditional shoji screens.

It's this very versatility and strength that made mitsumata a natural candidate for Japanese banknotes. The dense, short fiber from the inner layer of bark helps create sturdy currency that can withstand millions of grubby hands and transactions. Mitsumata made its Japanese banknote debut in 1879, and it's still used in currency there today.

Want to see mitsumata in bloom? Spring's the time to catch the golden flowers, and gardeners note that you'll smell the heady, almost spicy fragrance before you see the bush itself. After the flowers fade, the leaves take on a bluish, silvery hue, and in autumn they turn golden themselves.
三宅多花
当你凝视这片宁静的森林,保护着下面的三缄花时,压力似乎消失了。虽然花蕾在自然状态下是美丽的,但三宅田灌木(Edgeworthia chrysantha)还有很多可以提供的。这种绿色植物最初是由僧侣从中国带到日本的,现在是日本造纸的主要原料,也是日本传统纸张"和纸"的三大主要成分之一。难怪它也被称为东方纸丛。三宅和美是一种密度高、墨迹好的纸张,是艺术家和书法家的最爱,传统的幕布也使用三宅和美的纸张。
正是这种多才多艺和强大的实力,使三田成为日本纸币的天然候选。树皮内层密集的短纤维有助于创造出坚固的货币,可以承受数百万肮脏的手和交易。三濑于1879年首次发行日本纸币,至今仍在日本使用。
想看三浦田盛开吗?春天是捕捉金花的时候,园丁们注意到,在你看到灌木之前,你会闻到令人陶醉的、几乎是辛辣的香味。花凋谢后,叶子呈现出蓝色、银色的色调,到了秋天,它们自己也变成了金色。