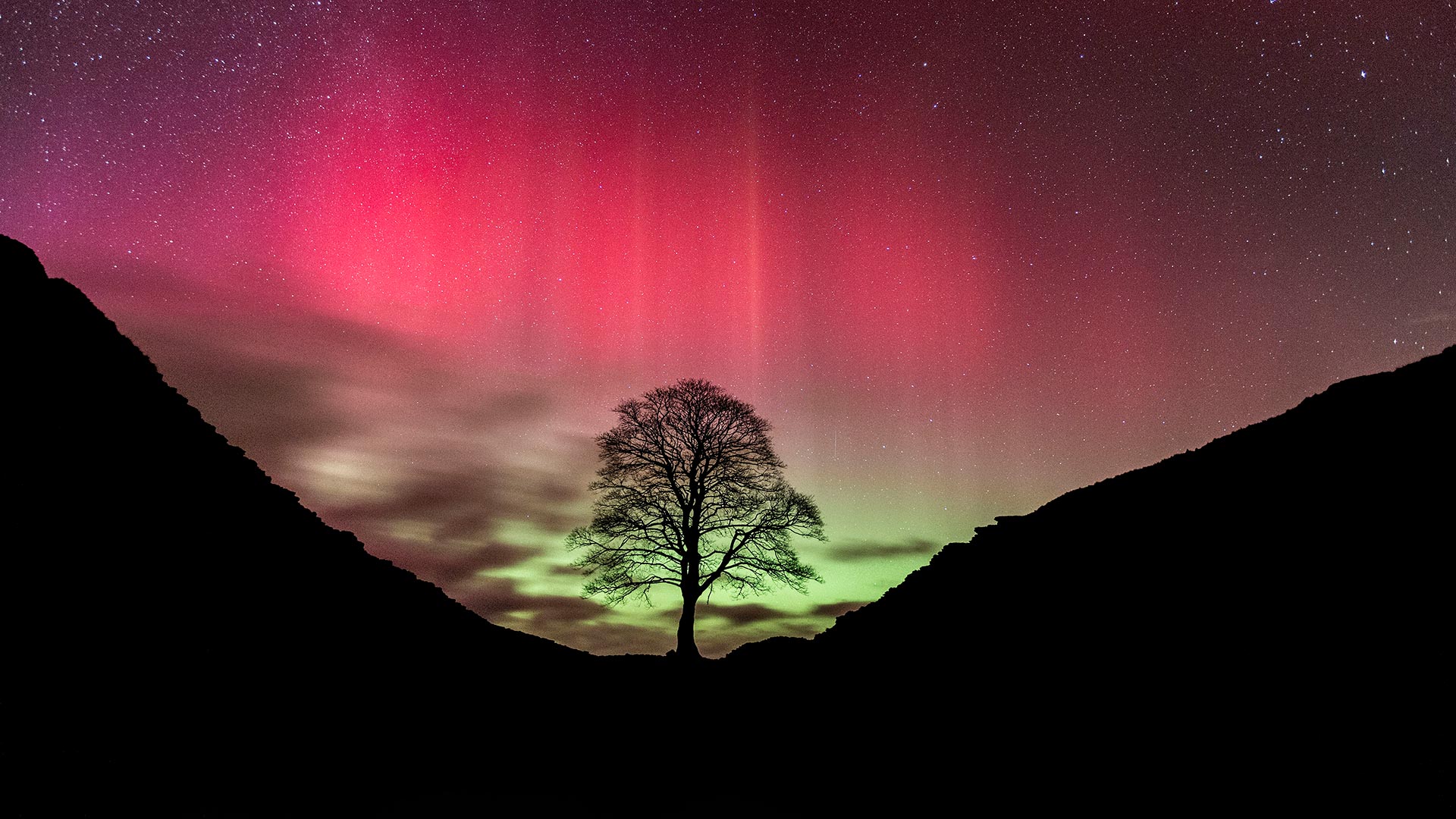 哈德良长城上空的北极光,英格兰诺森伯兰郡 Aurora borealis over Sycamore Gap Tree, Hadrian's Wall, Northumberland, England (© Guy Edwardes/NPL/Minden Pictures)
梧桐树峡 Sycamore Gap Tree
Stars over Sycamore Gap
The Northern Lights have set the sky alight with color here at the famous Sycamore Gap, in Northumberland. This tree has been keeping a lonely vigil for hundreds of years at the bottom of a steep dip in Hadrian's Wall, the 73-mile-long fortification built to mark the northwest frontier of the Roman Empire. Silhouetted against the sky, it is said to be the most photographed spot in Northumberland National Park.

This part of Northumberland is also home to Europe's largest area of the protected night sky and England's first and largest dark sky park. In February it hosts a dark skies festival, with activities, talks, and an exhibition to entice visitors to venture out after dark. Very low levels of light pollution in this area make it a popular destination with stargazers who can see the Milky Way - and sometimes the neighboring Andromeda Galaxy - with the naked eye on a clear night.

The Northern Lights, a celestial light show caused by charged solar particles hitting Earth's atmosphere, are a rare treat for the lucky ones here in England's most northerly county. But this iconic sycamore is here in all atmospheric conditions, ready for its close-up.
梧桐林隙上的星星
北极光照亮了诺森伯兰著名的悬铃木峡谷的天空。数百年来,这棵树一直孤零零地守夜在哈德良城墙陡峭的山脚下。哈德良城墙是一座73英里长的防御工事,标志着罗马帝国的西北边境。在天空的衬托下,它被认为是诺森伯兰国家公园中拍摄最多的景点。
诺森伯兰的这一部分也是欧洲最大的夜空保护区和英格兰第一个也是最大的夜空公园的所在地。今年2月,它举办了一个黑暗天空节,活动、讲座和展览吸引游客在天黑后外出。这一地区的光污染水平非常低,这使得它成为了一个受天文爱好者欢迎的目的地,他们可以在晴朗的夜晚用肉眼看到银河系——有时还有邻近的仙女座星系。
北极光是一场由带电的太阳粒子撞击地球大气层而引起的天光秀,对于英国最北边的郡里的幸运儿来说,这是一次难得的享受。但这棵标志性的梧桐树在所有的大气条件下都在这里,为它的特写做好了准备。