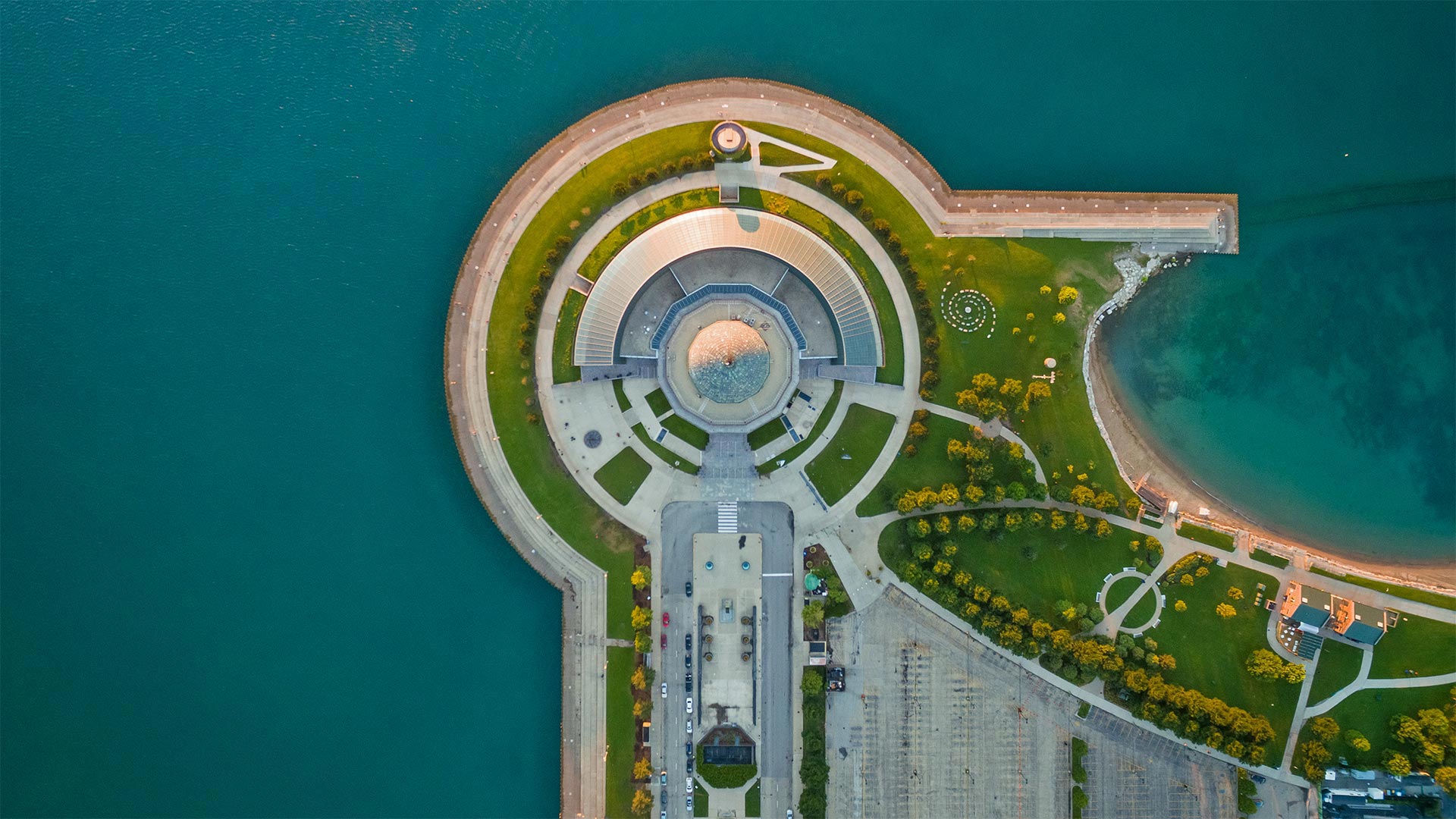 密歇根湖畔的阿德勒天文馆, 芝加哥伊利诺伊州 Adler Planetarium near Lake Michigan, Chicago, Illinois (© Amazing Aerial Agency/Offset by Shutterstock)
America's oldest planetarium
When it first flicked on the projector lights in 1930, the Adler Planetarium in Chicago was the only one in the Western Hemisphere. At the time, planetariums themselves were only a 7-year-old invention imported from German lens grinders. But the American public's fascination with stars and distant worlds, it turned out, was skyrocketing. By 1934, the Adler had welcomed over a million visitors.

And though our love for space endures, these days in Chicagoland it's tough to catch a clear night sky past all those wonderful bright lights of the Windy City. That helps explain why the Adler still pulls half a million visitors in a typical year, with three state-of-the-art auditoriums and even a massive telescope that lets visitors view far-off galaxies.
1930年,芝加哥的阿德勒天文馆(Adler Planetarium)第一次打开投影仪的灯光时,是西半球唯一的天文馆。当时,天文馆本身只是从德国镜头研磨机进口的一项7年发明。但事实证明,美国公众对星星和遥远世界的迷恋正在飙升。到1934年,阿德勒号已经接待了超过一百万的游客。
尽管我们对太空的热爱永存,但如今在芝加哥,要想在这座多风的城市里捕捉到一片晴朗的夜空是很困难的。这有助于解释为什么阿德勒号在一个典型的年份里仍然吸引了50万游客,有三个最先进的礼堂,甚至还有一个巨大的望远镜,可以让游客观看遥远的星系。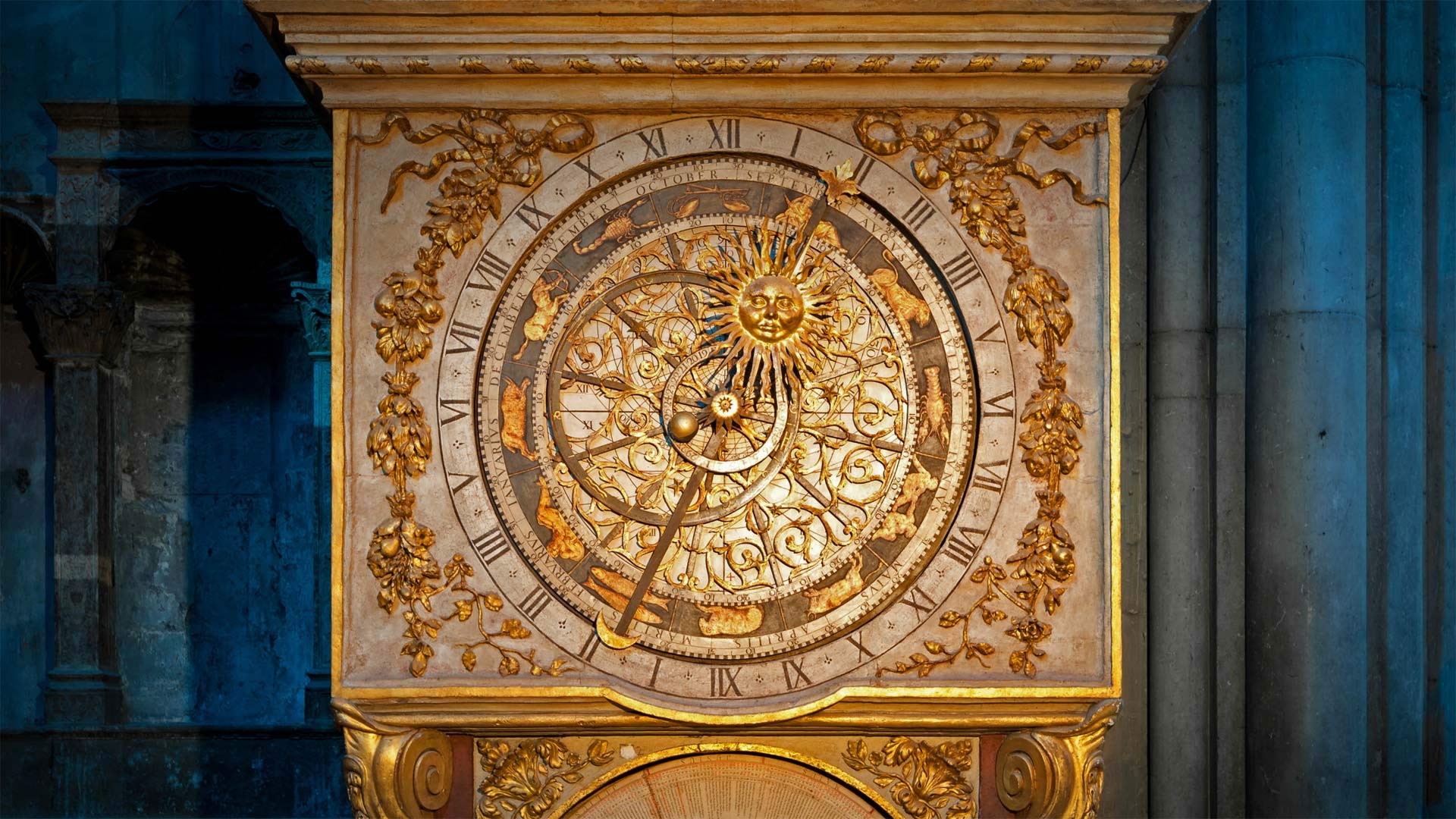 里昂天文钟,法国里昂 Lyon astronomical clock, Lyon, France (© kyolshin/Alamy)
Perfect timing
If the first day of daylight saving time doesn't have you springing for joy, this towering timekeeper might be more your speed. The astronomical clock at Lyon Cathedral in France was built in 1660, long before daylight time became widely adopted in the 20th century. The clock's intersecting hands and dials don't just tell time, they form a flattened model of our planet that tracks the positions of the sun and moon relative to Earth. The zodiac dial, offset to account for the planet's rotational tilt, shows the star sign currently in season.

All this movement of circles and spheres might call to mind another observance of the day: March 14 is Pi Day, in celebration of the mathematical constant pi (aka π, or roughly 3.14). You remember pi from geometry class: It expresses the ratio of the distance around a circle to the distance across it. So it was essential to ancient astronomers who mapped these celestial workings, as well as to designers of intricate machines that simulate the circling heavens.

Wow, you kept reading through all the math talk? You deserve a sweet payoff. Why not slice into our Pi Day pie quiz?
完美的时机
如果夏令时的第一天没有让你欣喜若狂,那么这个高耸的计时员可能会比你更快。法国里昂大教堂的天文钟建于1660年,远远早于20世纪白天被广泛采用。时钟交叉的指针和刻度盘不仅告诉我们时间,它们还形成了一个地球的平面模型,跟踪太阳和月球相对于地球的位置。黄道十二宫的刻度盘,抵消了这颗行星的自转倾斜,显示了目前正处于这个季节的星座。
所有这些圆圈和球体的运动可能会让人想起另一个纪念日:3月14日是π日,庆祝数学常数π(又名π,约3.14)。您还记得几何类中的pi:它表示圆周围的距离与穿过圆的距离之比。因此,这对绘制这些天体运行图的古代天文学家,以及模拟环绕天空的复杂机器的设计者来说,都是至关重要的。
哇,你一直在读数学课?你应该得到一个甜蜜的回报。为什么不加入我们的派日测验呢?