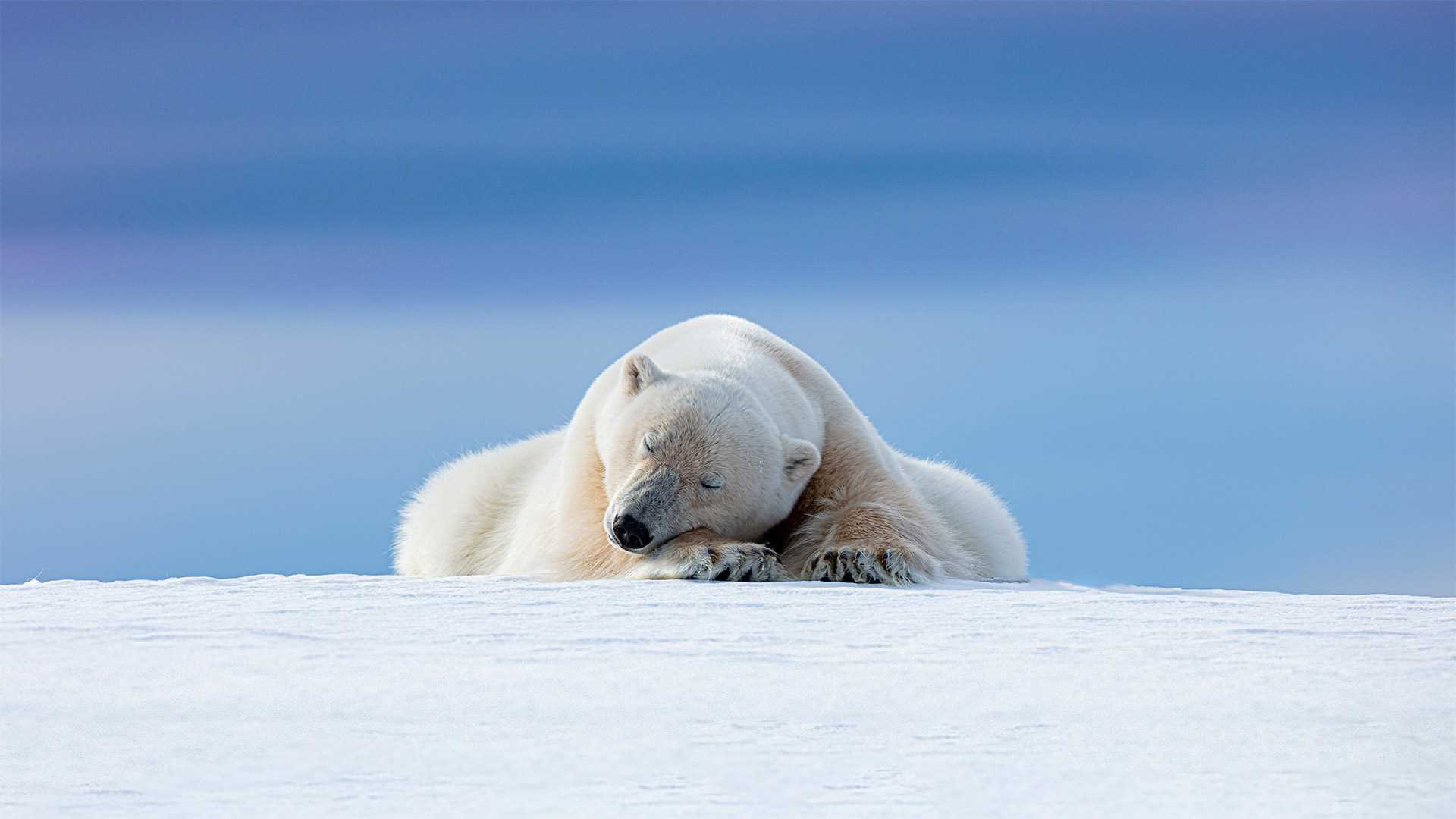 北极熊斯瓦尔巴群岛,挪威 Polar bear in Svalbard, Norway (© Dennis Stogsdill/Getty Images)
在北极附近打盹 Napping near the North Pole
元旦 / 斯瓦尔巴群岛的北极熊,挪威
如果你计划在新年第一天跳进冰冷刺骨的湖泊或海湾,那么你就会明白我们今天为什么要展示这张拍摄于挪威斯瓦尔巴群岛的照片。世界各地的人们常常在新年第一天像北极熊一样跳进水里。无论他们是为了慈善、忏悔,还是为了惊世骇俗,这都是迎接新年第一天的最好的方式。当然,对于北极熊来说,这可没什么特别的,不过是它们每天的日常而已。
New Year's Day
If your first scheduled activity of the day has ever involved intentionally jumping into an icy lake or a frigid bay, then you understand the relevance of today's image from the Svalbard Islands of Norway. Polar bear plunges, as these swims have come to be known, take place all over the world, often on New Year's Day. Whether people take the plunge for charity, penance, or shock value, there's no better way to put an exclamation point on the first day of the year. Of course, for actual polar bears, ice cold plunges are an everyday occurrence and won't elicit much more than a yawn.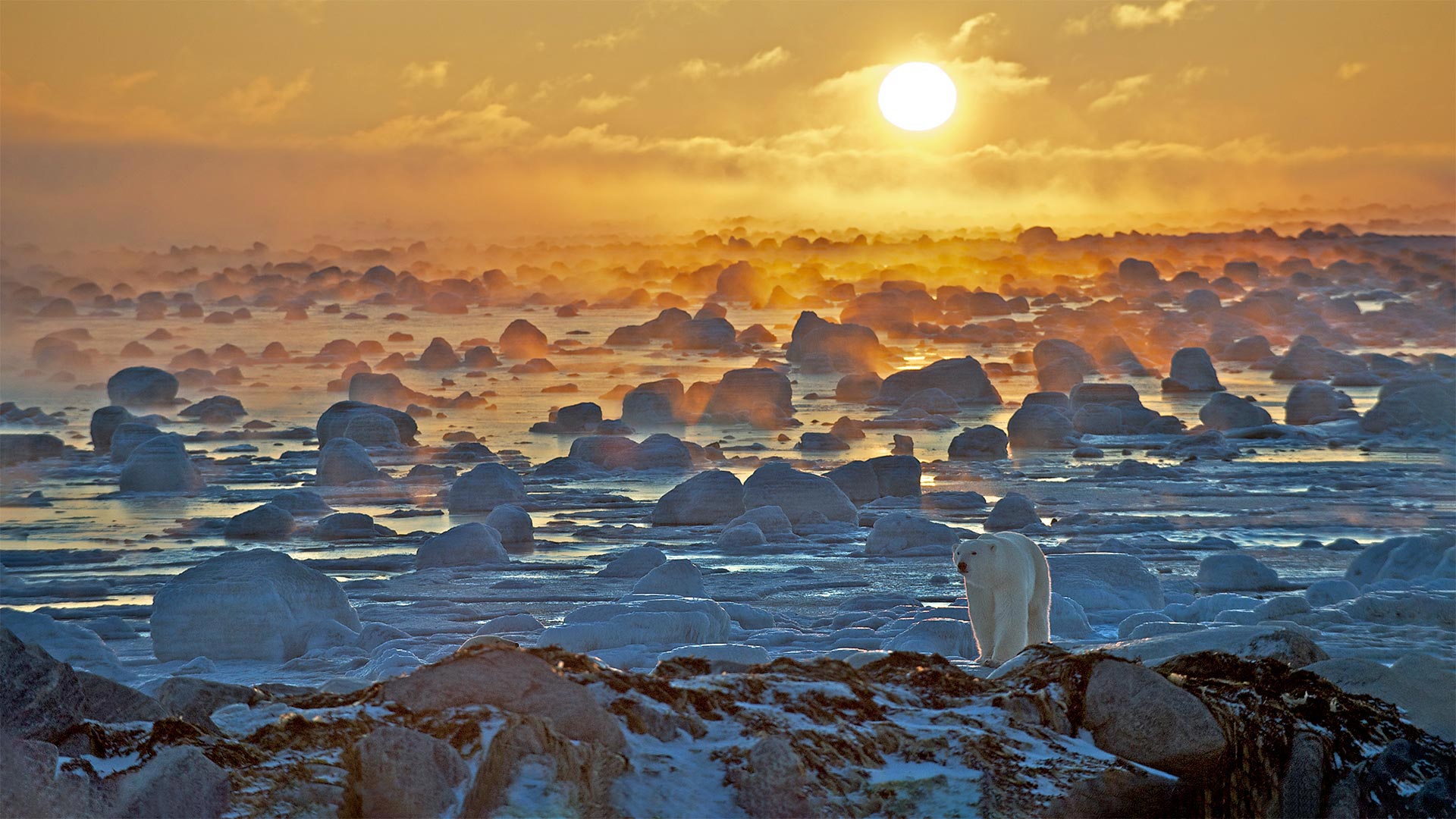 哈德逊湾边缘的北极熊,加拿大 Polar bear at the edge of Hudson Bay, Manitoba, Canada (© Sean Crane/Minden Pictures)
北极之王 Kings of the north
北极熊周
陆地上最大的食肉动物在冰冷的北方漫游。像这样的北极熊一生中大部分时间都在海冰上度过,而不是在陆地上,它们会跟踪自己最喜欢的猎物:海豹。北极熊极易御寒,特别适合在冰上生活,因此它们特别容易受到全球变暖的影响。他们的困境是北极熊周的焦点,每年11月的第一周,北极熊周将关注这些生活在大多数人看不见的地方的动物。
北极熊生活在格陵兰、挪威、俄罗斯、阿拉斯加和加拿大的部分地区。加拿大的大多数北极熊生活在广阔的哈德逊湾附近,在这里可以看到海豹河三角洲附近。随着夏季的结束,几个月来一直生活在脂肪储备区的饥饿熊聚集在哈德逊湾沿岸,等待结冰,以便它们能够重新开始捕猎。由于气候变化,夏季的无冰期变长了,缩短了熊的狩猎季节,使人类与熊相遇的可能性更大。虽然后者对熊观察者来说似乎是个好消息,但这些海兽最好从远处观看。
Polar Bear Week
The largest carnivore on land roams the icy north. Polar bears like this one spend much of their lives on sea ice rather than terra firma, stalking their favorite prey: seals. Superbly insulated against the cold, polar bears are uniquely suited for life on the ice—so they're especially vulnerable to a warming planet. Their plight is the focus of Polar Bear Week, observed the first week of every November, bringing attention to these creatures who live far out of sight of most humans.
Polar bears live in portions of Greenland, Norway, Russia, Alaska, and Canada. Most of Canada's polar bears live near the vast Hudson Bay, seen here near the delta of the Seal River. As summer ends, hungry bears who have been living on fat reserves for months gather on the shores of Hudson Bay, waiting for ice to form so they can return to the hunt. Due to climate change, the ice-free period of summer has grown longer, cutting short the bears' hunting season and making human-bear encounters more likely. And while the latter may seem like good news for bear-watchers, these maritime beasts are best viewed from afar.