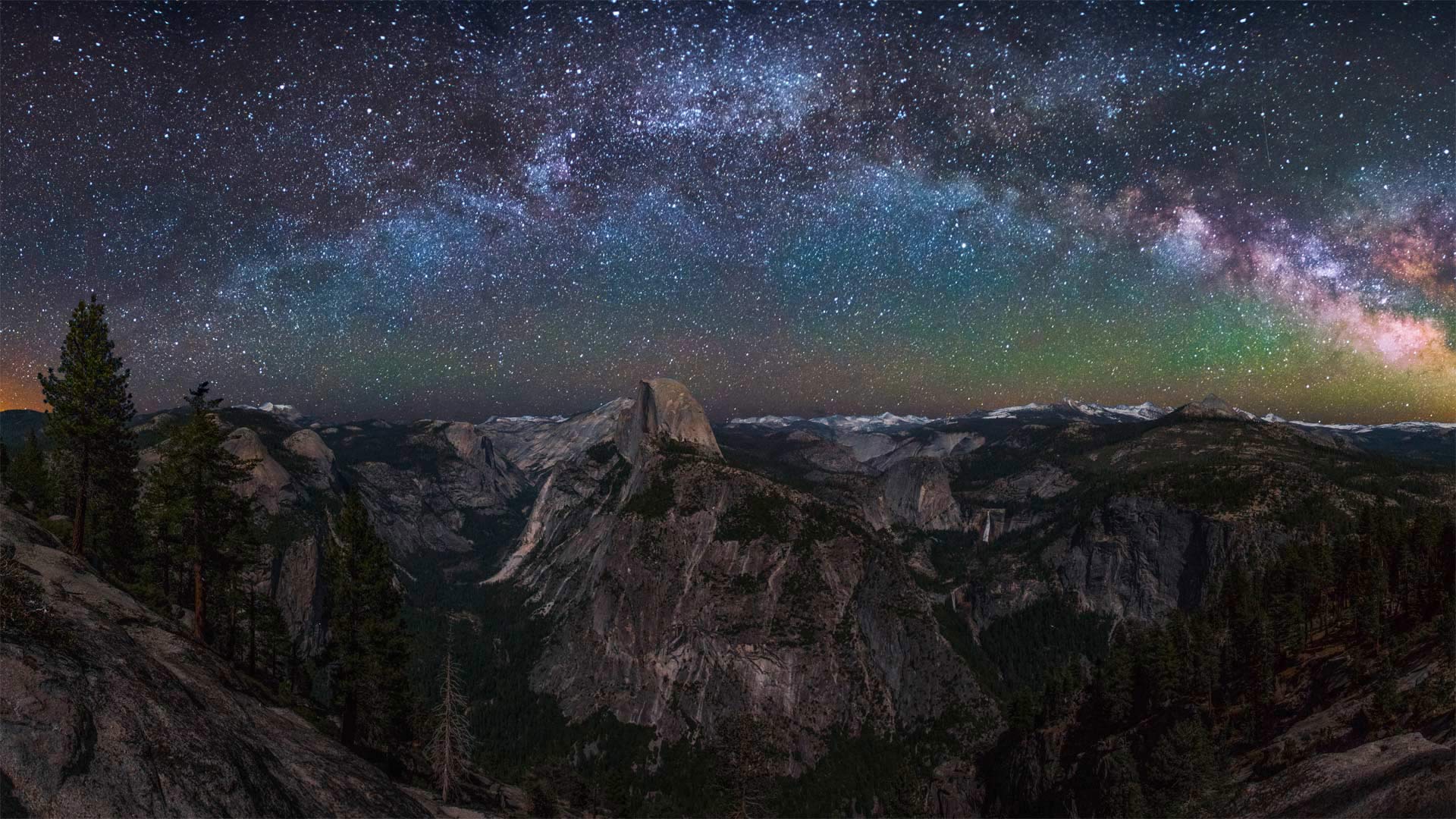 半穹顶景观点上空的银河,优胜美地国家公园,加利福尼亚州 Milky Way rising above Half Dome in Yosemite National Park, California (© Cory Marshall/Tandem Stills + Motion)
你能把灯关掉吗? Could you turn off the lights?
Dark Sky Week
During International Dark Sky Week, we're counting ourselves lucky to have this spectacular nighttime view, considering the astonishing fact that 83% of the global population lives under a light-polluted sky. Unneeded artificial light is classified as a pollutant and has been proven to have harmful side effects. Not only does it waste money and energy, it also disrupts plants and animals, is believed to impact the climate, and blocks our view of the universe.

Encouraging people to get away from artificial light is one of the goals of International Dark Sky Week, and today's photo shows just how magnificent that can be. Here, we're treated to a beautiful view of the Milky Way from Yosemite National Park in California. Yosemite is part of a network of national parks monitoring dark night skies to gather a complete data set of light pollution. They've learned that 'two-thirds of Americans cannot see the Milky Way from their backyard, and if current light pollution trends continue, there will be almost no dark skies left in the contiguous United States by 2025.'

Luckily, dark sky is a recoverable resource. There are ways to reduce our light use and improve the view of the night sky for everyone. Think about it over the course of the next week, preferably while gazing at a night sky undisturbed by light pollution—or at least a beautiful photo of one.
黑暗天空周
在国际黑暗天空周期间,考虑到全球83%的人口生活在轻度污染的天空下这一令人震惊的事实,我们认为自己有幸拥有这一壮观的夜景。不需要的人造光被归类为污染物,并已被证明具有有害的副作用。它不仅浪费金钱和能源,还扰乱动植物,被认为会影响气候,阻碍我们对宇宙的看法。
鼓励人们远离人造光是国际黑暗天空周的目标之一,今天的照片展示了这是多么壮观。在这里,我们可以在加利福尼亚州约塞米蒂国家公园欣赏到银河系的美景。约塞米蒂是国家公园网络的一部分,该网络监测黑夜天空,以收集光污染的完整数据集。他们了解到,"三分之二的美国人无法从自家后院看到银河系,如果目前的光污染趋势继续下去,到2025年,毗邻的美国将几乎没有黑暗的天空。"
幸运的是,黑暗的天空是一种可回收的资源。有一些方法可以减少我们的光线使用,改善每个人的夜空视野。在接下来的一周里好好想想,最好是在凝视没有光污染的夜空时,或者至少是一张美丽的照片。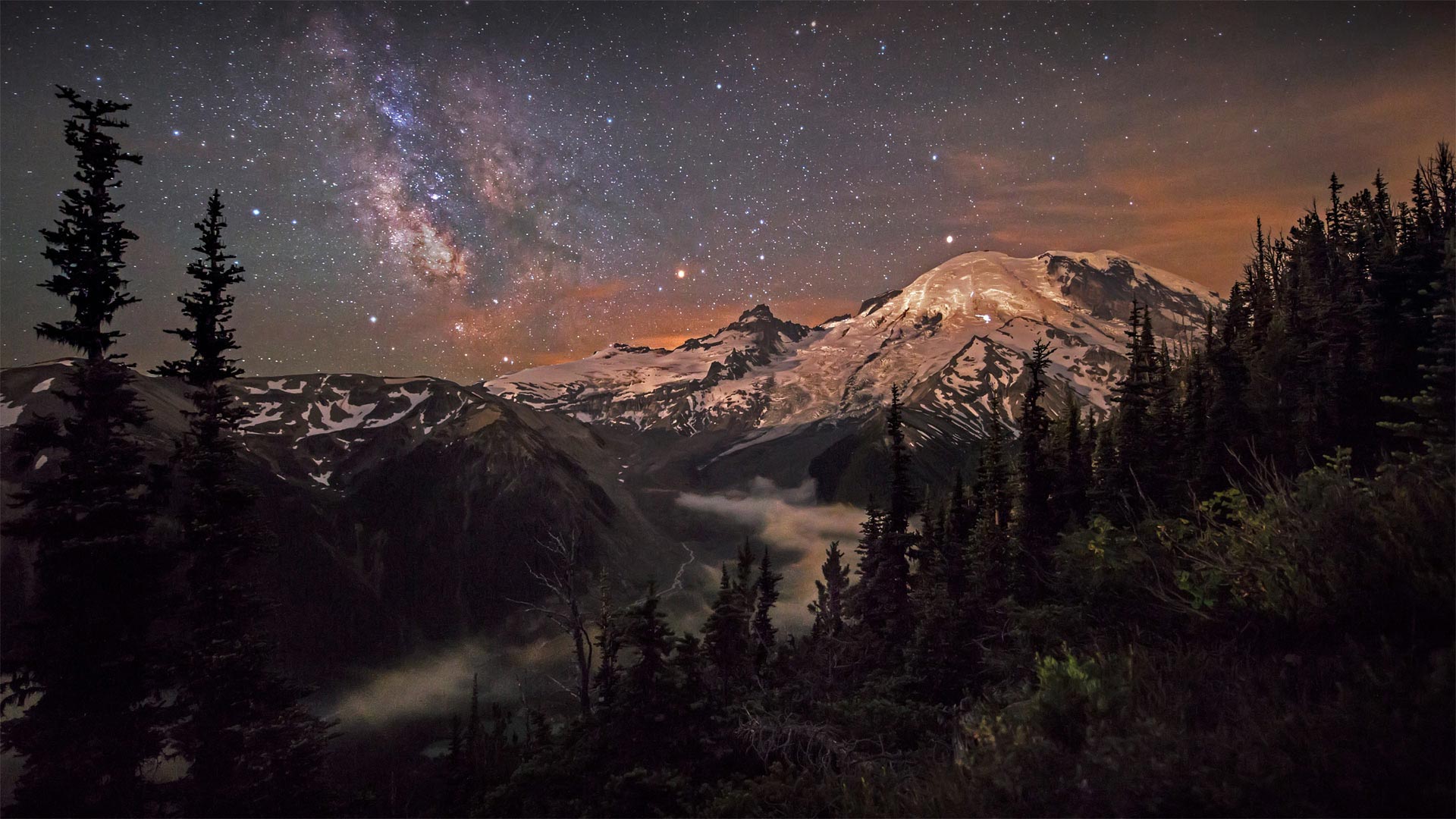 雷尼尔山上空的银河星系,美国华盛顿州 Moonlight and the Milky Way over Mount Rainier in Mount Rainier National Park, Washington (© Brad Goldpaint/Cavan)
123岁生日快乐! Happy 123rd birthday
Mount Rainier National Park
Mount Rainier is the crown jewel of its namesake national park, designated March 2, 1899, by President William McKinley. It was just the fifth national park in the United States. Beyond the mountain, the 369-square-mile park also includes valleys, waterfalls, old-growth forests, and pristine alpine meadows famous for summer wildflowers.

Rainier is considered the most glaciated peak in the contiguous US. Native Americans named it Tahoma, which translates to mother of waters. Indeed, the mountain spawns five major rivers, and to this day, its snowmelt provides much of the water for the region.

Although beautiful, Rainier is also one of the most dangerous volcanoes in the world. Scientists consider an eruption in the near future to be highly probable. In addition to spewing ash and triggering landslides, a major eruption would likely trigger massive mudflows, called lahars, that would send a tsunami of mud, boulders, and debris toward the cities of Tacoma and Seattle, only 100 miles away. For now, we'll just admire the majesty of this sleeping giant and be thankful that the national park protects so much pristine northwest wilderness.
雷尼尔山是威廉·麦金利总统于1899年3月2日指定的同名国家公园的皇冠明珠。它只是美国的第五个国家公园。在山的另一边,369平方英里的公园还包括山谷、瀑布、古老的森林和以夏季野花闻名的原始高山草甸。
雷尼尔峰被认为是美国周边冰川最为严重的山峰。美洲原住民将其命名为Tahoma,意为"水之母"。事实上,这座山孕育了五条主要河流,直到今天,它的融雪为该地区提供了大量的水。
雷尼尔火山虽然美丽,但也是世界上最危险的火山之一。科学家认为在不久的将来爆发是极有可能的。除了喷发火山灰和引发山体滑坡外,一次大的火山喷发可能会引发大规模的泥流,称为lahars,这将向仅100英里外的塔科马和西雅图两座城市带来一场由泥浆、巨石和碎片组成的海啸。现在,我们只想欣赏这位沉睡巨人的威严,感谢国家公园保护了如此多原始的西北荒野。