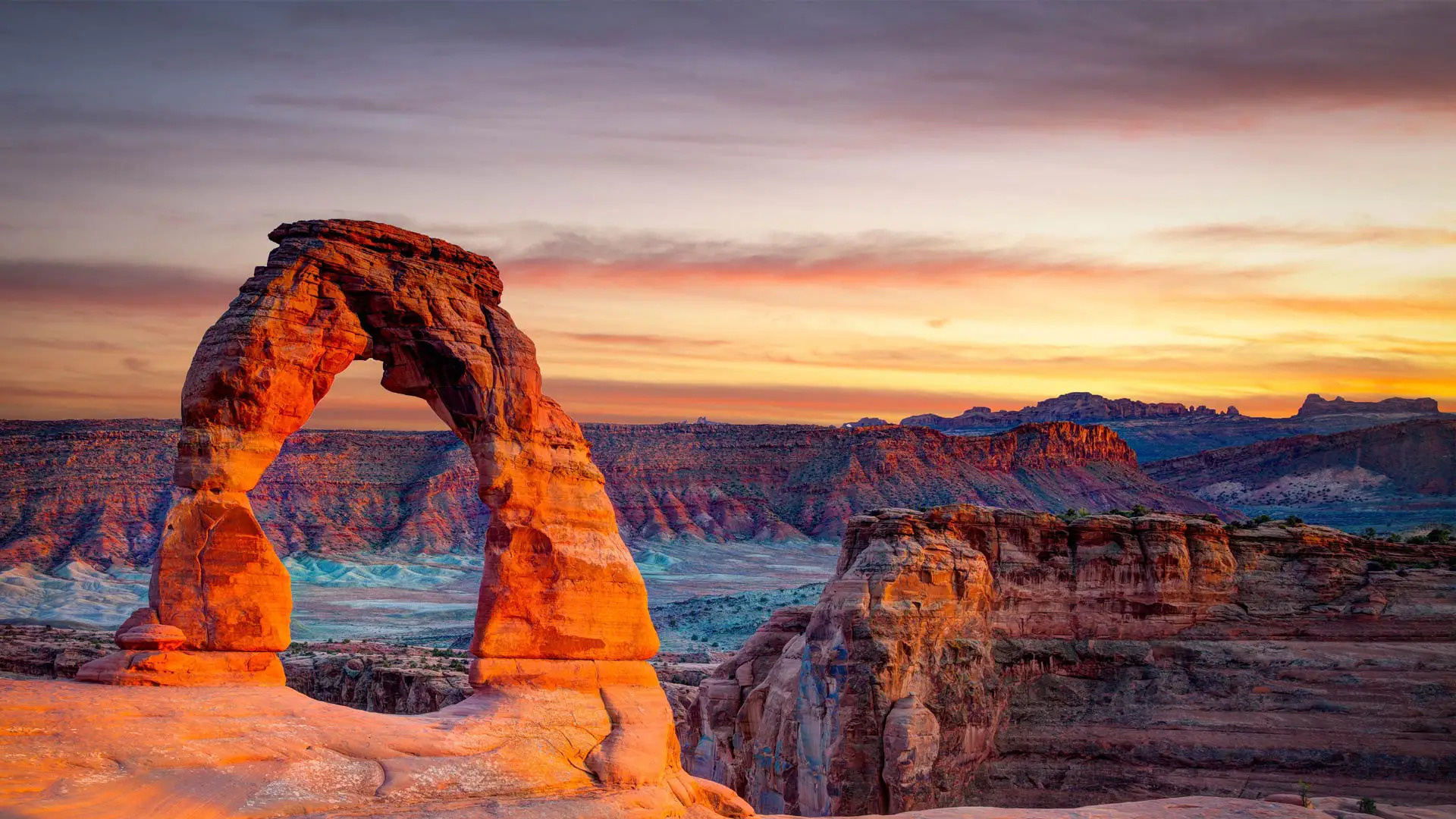 精致拱门,拱门国家公园,犹他州 Delicate Arch, Arches National Park, Utah (© Mark Brodkin Photography/Getty Images)
藏在精致拱门里的百年时光 Centuries of time in a Delicate Arch
精致拱门是美国最受欢迎的地质景点之一。在犹他州拱门国家公园的2000个石拱门中,精致拱门是最有名的那一座,也是这里最大的岩石拱门。犹他州的车牌和邮票也有印有精致拱门。只需徒步三英里,就能到达这座拱门,这也是公园里最棒的徒步旅行路线之一。每年都有近140万人前往拱门国家公园,只为一睹精致拱门的全貌。
Arches National Park, Utah
This stunning structure is Delicate Arch, the most famous of 2,000 stone arches scattered around Arches National Park in Utah. It is made up of Entrada Sandstone, the grains of which once formed a massive desert. They were cemented together by minerals, forming sandstone riddled with tiny holes. Over millennia, the rain seeped in and slowly dissolved the rock from the inside, forming these eye-catching sculptures. Most of the arches in the national park are formed from Entrada Sandstone and were once buried by other rock layers. They won't last forever, but over time, new shapes will emerge from the layers of rock below to replace them. Every year, close to 1.4 million people visit the park to see Delicate Arch and this slowly shifting landscape for themselves.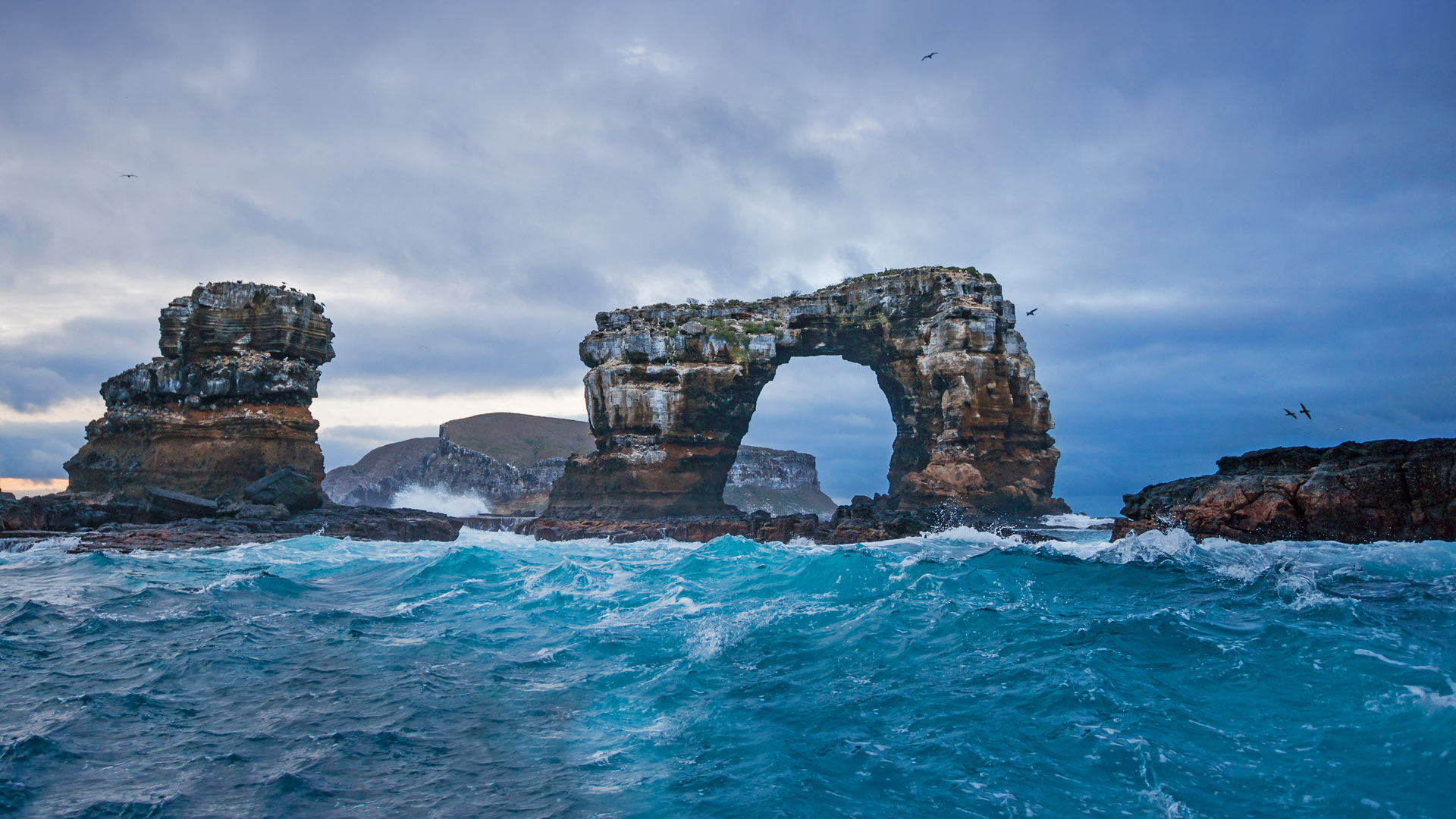 达尔文岛的达尔文拱门,厄瓜多尔加拉帕戈斯 Darwin's Arch with Darwin Island in background, Galápagos, Ecuador (© miralex/Getty Images)
著名海拱门的末日 Last days of a famous sea arch
Darwin's Arch
On Darwin Day, we visit Darwin's Arch, named for the famous English naturalist Charles Darwin who was born on this day in 1809. The last time the arch looked as it does in this image was May 17, 2021. That's when this sea arch collapsed due to natural erosion and became a pile of rubble between what is now two pillars. Some locals and scientists have renamed the rock formation the 'Pillars of Evolution,' a nod to Darwin's theory of evolution by natural selection.

Sea arches are found all over the world, often where cliffs meet the sea. They're formed as waves erode the underside of a rock, leaving the top. Darwin's Arch is located southeast of Darwin Island, part of the Galápagos Archipelago in the Pacific Ocean.
达尔文拱门
在达尔文日,我们参观达尔文拱门,以1809年出生于这一天的著名英国博物学家查尔斯·达尔文命名。最后一次拱形看上去像是在2021年5月17日。就在那个时候,这座海拱由于自然侵蚀而倒塌,变成了现在两根柱子之间的一堆瓦砾。一些当地人和科学家已将岩层更名为"进化的支柱",这是对达尔文自然选择进化理论的认可。
海拱遍布世界各地,通常是悬崖与大海交汇的地方。它们是波浪侵蚀岩石底部,留下顶部时形成的。达尔文拱门位于达尔文岛东南部,达尔文岛是太平洋加拉帕戈斯群岛的一部分。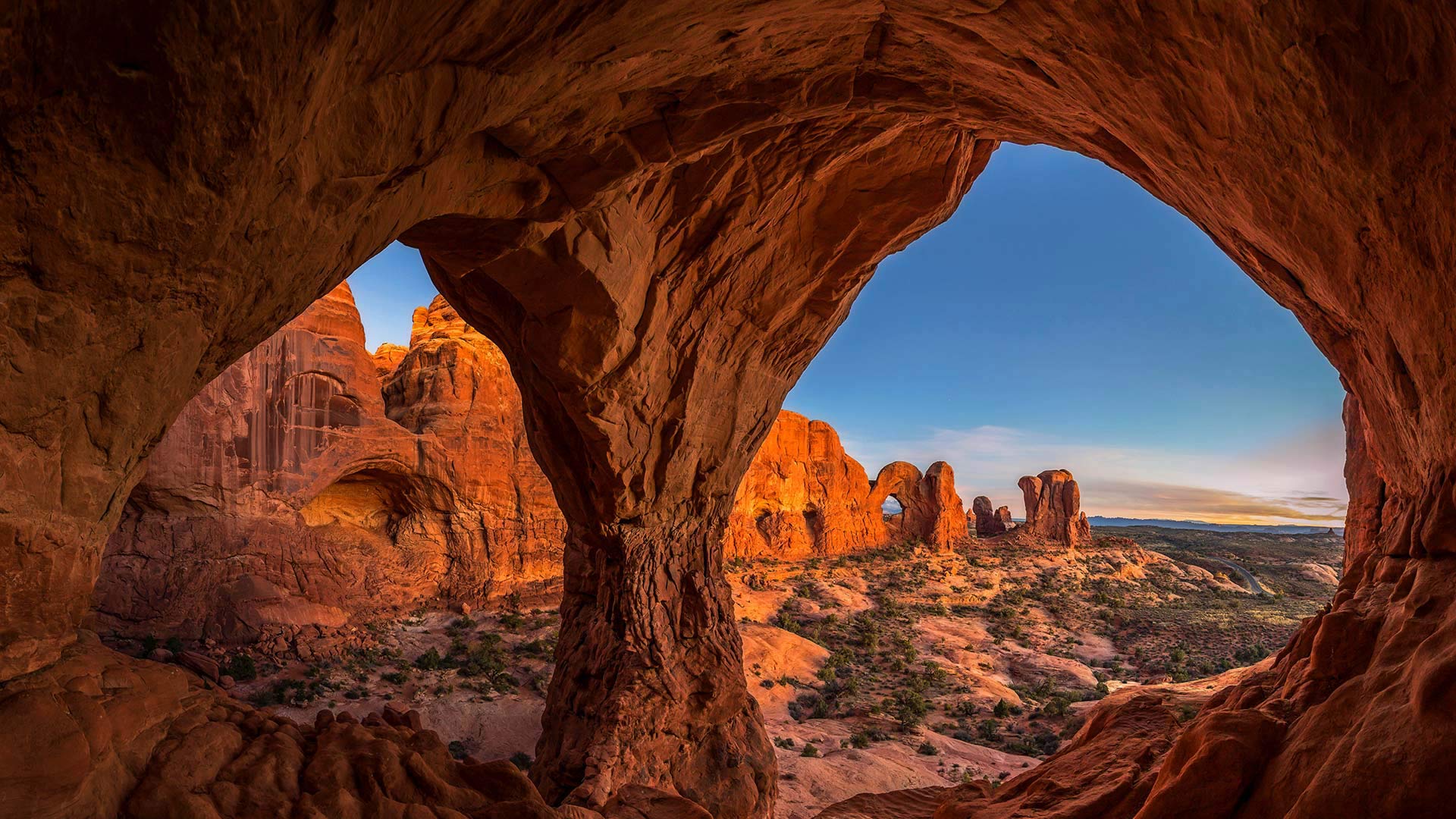 拱门国家公园,犹他州莫阿布 Arches National Park, Moab, Utah (© Whit Richardson/Alamy Stock Photo)
Art in the high desert
The desert doubles as an art studio this week at Arches National Park, as painters from all over congregate for the Red Rock Art Festival. This Moab-based event is a celebration of what the French call painting 'en plein air,' or painting outside. Sounds like a fabulous idea to us (and what a view!). The colorful landscape here at Arches National Park is home to the highest density of natural arches in the world—upwards of 2,000—as well as more pinnacles and dramatically balanced rocks. Combine that with the fiery sunsets, pinyon trees, and splashes of sage and yucca, and we'd say these artists are in for a treat. Lucky for them, October is a pleasant time to visit the harsh, desert landscape.