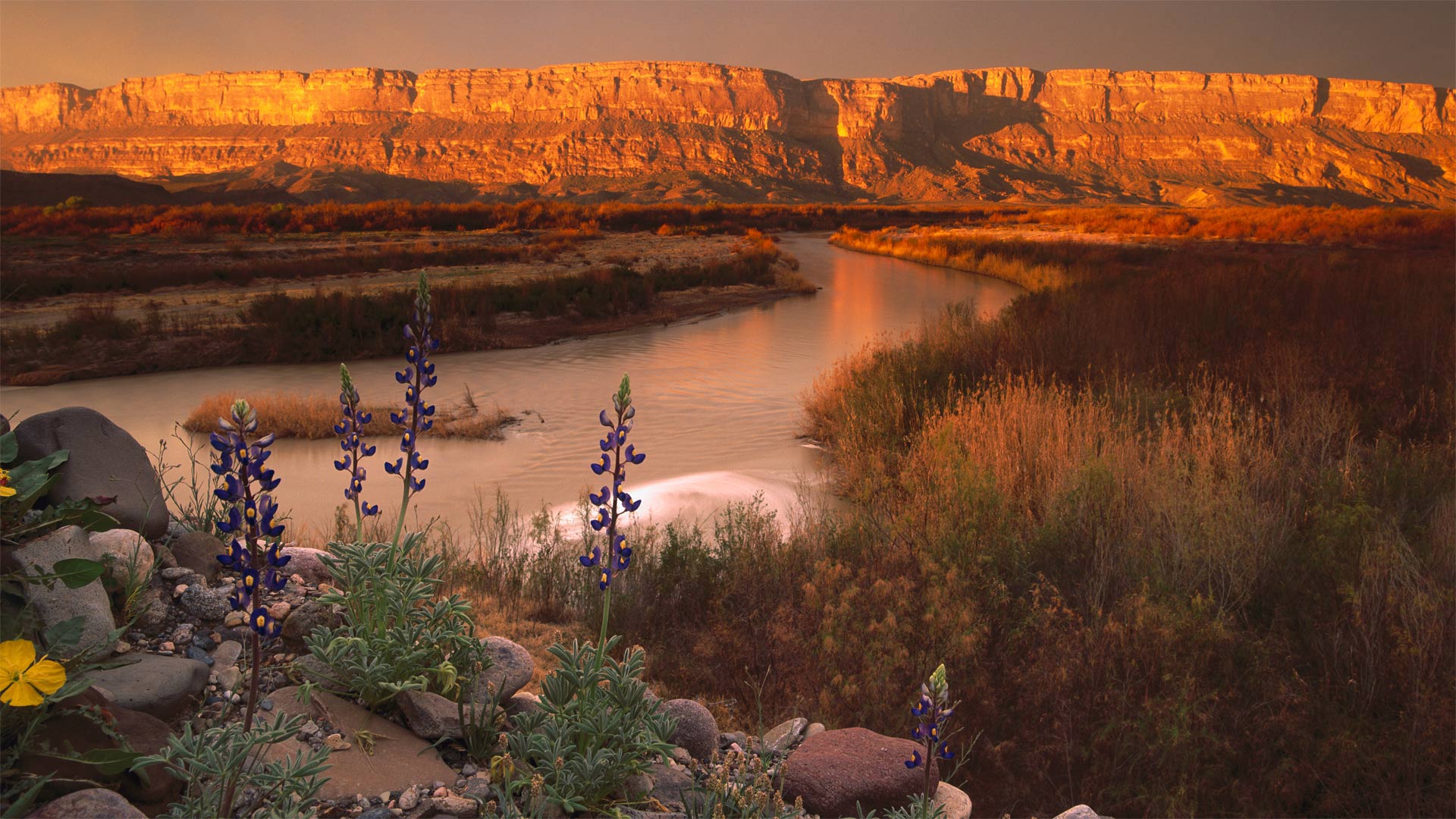 大弯曲国家公园的塞拉庞塞和格兰德河边的悬崖,美国得克萨斯州 Cliffs of the Sierra Ponce and Rio Grande River, Big Bend National Park, Texas (© Tim Fitzharris/Minden Pictures)
奇瓦瓦沙漠中的一处偏远绿洲 A remote oasis in the Chihuahuan Desert
Big Bend National Park turns 78
Join us for a hike at one of America's least-visited national parks. Big Bend National Park may be among the country's largest national parks with an area of over 800,000 acres (about the area of Rhode Island), but it's also one of the most remote. Found in West Texas along the Rio Grande at the Mexico border, the park entrance is roughly a two-hour drive from the nearest interstate. The good thing is, even in a 'busy' year when half a million people visit, there's plenty of space to enjoy the great outdoors unhindered by crowds.

Added to the national park system on this day in 1944, Big Bend contains the largest protected area of the Chihuahuan Desert in the United States. It's also known for having the darkest night skies among the contiguous states. This makes it a 'must visit' for stargazing; thousands of stars are visible when the skies are clear, along with the Milky Way. If you head out for a hike, keep your eyes peeled for the 1,200 plant species in the park. There are also plenty of animals, though most of them tend to come out only at night. Except birds, that is. Birdwatching is incredibly popular at Big Bend–it's on the paths of annual migrations, so more than 450 different bird species have been cataloged here.
大弯国家公园78岁
加入我们,在美国游客最少的国家公园之一徒步旅行。大弯国家公园可能是美国最大的国家公园之一,面积超过800000英亩(大约相当于罗德岛的面积),但它也是最偏远的国家公园之一。公园入口位于得克萨斯州西部,沿墨西哥边境的格兰德河,距离最近的州际公路大约两小时车程。好消息是,即使是在50万人来访的"繁忙"年份,也有足够的空间来享受美妙的户外活动,不受人群的阻碍。
1944年的今天,大本德被纳入国家公园系统,是美国最大的奇瓦瓦沙漠保护区。它还因拥有邻近各州中最黑暗的夜空而闻名。这使得它成为观星的"必到之地";当天空晴朗时,数千颗恒星与银河系一起可见。如果你要去远足,一定要留意公园里的1200种植物。这里也有很多动物,尽管它们大多只在晚上出来。就是说,除了鸟。大本德的观鸟活动非常受欢迎,因为每年都有鸟类迁徙,所以这里有450多种不同的鸟类。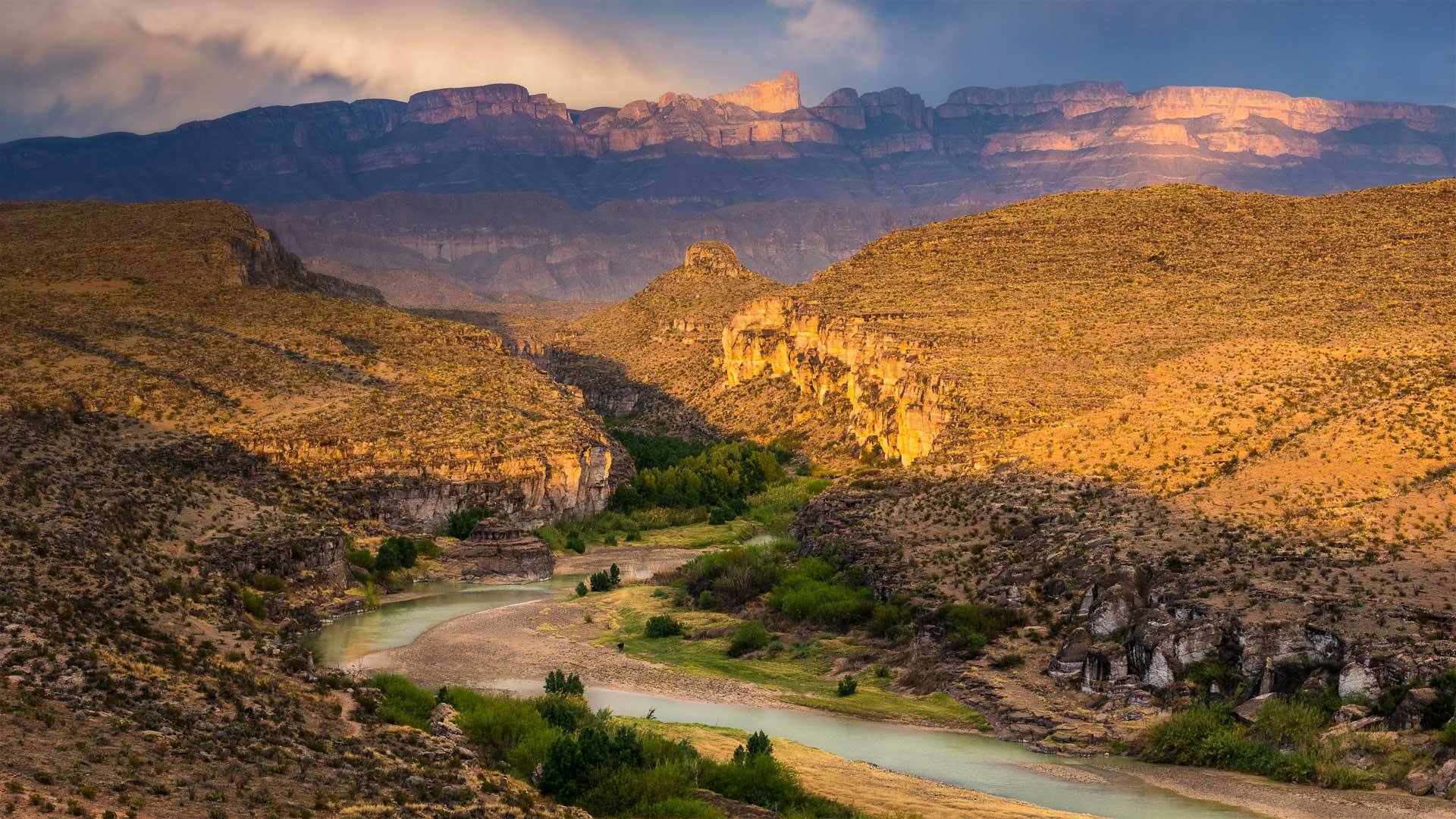 位于大本德国家公园的格兰德河和卡门山脉,得克萨斯州 Rio Grande and Sierra del Carmen Mountains in Big Bend National Park, Texas (© Grant Ordelheide/Tandem Stills + Motion)
A big birthday for Big Bend
Seventy-five years ago today, on June 12, 1944, Big Bend officially became a US national park. The park, which covers 801,163 acres in West Texas, along the Mexico border, contains mountain, river, and desert ecosystems, including the largest protected area of the Chihuahuan Desert in the United States. But the 'big' doesn't stop there. Big Bend is home 1,200 species of plants, over 450 species of birds, 75 species of mammals, and 56 species of reptiles. (We're not sure how many of those are snakes, if you're wondering.) Because of its remote location, Big Bend also has among the darkest skies ever measured in the contiguous US. So tonight, the only light you'll likely see is the glow from 75 birthday candles—and a few million stars.