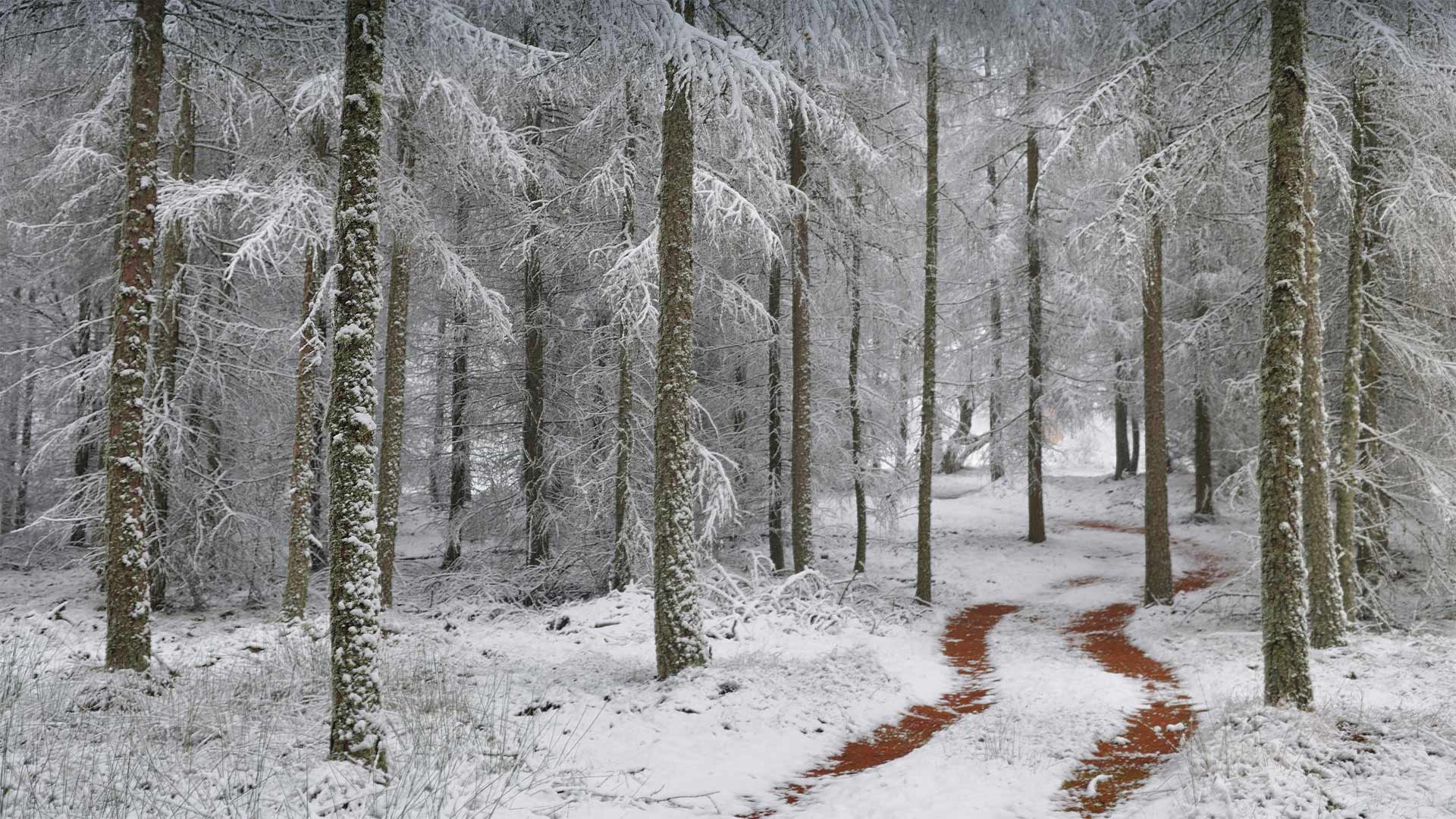 北孚日地区自然公园,法国 Northern Vosges Regional Nature Park, France (© Michel Rauch/Minden Pictures)
Where is this wintry road?
This wintry, wooded scene comes from the Northern Vosges Regional Nature Park in northeastern France, one of the country's most beautiful and pristine examples of natural beauty. The park, established in 1976, is over 322,000 acres in size, 65% of which is covered in forest, including the species of larch tree seen here. These larches are native to many of the mountains of central Europe, such as the Alps, Carpathians, and the Pyrenees.

Even though the area here is dotted with villages, because so much of its natural beauty remains, this rural park was named by UNESCO as one of its World Biosphere Reserves. UNESCO studies these reserves to trace the interaction between social systems and the natural world. This biodiversity of the Northern Vosges includes a wide array of forests and wetlands, fauna and flora, but also contains over 100 municipalities, farmlands and even five structures left over from France's infamous WWII-era Maginot Line of fortifications built to deter invading German forces. With its many hiking trails, the Northern Vosges region is a favorite for outdoor enthusiasts and nature lovers.
这条冬天的路在哪里?
这个寒冬里树木繁茂的场景来自法国东北部的北部沃斯地区自然公园,这里是法国最美丽和最原始的自然美景之一。这个公园建于1976年,占地32.2万英亩,其中65%被森林覆盖,包括这里看到的落叶松。这些落叶松原产于中欧的许多山脉,如阿尔卑斯山、喀尔巴阡山和比利牛斯山。
尽管这里到处都是村庄,但由于保留了太多的自然美景,这个乡村公园被联合国教科文组织命名为世界生物圈保护区之一。联合国教科文组织对这些保护区进行研究,以追踪社会系统与自然世界之间的相互作用。这种生物多样性的北部沃斯包括广泛的森林和湿地,动植物群,但也包含了100多个城市,农田,甚至还包括法国二战时期臭名昭著的马其诺线遗留下来的防御工事,目的是阻止入侵的德国军队。北沃斯地区有许多徒步旅行路线,是户外爱好者和自然爱好者的最爱。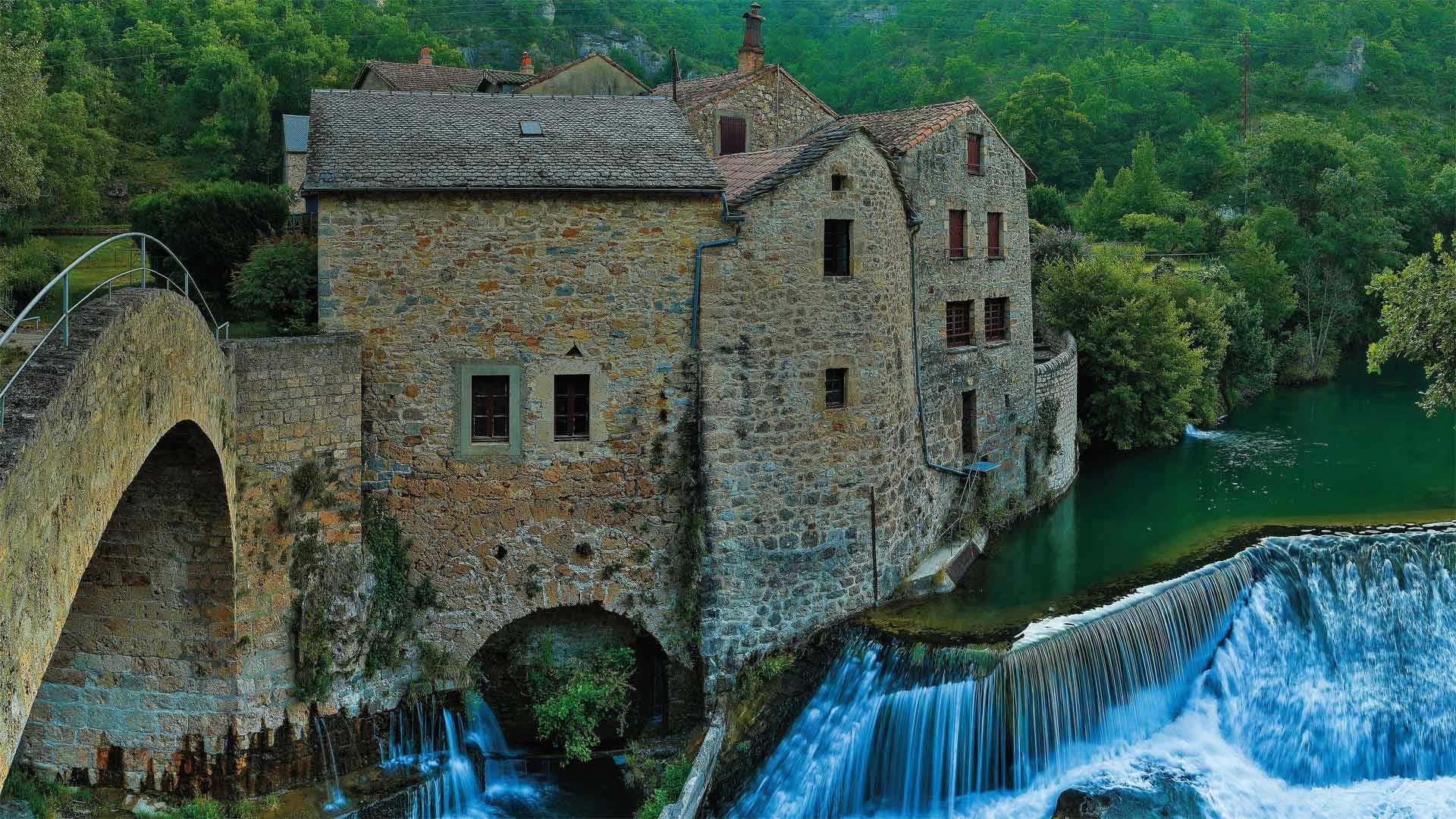 杜尔比河峡谷中的Moulin de Corp和小桥,法国Grands Causses自然公园 The Dourbie Gorge Corps Mill and adjoining bridge in Grands Causses Natural Regional Park, France (© Hemis/Alamy)
A gorge-ous mill in the Causses
It may look peaceful now, but on warm days the river below this mill attracts swimmers, kayakers, and the occasional sport fisherman. Moulin de Corps (Corps Mill) connects to a stone bridge that spans the Dourbie River in a gorge deep within the Grands Causses Regional Nature Park of southern France. Built by a French lord in the 14th century, the mill originally produced flour. But by the 20th century it had been converted to the private residence we see in today's picture. The Grands Causses Regional Nature Park is home to hundreds of mills like this one, examples of a cultural heritage that can still be found throughout the Mediterranean agro-pastoral landscape.