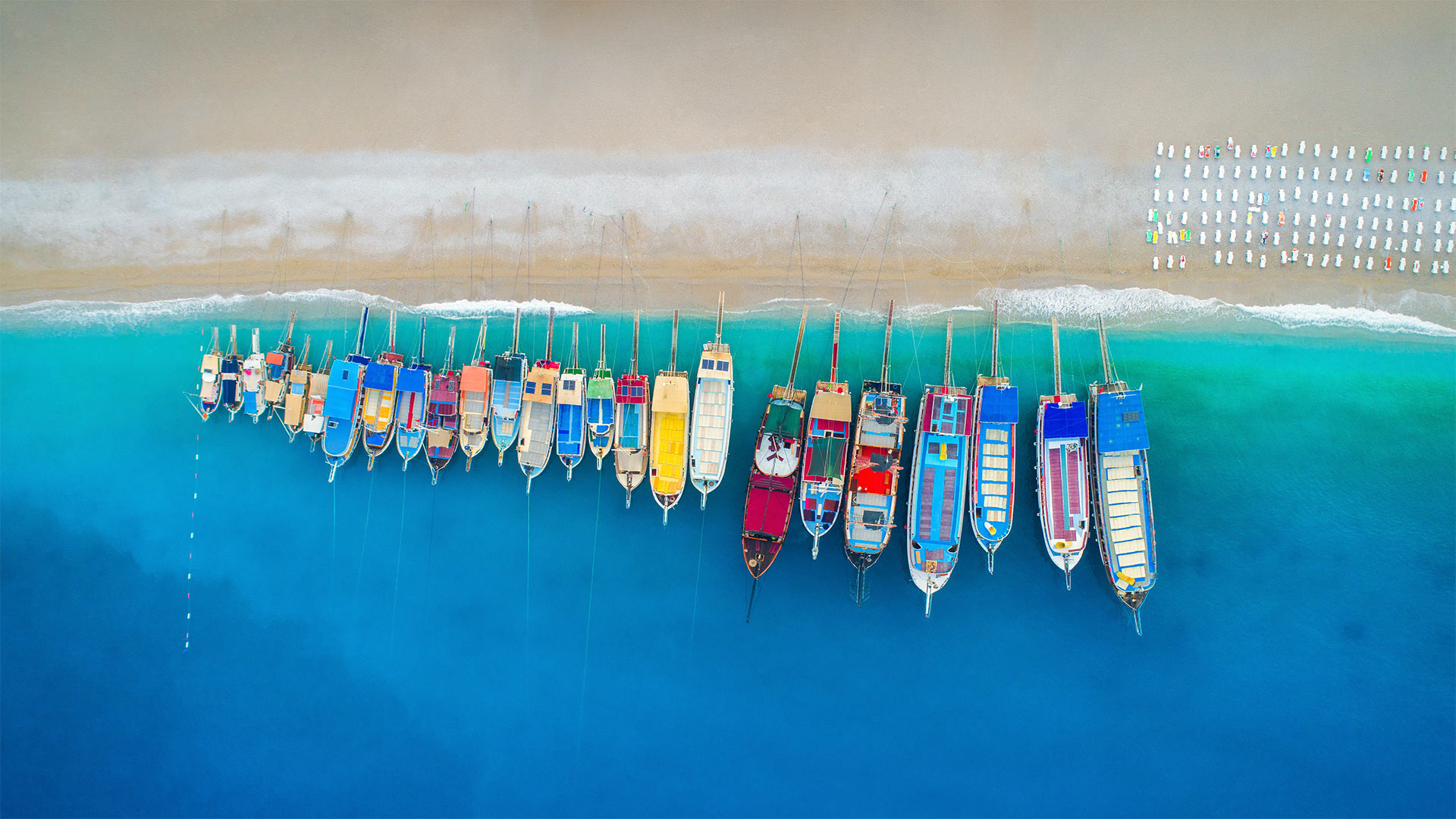 鸟瞰视角下的彩色船只,土耳其欧鲁旦尼斯 Aerial view of colorful boats in the Mediterranean Sea in Ölüdeniz, Turkey (© den-belitsky/Getty Images)
绚丽多彩的海滩 A beach of many colors
Ölüdeniz, Turkey
Whether you love snorkeling, scuba-diving, swimming, paragliding, or simply soaking up some sun, Ölüdeniz on Turkey's Turquoise Coast will fit the bill. The village and beach resort are named for the Blue Lagoon that's set off from the ocean by a long sandbar. (The literal translation of Ölüdeniz is 'Dead Sea,' reflecting the calm water, but for marketing purposes, the gorgeous color is more complimentary.) Much of the area is protected inside a national park, and the Ölüdeniz beach proudly holds the Blue Flag certification by the Foundation for Environmental Education, which recognizes high environmental and quality standards.

When you're all beached out, head for the hills. Ölüdeniz is one of the best paragliding spots in the world, so launch yourself from the impressive Mount Babadağ—just 3 miles from the seaside—and enjoy spectacular views of the lagoon, the beach, the Aegean and Mediterranean seas, and the scenic hills and valleys fading into the distance. Once you're back on solid ground, take a trip to the marvelous Butterfly Valley—it's easy, just jump on a taxi boat or drive the lovely local road that hugs the coast. Hopefully you'll spot a variety of butterflies as you hike through the natural canyon. Whether you go by air, land, or sea, there are so many ways to celebrate nature and diversity in this gorgeous part of the world.
欧鲁旦尼斯,土耳其
无论你喜欢浮潜、水肺潜水、游泳、滑翔伞,还是仅仅是晒晒太阳,土耳其绿松石海岸的欧鲁旦尼斯都是合适的选择。这个村庄和海滩度假胜地以蓝色的环礁湖命名,环礁湖由一个长长的沙洲与大海相望。(欧鲁旦尼斯的直译是"死海",反映了平静的海水,但出于营销目的,华丽的颜色更具互补性。)大部分地区在国家公园内受到保护,而欧鲁旦尼斯海滩自豪地持有环境教育基金会的蓝旗认证,该基金会承认高环境和质量标准。
当你们都在海滩上时,往山上走。欧鲁旦尼斯是世界上最好的滑翔伞景点之一,因此,从令人印象深刻的巴巴达山出发——距离海边仅3英里,欣赏泻湖、海滩、爱琴海和地中海的壮丽景色,以及远处逐渐消失的风景如画的丘陵和山谷。一旦你回到坚实的地面上,就可以去奇妙的蝴蝶谷旅行。这很容易,只要跳上一艘出租车,或者开着可爱的当地公路,环抱海岸。希望你在穿越自然峡谷时能看到各种各样的蝴蝶。无论你乘飞机、陆路还是海运,在这个美丽的地方,有很多方式来庆祝大自然和多样性。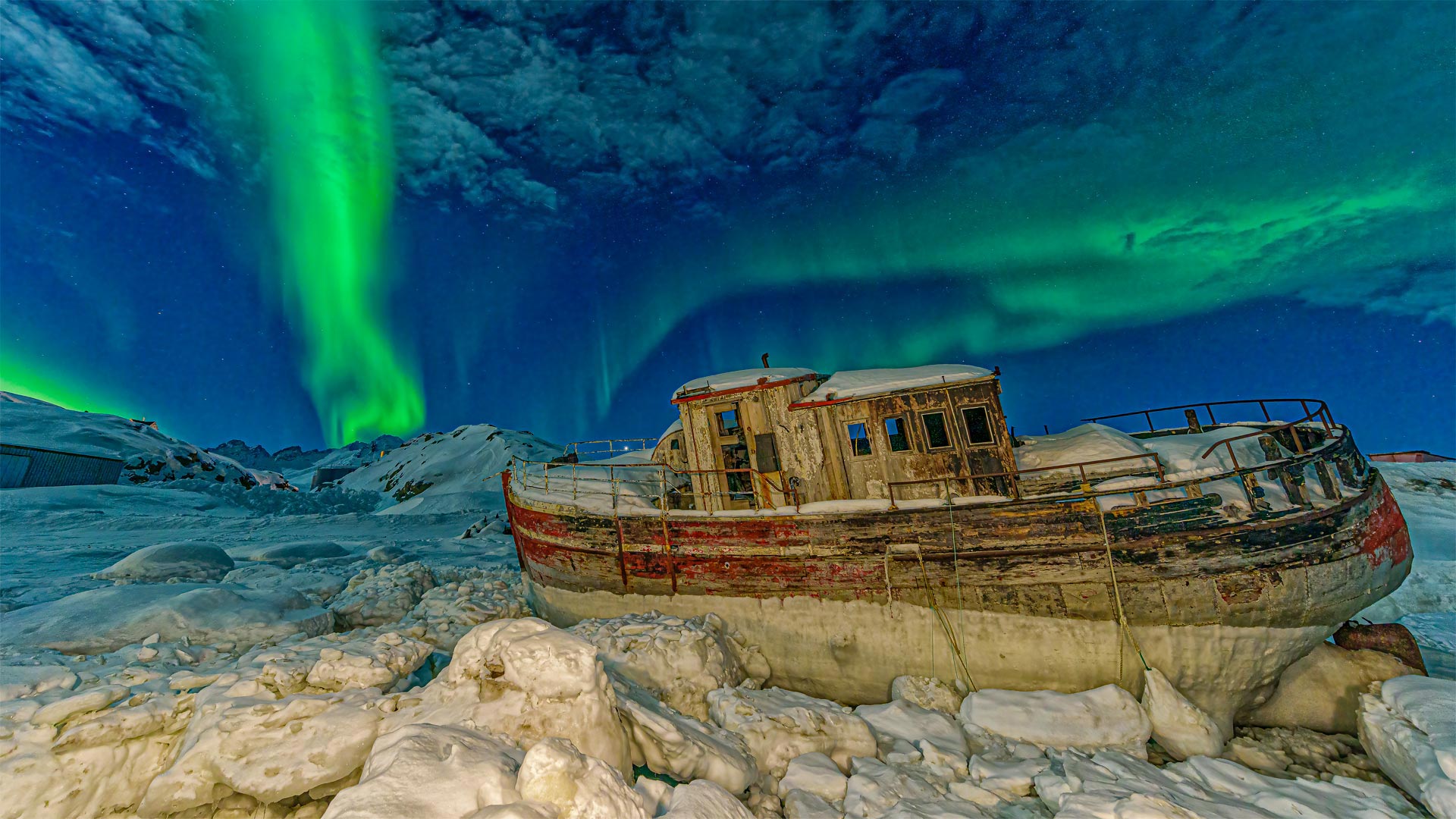 搁浅船只上空的极光,格陵兰岛塔西拉克 Northern lights over a stranded boat in Tasiilaq, Greenland (© Shane P. White/Minden Pictures)
Tasiilaq, Greenland
It's said that Erik the Red gave Greenland its deceptively pleasant name to draw unwitting settlers to the snowy subcontinent. The Viking leader wasn't totally fibbing, though: Greenland can turn pretty darn green as aurora borealis gives the glaciers a glow-up.

This verdant display was captured in Tasiilaq, the largest settlement on the island's east coast. Though Tasiilaq is home to fewer than 2,000 people, it's one of Greenland's fastest-growing towns. Plus, regular plane hops from Reykjavik, Iceland—about 500 miles east—add the occasional cold-tolerant tourist to the population.
据说红色埃里克给格陵兰取了一个貌似很好的名字,以吸引不知情的定居者来到这个多雪的次大陆。尽管如此,维京人的领袖并不是完全在撒谎:当北极光使冰川发光时,格陵兰岛可以变成非常糟糕的绿色。
这张翠绿的照片是在塔西拉克拍摄的,塔西拉克是该岛东海岸最大的定居点。虽然塔西拉克的人口不到2000人,但它是格陵兰发展最快的城镇之一。此外,从冰岛雷克雅未克向东约500英里的地方定期乘坐飞机,也为当地居民增加了偶尔的耐寒游客。