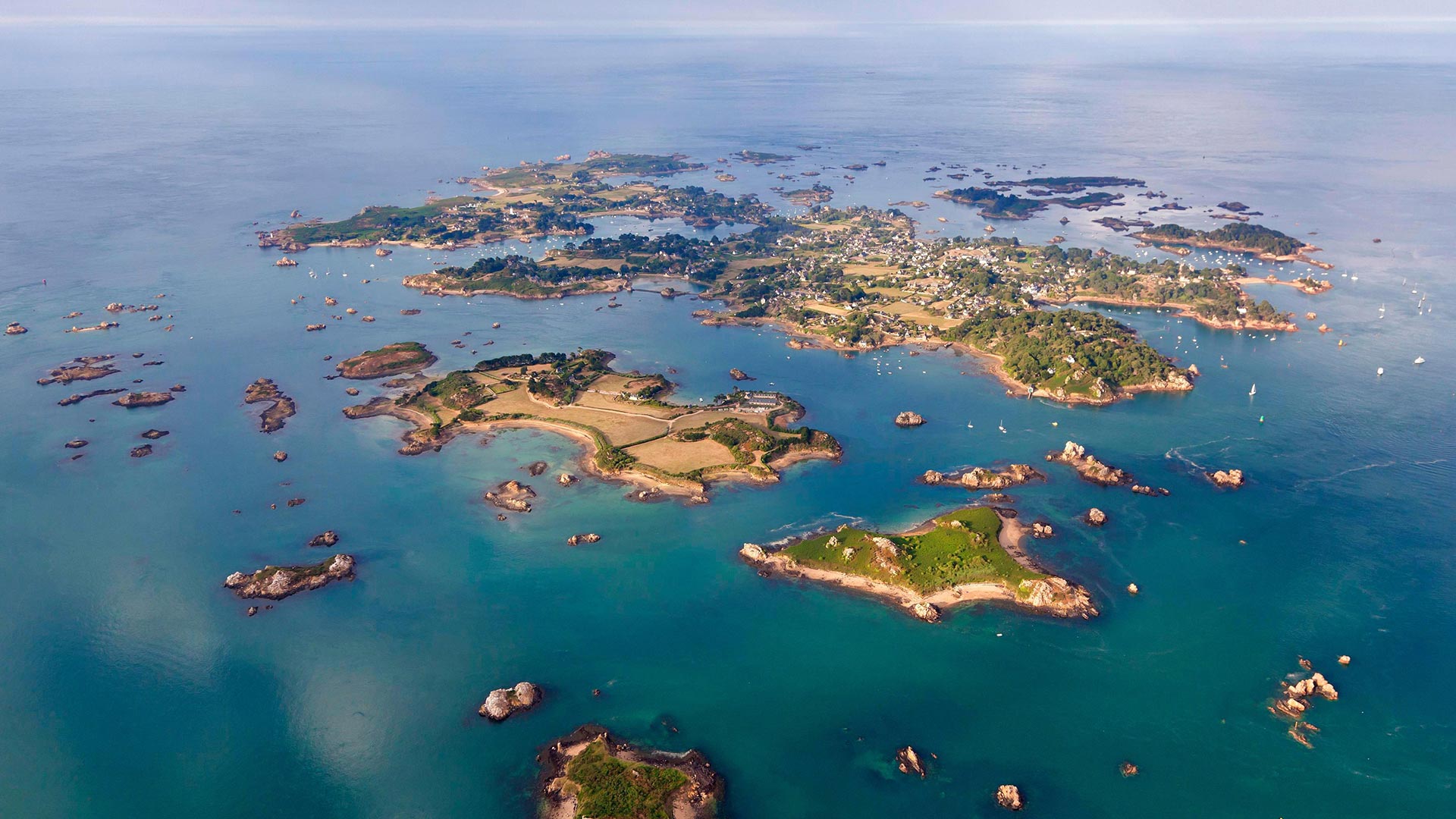 鸟瞰视角下的布雷阿岛,法国阿摩尔滨海省 Aerial view of Bréhat island, Côtes-d'Armor, France (© LECLERCQ Olivier/hemis.fr/Alamy)
布列塔尼!Brittany!
Bréhat island
Brittany wins us over! Today head to the Bréhat archipelago, made up of the main island and 86 neighboring islets and reefs. On July 13, 1907, Bréhat became the first natural site classified in France! 3.5 kilometers long and 1.5 kilometers wide, the island is accessible by boat and can be visited on foot or by bicycle. You will discover here a multitude of coves, beaches, and shelters for lost sailors. If you are planning a trip to the island, then we suggest you go in spring or autumn: there are fewer people, the weather remains mild and nature is lush.

All year round, the archipelago benefits from the influence of the Gulf Stream, which provides it with a particularly mild microclimate in winter. Many varieties of flowers color the island: exotic plants such as agave or echium; flowers like the hydrangea, the mimosa, the mulberry, the eucalyptus, the aloe, or the camellia… But the flower that most symbolizes Bréhat is the agapanthus which blooms from April to September and colors the paths with its hue blue-purple.

Traveling through Bréhat, you discover a rich and varied heritage that traces the maritime and military history that marked the island. In the past, Bréhat provided the crown of France with numerous corsairs that caused terror to reign over the Atlantic. Thus, there are monuments such as the Pont ar Prad built by Vauban, It was built to connect the two islands forming Bréhat and a citadel which today houses the Verreries de Bréhat.
布莱哈特岛
布列塔尼赢了我们!今天,前往布莱哈特群岛,该群岛由主岛和86个相邻的岛屿和珊瑚礁组成。1907年7月13日,布莱哈特成为法国第一个自然遗址!该岛长3.5公里,宽1.5公里,可乘船前往,可步行或骑自行车前往。你会在这里发现许多海湾、海滩和迷路水手的庇护所。如果你计划去这个岛旅行,那么我们建议你在春天或秋天去:那里的人少了,天气依然温和,自然繁茂。
该群岛全年都受益于墨西哥湾流的影响,这为它提供了一个特别温和的冬季小气候。岛上有许多不同种类的花:奇异的植物,如龙舌兰或刺五加;绣球花、含羞草、桑树、桉树、芦荟或茶花……但最能象征百日咳的花是阿伽潘托斯,它从4月到9月开花,并以蓝紫色将道路染成蓝色。
穿过布雷哈特,你会发现一个丰富多样的遗产,可以追溯该岛的海洋和军事历史。在过去,布莱哈特为法国王冠提供了无数海盗船,这些海盗船在大西洋上空制造了恐怖。因此,这里有一些纪念碑,比如沃班建造的阿尔普拉德桥,它是为了连接两个岛屿而建造的,形成了布雷哈特岛和一座城堡,今天这里有布雷哈特城堡。