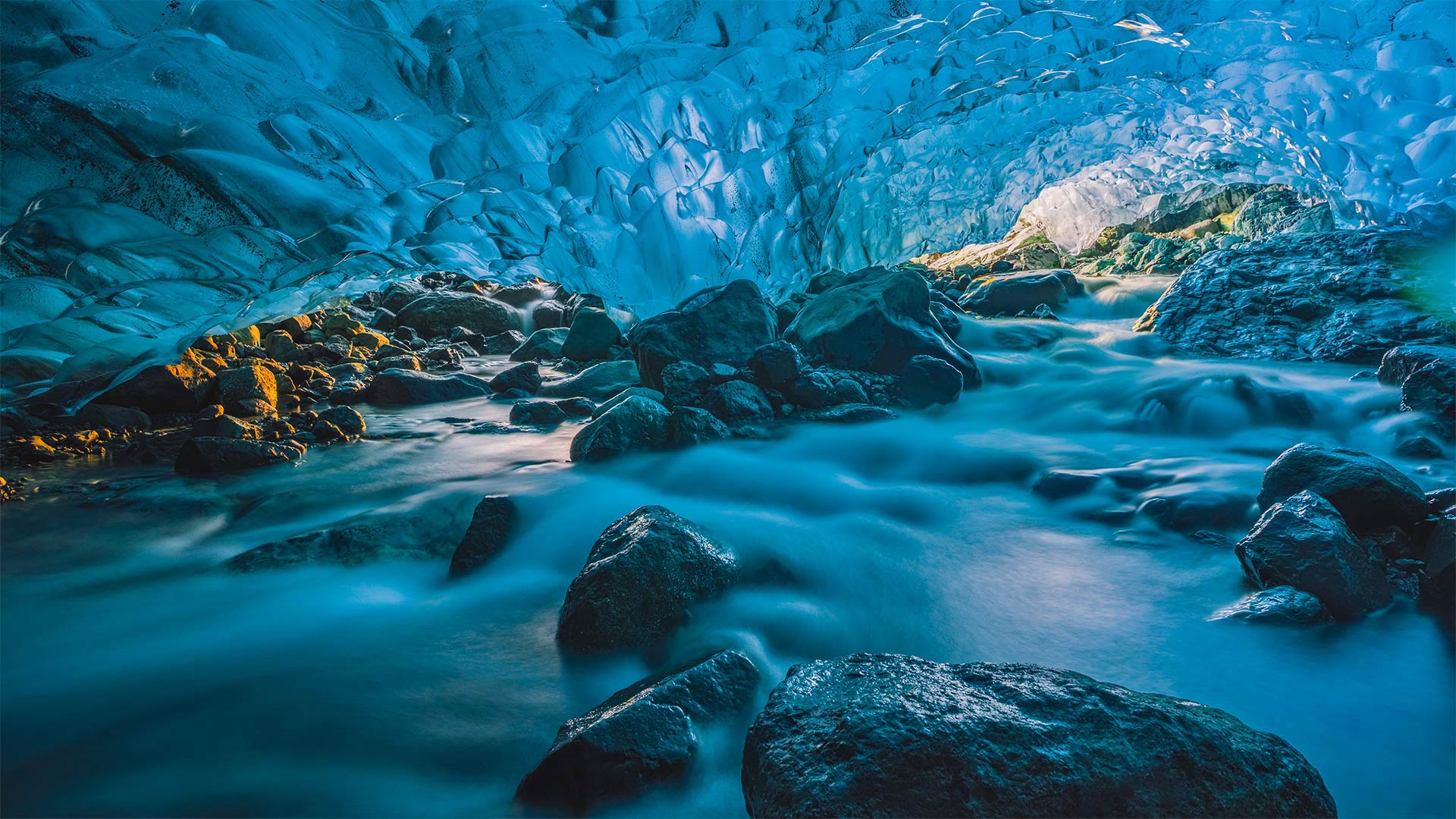 冰川洞穴里流动的河流,冰岛瓦特纳冰原 Flowing river inside a glacier cave, Vatnajökull, Iceland (© Marco Bottigelli/Getty Images)
冰,冰,正在坍塌 Ice, ice, caving
Glacier cave in Iceland
The land of fire and ice is home to countless natural wonders, like these brilliant blue caves formed within the ice of a glacier. (Glacier caves are often called ice caves, but the latter term is properly used to describe bedrock caves that contain year-round ice.) The majority of these glacier caves are on the southeastern edge of Iceland in Vatnajökull glacier, which covers about 8% of the island nation and is one of the largest glaciers in Europe.

Vatnajökull's caves, formed by the flowing rivers underneath the glacier, are famous for their blue corridors and eerie atmosphere. The caves are only accessible from November until March when temperatures are cold enough to strengthen the ice. The caves vary in size and shape each year, so enjoy the beauty of this one while you can, because it may not be around next winter.
这片冰雪之地拥有无数自然奇观,比如这些在冰川冰中形成的明亮的蓝色洞穴。(冰川洞穴通常被称为冰洞,但后一个术语被恰当地用来描述含有全年冰的基岩洞穴。)这些冰川洞穴大多位于冰岛东南边缘的瓦特纳库尔冰川(Vatnajökull glacier),该冰川覆盖了该岛国约8%的面积,是欧洲最大的冰川之一。
Vatnajökull的洞穴由冰川下流动的河流形成,以其蓝色的走廊和怪异的氛围而闻名。这些洞穴只有在11月至3月期间才能到达,那时的温度足够冷,足以强化冰。这些洞穴每年都有不同的大小和形状,所以尽可能地欣赏这座洞穴的美丽,因为它可能不会在明年冬天出现。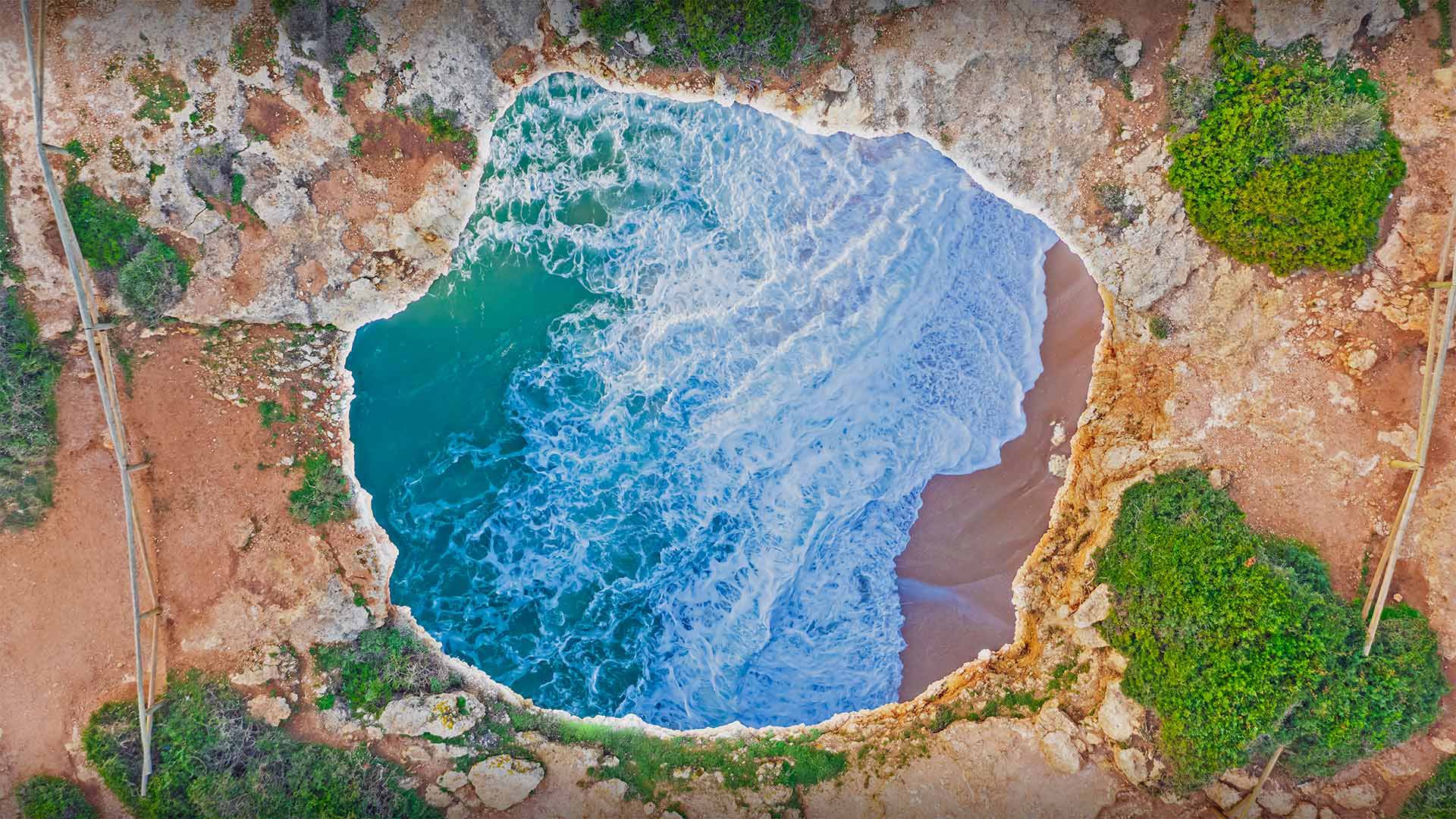 贝纳吉尔洞穴,葡萄牙阿尔加维 Benagil Cave in the Algarve, Portugal (© Michael Malorny/Offset by Shutterstock)
Eye of the cave
Many sea caves and rock formations line the alluring Algarve coast in the south of Portugal, and today we're shedding light on Benagil Cave—one of the region's most spectacular and famous natural landmarks. Just east of the small fishing village of Benagil, the cave was formed about 20 million years ago from the pounding waves that sweep in from the Atlantic. Rainfall has caused the softer segments of limestone to erode, creating a giant hole in the cave's roof, which is what we're looking down through in our photo.

The eye-shaped opening allows sunlight to stream into the cave, illuminating the golden beach and azure waters within its layered walls. The only way to explore the inside is by sea, so visitors need to hop on a boat, kayak, or paddleboard to enter the grotto.
葡萄牙南部迷人的阿尔加维海岸沿线有许多海洞和岩层,今天我们将向大家展示该地区最壮观、最著名的自然地标之一贝纳吉尔洞穴。就在小渔村贝纳吉尔的东面,这个洞穴是大约2000万年前由大西洋拍打而来的海浪形成的。降雨导致较软的石灰岩段被侵蚀,在洞穴顶部形成了一个巨大的洞,这就是我们在照片中看到的。
眼睛形状的开口让阳光流入洞穴,照亮了分层墙内的金色海滩和蔚蓝的海水。探索洞穴内部的唯一方法是通过海上,因此游客需要跳上小船、皮划艇或桨板才能进入洞穴。