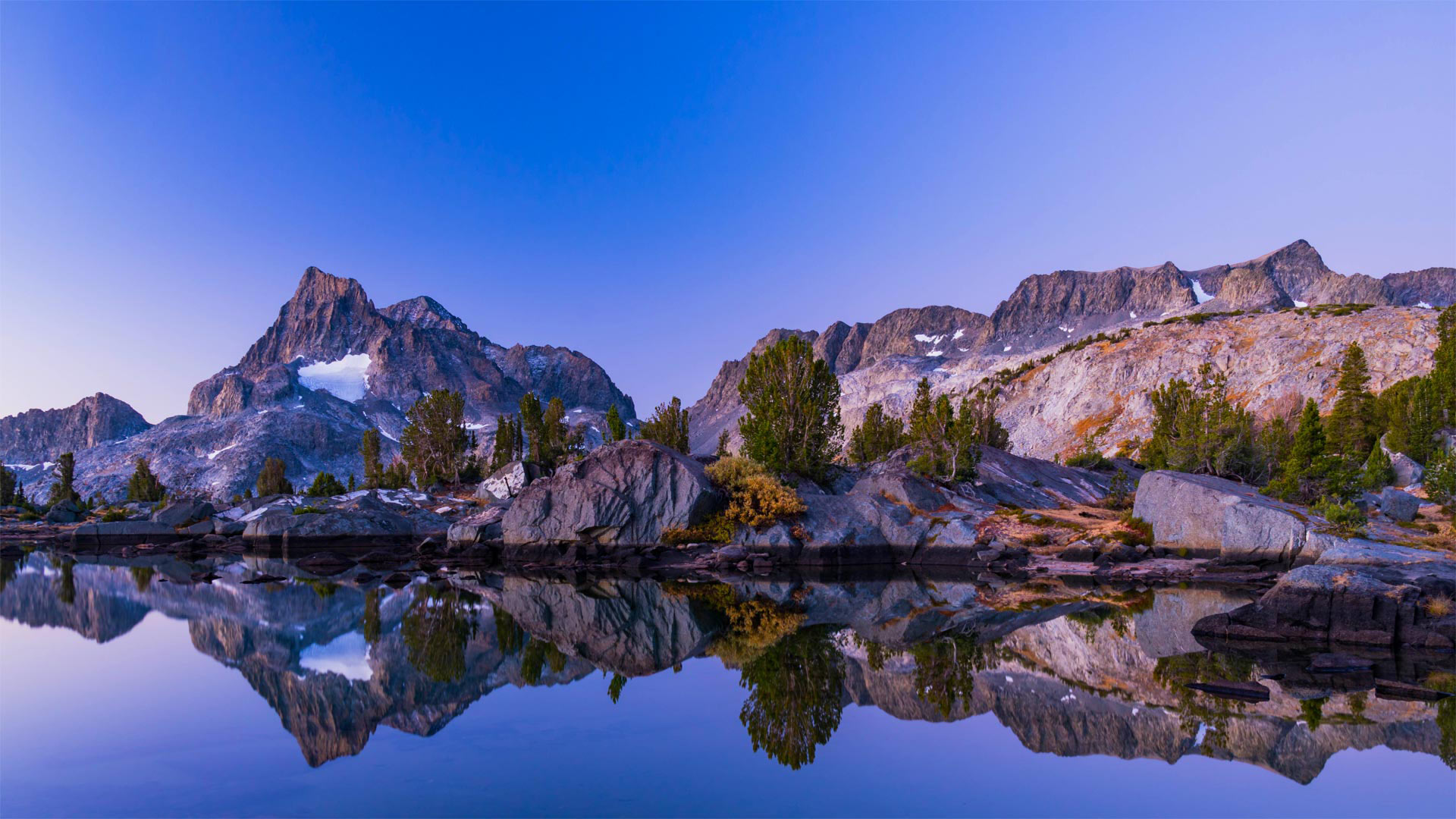 安塞尔·亚当斯的荒野,加利福尼亚 View of Banner Peak from Thousand Island Pass, Ansel Adams Wilderness, California (© Michael DeYoung Photography/Tandem Stills + Motion)
前往山林,今天是国家步道日! Head for the hills, it's National Trails Day!
National Trails Day
Whether you're a leisurely day walker or a hardcore hiker, there's a US National Trail with your name on it. Thankfully the trails in the national network are categorized as 'Scenic,' 'Historic,' or 'Recreational' to simplify things. The most famous pathway is the Appalachian Trail ('Scenic'), which was the first to be officially named to the National Trails System when President Lyndon B. Johnson signed the system into law in 1968.

In a speech three years earlier, Johnson had said, 'We can and should have an abundance of trails for walking, cycling, and horseback riding, in and close to our cities. In the backcountry, we need to copy the great Appalachian Trail in all parts of America.' His vision took root, and today there are protected trails across the US, with much of their upkeep carried out by enthusiastic volunteers. If you need an incentive to hit the great outdoors, we reckon this image should do the trick. Banner Peak and Thousand Island Lake in the Ansel Adam Wilderness are highlighted along both the Pacific Crest Trail and the John Muir Trail.

Today is National Trails Day, established by the American Hiking Society as a day of public events aimed at advocacy and trail service. On this day, 'Thousands of hikers, bikers, rowers, horseback riders, trail clubs, federal and local agencies, land trusts, and businesses come together in partnership to advocate for, maintain, and clean up public lands and trails,' the AHS explains. The society aims to protect and enhance US National Trails for generations to come. A current focus is to make sure that trails are inclusive and accessible to everyone.
无论你是一个悠闲的日间旅行者还是一个铁杆徒步旅行者,都有一条美国国家小道,上面写着你的名字。谢天谢地,国家网络中的小径被归类为"风景区"、"历史区"或"休闲区",以简化事情。最著名的路径是阿巴拉契亚小径("风景区"),这是1968年林登·B·约翰逊总统将国家小径系统签署为法律时,第一条正式命名为国家小径系统的路径。
在三年前的一次演讲中,约翰逊曾说过:"我们可以而且应该在我们的城市内和附近有大量的小径,可以步行、骑自行车和骑马。"。在偏远地区,我们需要复制美国各地的阿巴拉契亚山脉他的愿景扎根于此,如今,美国各地都有受保护的小径,它们的大部分维护工作都是由热情的志愿者完成的。如果你需要一个动机去户外旅行,我们认为这张图片应该能起到作用。安塞尔亚当荒野中的旗帜峰和千岛湖沿着太平洋顶峰小径和约翰·缪尔小径突出显示。
今天是国家徒步日,由美国徒步旅行协会设立,作为公共活动日,旨在宣传和提供徒步服务。AHS解释说,在这一天,"数千名徒步旅行者、自行车手、划船手、马背骑手、小道俱乐部、联邦和地方机构、土地信托基金和企业携手合作,倡导、维护和清理公共土地和小道。"。该协会旨在为子孙后代保护和加强美国国家步道。当前的一个重点是确保所有人都能访问到包含在内的轨迹。