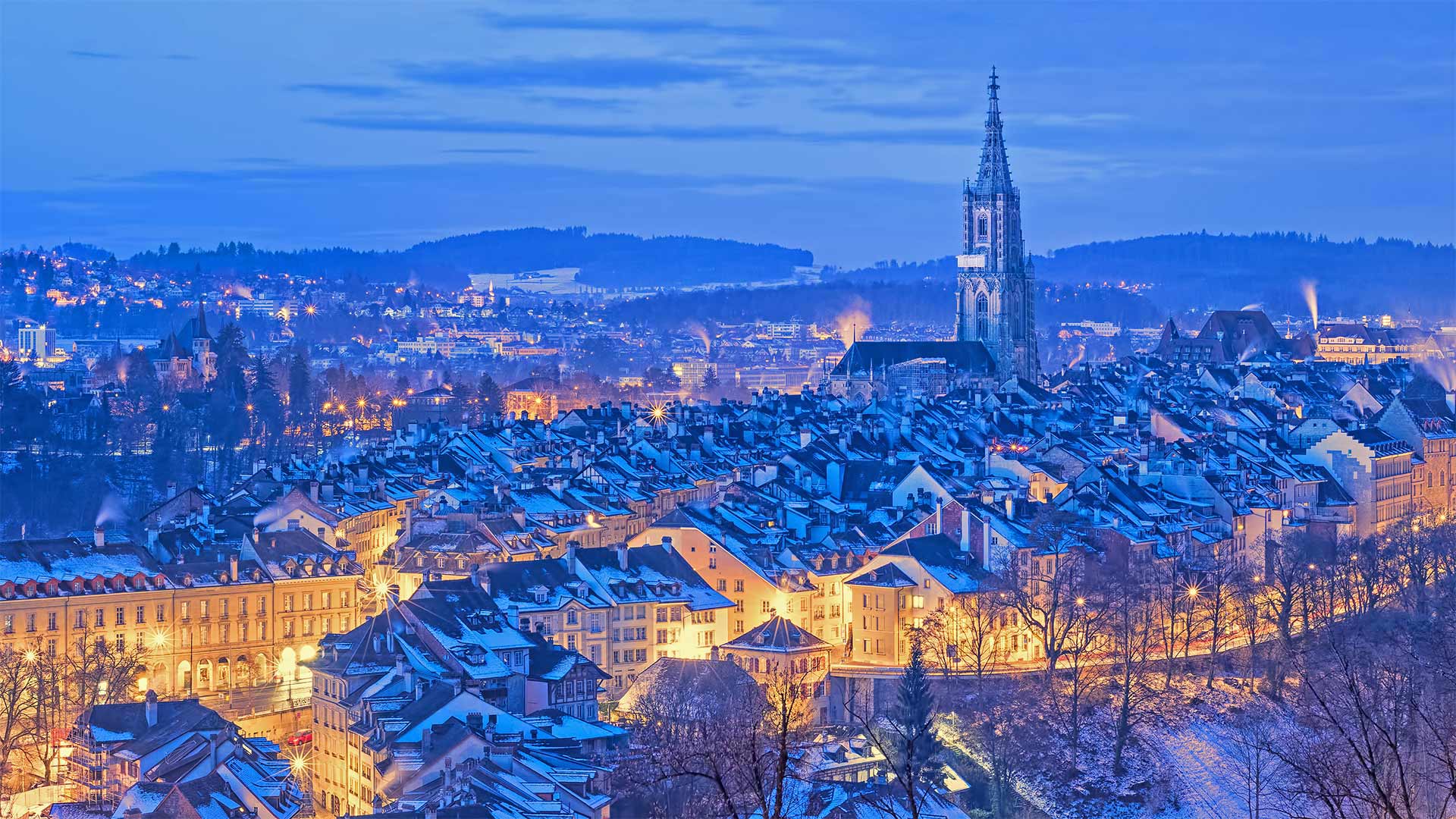 静谧的伯尔尼古城区,瑞士 Old Town section of Bern, Switzerland (© Xantana/Getty Images)
古城区的灯火 The lights of Old Town
Old Town section of Bern, Switzerland
Welcome to a wintry wonderland in Bern, the capital of Switzerland. We're in the city's medieval center—Old Town—which looks much as it did when many of these buildings were constructed between the 12th and 15th centuries.

Old Town was founded in 1191 on a long, narrow peninsula surrounded on three sides by the Aare River. Today, visitors and locals alike enjoy strolling down quaint alleyways and cobblestoned streets amidst the charming medieval buildings. In winter, many stop here en route to ski on the nearby Bernese Oberland mountains or to visit the Schwarzsee ice palaces.

Those in the know also suggest a climb to the top of the Bernese Minster, the highest church spire in all of Switzerland, seen in our photo. It's just 312 steps to the viewing deck, but we hear the panorama of snowy rooftops and the nearby peaks is worth the climb.
瑞士伯尔尼老城区
欢迎来到瑞士首都伯尔尼的冬日仙境。我们在这座城市的中世纪中心旧城区,它看起来和许多这些建筑在12世纪到15世纪之间建造时的样子差不多。
老城区建于1191年,位于一个狭长的半岛上,三面环绕着阿勒河。如今,游客和当地人都喜欢在迷人的中世纪建筑中漫步在古雅的小巷和鹅卵石铺就的街道上。在冬天,许多人会在这里停留,在附近的伯尔尼奥伯兰山滑雪,或参观施瓦西冰宫。
知情人士还建议爬上伯尔尼教堂尖顶,这是全瑞士最高的教堂尖顶,如我们的照片所示。到观景台只有312步,但我们可以听到雪天屋顶和附近山峰的全景,值得攀登。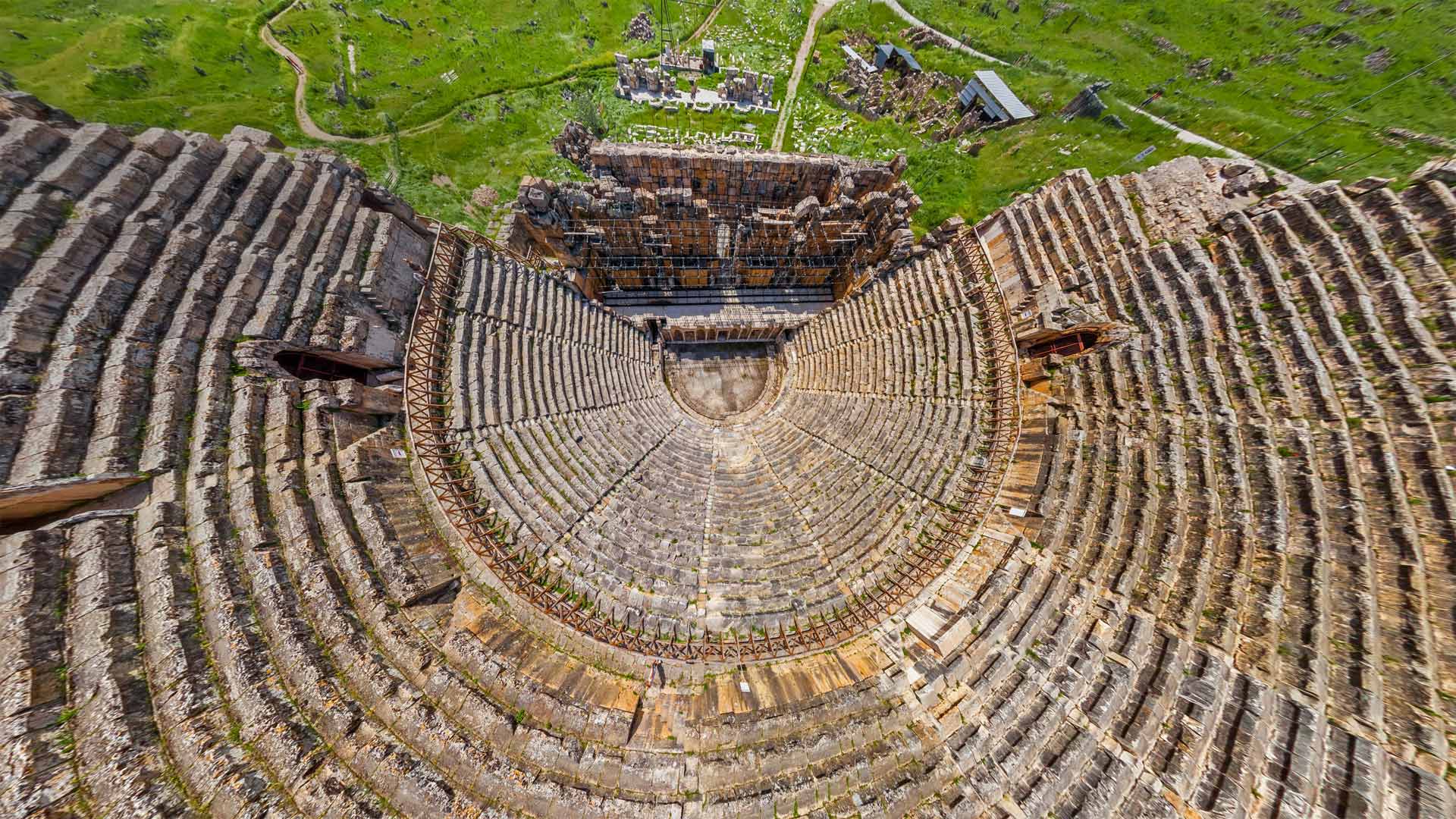 土耳其棉花堡附近希腊古城希拉波利斯的剧院鸟瞰图 Aerial view of the theater at the ancient city of Hierapolis, adjacent to Pamukkale, Turkey (© Amazing Aerial Agency/Offset by Shutterstock)
Take in a show on your Roman holiday
In the hills around Pamukkale, Turkey, you'll find the ancient ruins of Hierapolis, which thrived here as holy and healing destination through Greek, Roman, and Ottoman times. The city was founded as a thermal spa in 190 BCE by Eumenes II, the king of Pergamon and was likely named after the wife of the legendary founder of the Pergamene dynasty, Hiero.

The amphitheater so prominent in this aerial view was built in the second century CE under Roman Emperor Hadrian. Renovated several times over the next 160 years—once to accommodate aquatic shows--the theater would have seated about 15,000 people. An earthquake in 1354 finally toppled the ancient city and it was abandoned until it was excavated by German archeologist Carl Humann in the 19th century. Today, the complex retains some of the best-preserved decorative features of any ancient Roman theater, with friezes of Roman Emperor Septimus Severus and his family, as well as the Greek gods Dionysus, Artemis, and Apollo.