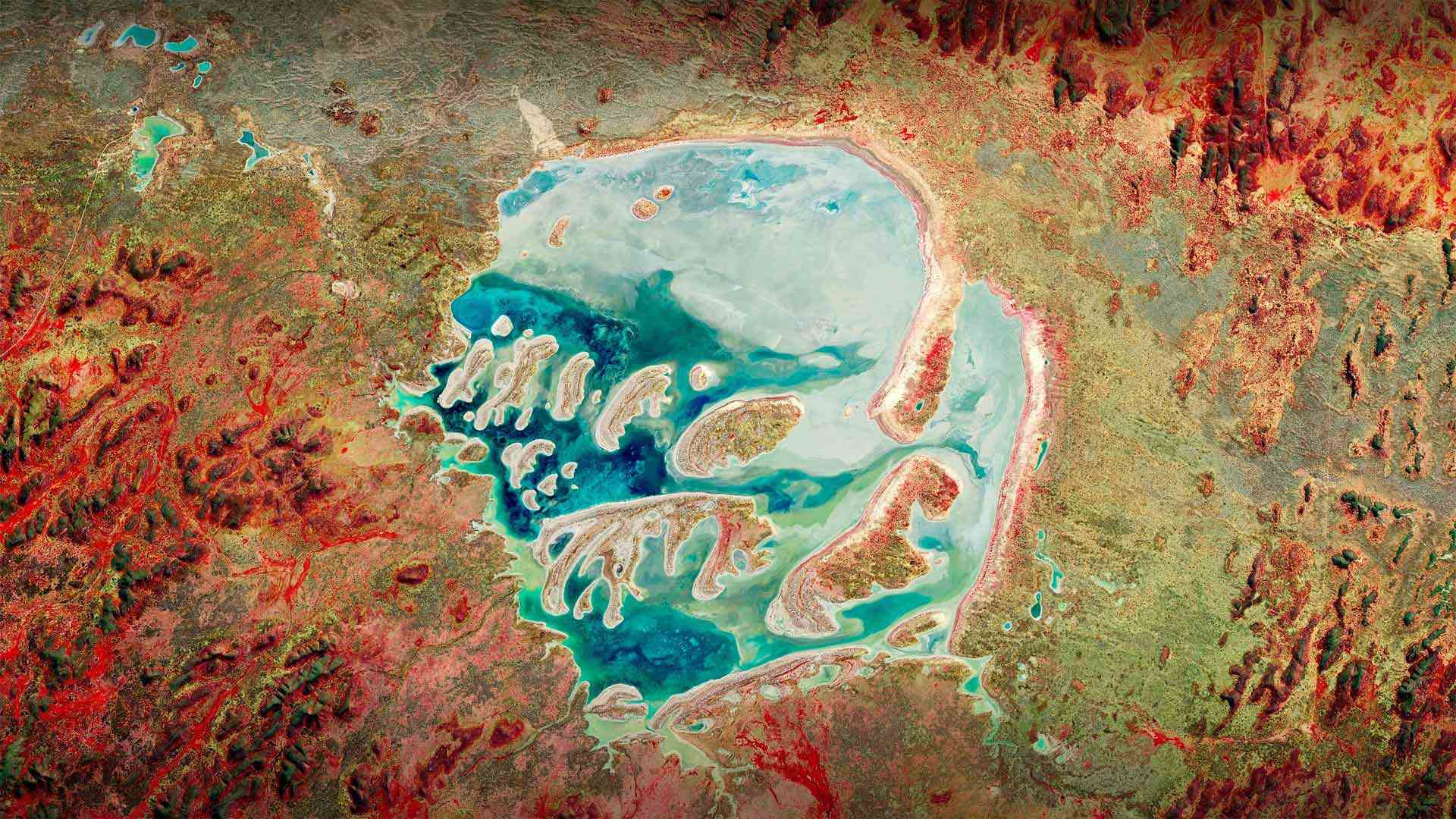 阿克拉曼火山口, 澳大利亚 The Acraman crater, Australia (© USGS/NASA Landsat data/Orbital Horizon/Gallo Images/Getty images)
Will we be ready for the 'big one'? 我们准备好迎接"大挑战"了吗?
Asteroid Day
Today is Asteroid Day, and it's a reminder that as our planet follows its path around the sun, it encounters a lot of stuff. Science tells us that, every day, Earth's atmosphere is hit with roughly 100 tons of dust and particles the size of a grain of sand. And every year, at least 30 small meteors make it through, only to burn up before touching the ground. NASA says it's pretty much guaranteed that at least one of them will be about the size of a car. As time progresses, the likelihood increases that even larger celestial rocks will hit the ground and cause significant damage.

Across the globe, there are plenty of reminders of this in the form of craters, like the one in today's photo. The Acraman crater is a point of impact in South Australia. It's believed to have been created about 590 million years ago when hit by an asteroid with a diameter that could have been as large as 56 miles across. For comparison, the asteroid thought to have killed the dinosaurs 66 million years ago was 6.2 miles across. NASA says that an asteroid the size of a football field would cause significant damage. One that could really threaten civilization hits every few million years. Hopefully, with Asteroid Day being observed across 78 countries since its inception in 2015, we'll be prepared when the 'big one' shows up.
今天是小行星日,它提醒我们,当我们的行星沿着它围绕太阳的轨道运行时,它会遇到很多东西。科学告诉我们,每天,地球大气层都会受到大约100吨沙粒大小的灰尘和颗粒的撞击。每年,至少有30颗小流星穿过,但在到达地面之前就被烧毁了。美国宇航局表示,几乎可以保证其中至少有一辆车的大小。随着时间的推移,更大的天体岩石撞击地面并造成重大损害的可能性增加。
在全球范围内,有很多火山口的形式提醒着我们这一点,就像今天照片中的一样。阿克拉曼火山口是南澳大利亚的一个撞击点。据信,它是在大约5.9亿年前被一颗直径可达56英里的小行星撞击时形成的。相比之下,被认为在6600万年前杀死恐龙的小行星直径为6.2英里。美国宇航局表示,足球场大小的小行星将造成重大破坏。每几百万年就会有一次真正威胁文明的袭击。有希望的是,自2015年小行星日成立以来,全球78个国家都在纪念小行星日,我们将在"大一号"出现时做好准备。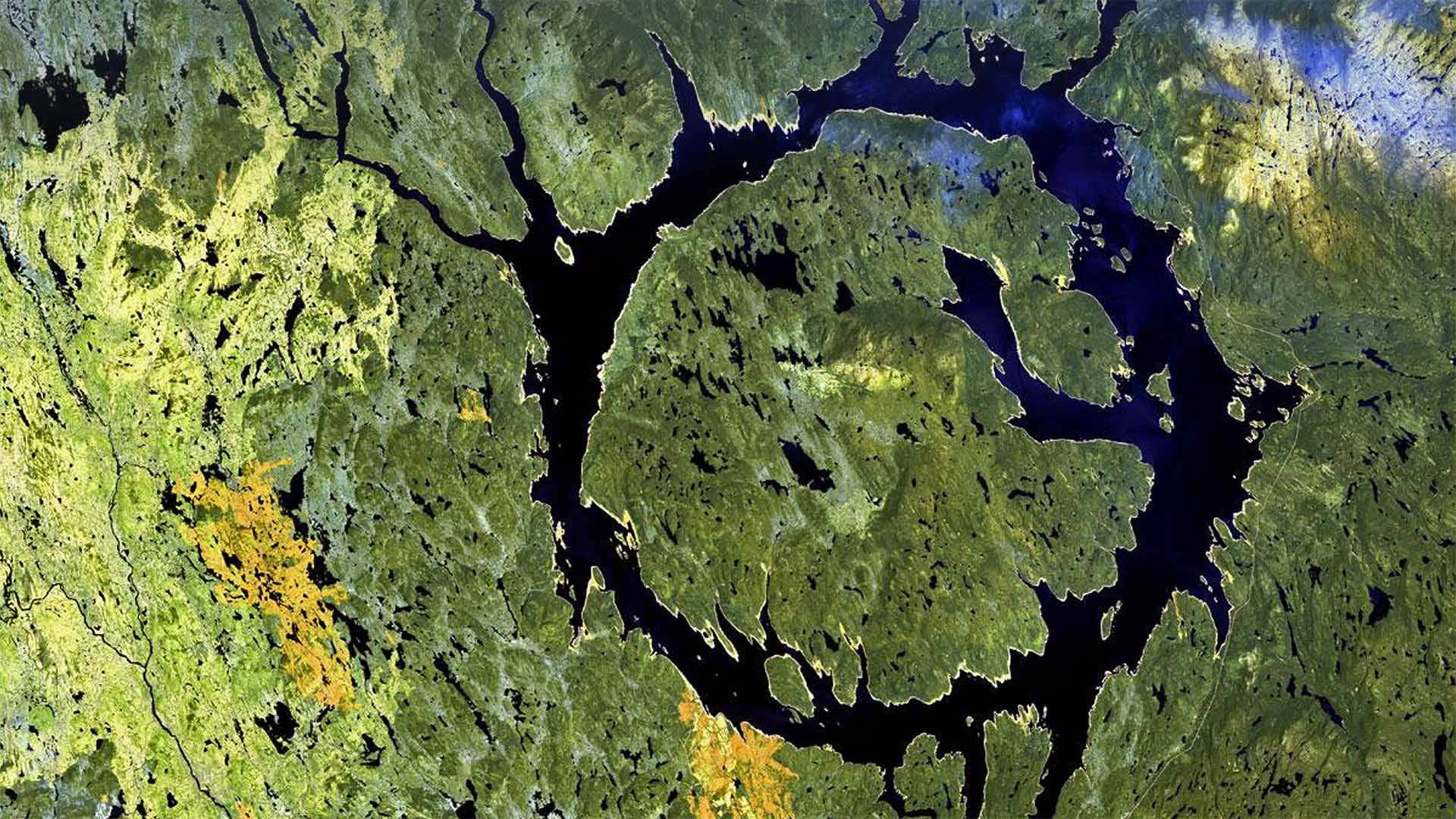 Manicouagan火山口, 魁北克加拿大 Manicouagan Crater in Québec, Canada (© Universal History Archive/Universal Images Group via Getty Images)
An impactful day
We'll be the ones to drop the news on you: It's Asteroid Day! Today you're invited to explore a realm of science usually encountered only through white-knuckle action flicks: Asteroid impact avoidance, or the study of what the heck we do if we spot a big chunk of space junk hurtling right at Earth. That's right, don't worry: People somewhere are coming up with plans for this.

Good thing, because as our photo shows, asteroid impacts do happen. Manicouagan Crater, aka the 'eye of Québec,' was formed by a 3-mile-wide meteorite that hit Earth about 215 million years ago. Much more recently, an explosive meteoroid leveled 800 square miles of Siberian forest in what's called the Tunguska event. It was 113 years ago today, and Asteroid Day's date was chosen in recognition.

So, if you find yourself casting paranoid glances at the sky today, maybe do a little searching on how scientists are learning to prevent potential impacts. Proposed plans involve everything from altering an asteroid's course via a gravitational field, to delaying its approach by attaching rocket thrusters, to good old-fashioned blowing it up. Yay science!
充实的一天
我们会把这个消息告诉你:今天是小行星日!今天,你被邀请去探索一个科学领域,这个领域通常只能通过白痴般的动作来实现:小行星撞击避免,或者研究如果我们发现一大块太空垃圾正朝地球飞来,我们该怎么办。是的,别担心:某地的人们正在为此制定计划。
好事情,因为正如我们的照片所示,小行星撞击确实发生过。Manicouagan火山口,又名"Qu之眼"é"bec"是由一块3英里宽的陨石形成的,它在大约2.15亿年前撞击地球。最近,在通古斯卡事件中,一个爆炸性流星体将800平方英里的西伯利亚森林夷为平地。那是113年前的今天,小行星日的日期被选为纪念日。
所以,如果你发现自己今天对天空投下了偏执的目光,或许可以做一些探索,看看科学家们是如何学会防止潜在的影响的。拟议中的计划涉及到从通过引力场改变小行星的轨道,到通过安装火箭推进器推迟其接近,再到老式的炸毁小行星的各种方法。耶,科学!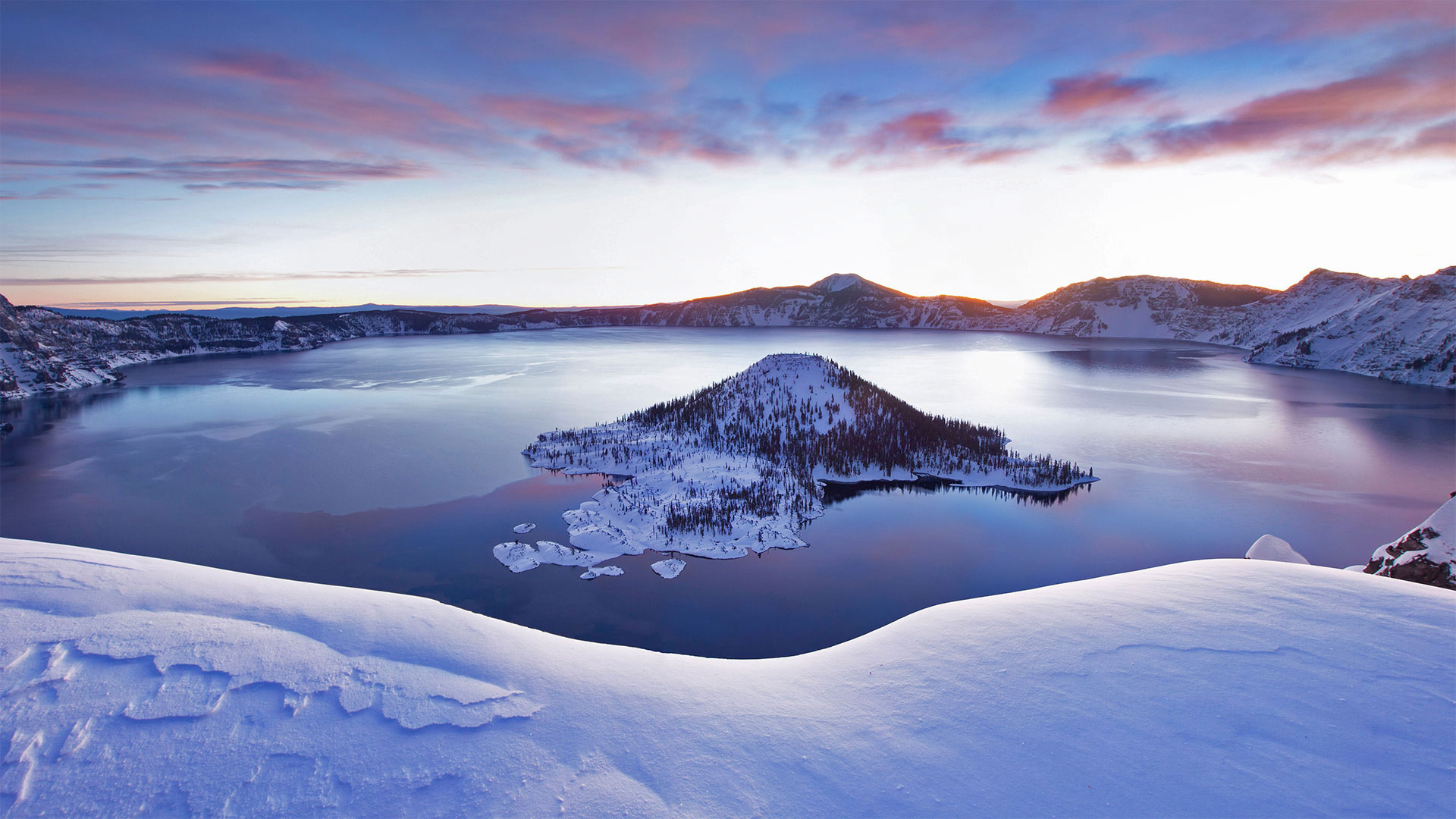 火山口湖,俄勒冈州 Crater Lake in Oregon (© Steve Bloom Images/Alamy)
Travels to the Oregon deep
We're looking out on the deepest lake in the US. Crater Lake, the centerpiece and namesake of the only national park in Oregon, goes down to depths of 1,943 feet—that's enough room to stack three-and-a-half Washington Monuments end to end. Fed mainly by snowfall, this pristine, crystal blue lake came into this world with a bang. Sometime around 5700 BCE, Mount Mazama erupted, losing roughly 3,000 feet of its height. The volcano blew out so much molten rock that it left a giant depression that gradually filled with water, giving us this serene scene today.

Crater Lake National Park is open to visitors year-round, but in the winter many of the facilities as well as the road circumventing the lake are closed. But, as our picture captures so beautifully, the snowy view is worth a (socially distant) trip.
前往俄勒冈深处
我们眺望着美国最深的湖泊。火山口湖是俄勒冈州唯一的国家公园的中心和命名地,它的深度达1943英尺,足够将首尾相接的三个半华盛顿纪念碑叠在一起。主要靠降雪,这个原始的水晶般蓝色的湖砰的一声来到了这个世界。大约在公元前5700年左右,马扎马火山爆发,失去了大约3000英尺的高度。火山喷出了大量的熔岩,留下了一个巨大的凹陷,逐渐充满了水,给了我们今天的宁静景象。
火山口湖国家公园全年向游客开放,但在冬季,许多设施以及环湖公路都关闭了。但是,正如我们的照片捕捉到如此美丽,雪景是值得值得一游的。