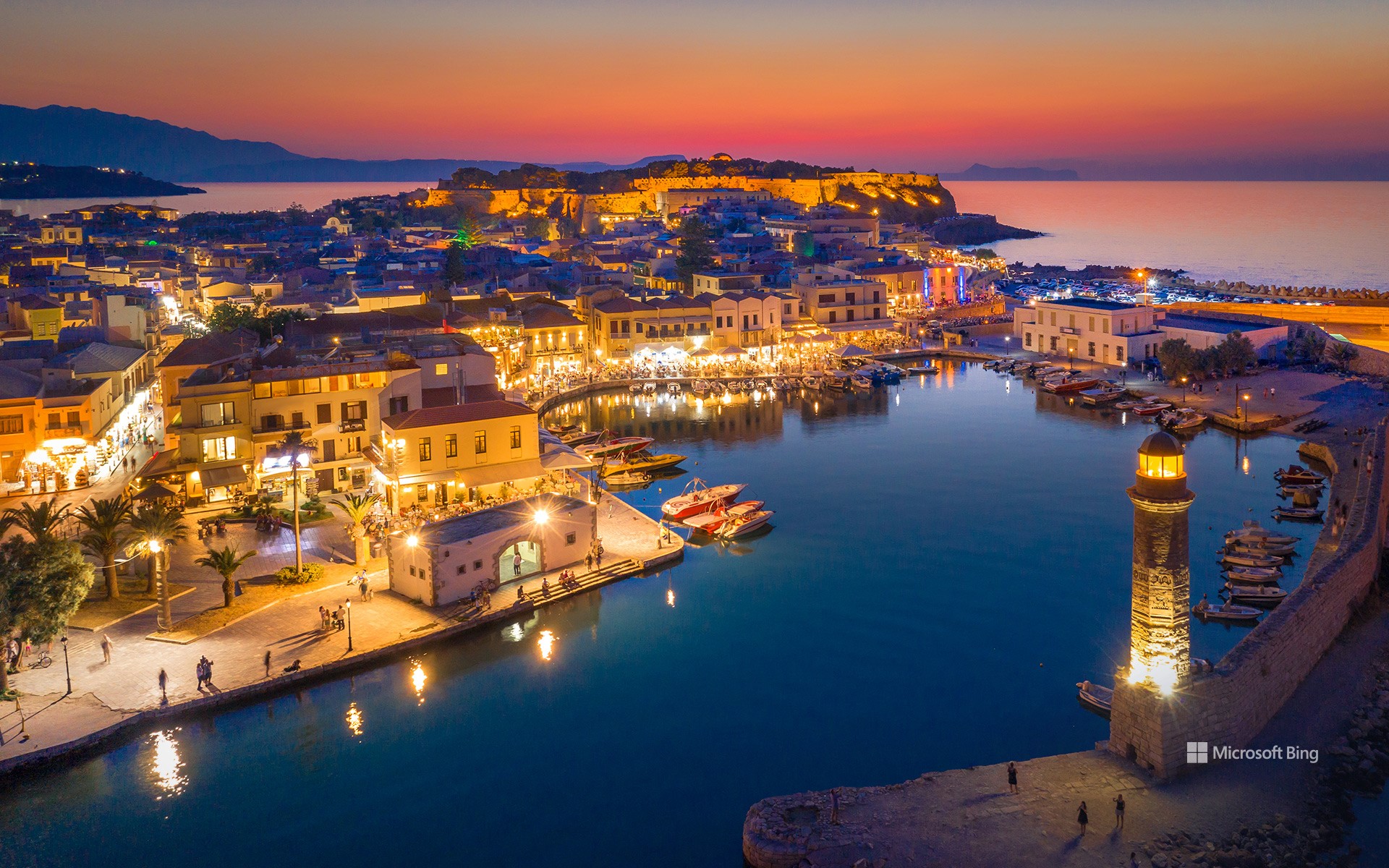 威尼斯旧港,克里特岛,希腊 Old Venetian harbor, Rethymno, Crete Island, Greece (© Gatsi/Getty Images)
准备好下锚了吗? Ready to drop anchor?
罗希姆诺,克里特岛,希腊
威尼斯港位于古城罗希姆诺。矗立在海港边缘的埃及灯塔以及当地的土耳其风格建筑,是历史上不同民族在这里留下的印记。这个港口于14世纪由威尼斯人建成,曾经在很长的一段时间里都是一个繁忙的商业中心。游客还可以造访始建于16世纪的罗希姆诺城堡,在城堡上俯瞰罗希姆诺的城市全景。
Rethymno, Crete, Greece
The Venetian harbor in the Old Town of Rethymno, on the Greek island of Crete, invites you to time travel through history. Its Egyptian lighthouse and Turkish elements are proof of different nations leaving their mark on Crete's old port. Forged in the 14th century under Venetian rule, this port has long served as a bustling hub for commerce and enterprise. For today's visitors, a replica of an old wooden sailing ship offers a full historic adventure. For a nostalgic inland experience, visit the 16th-century Fortezza, Rethymno's Venetian fortress. The citadel is visible from every corner of the town and offers a panoramic view of Rethymno.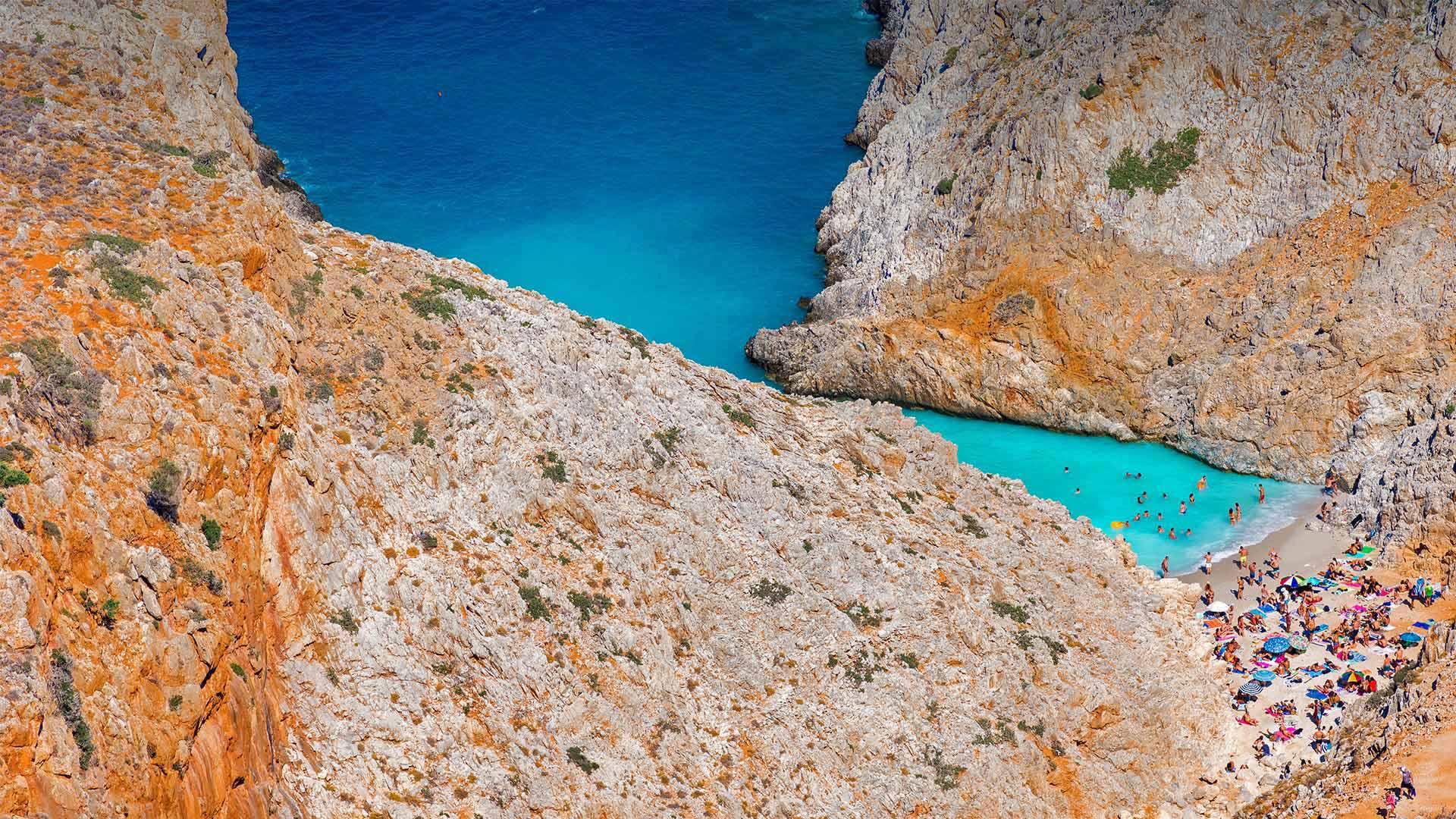 克里特岛上的海滩,希腊 Seitan Limania Beach in Crete, Greece (© Georgios Tsichlis/Alamy)
这个神奇的海滩值得一游 This magical beach is worth the hike
Seitan Limania beach, Crete
Crete is the largest and most populous of all the Greek islands, and also the farthest from the mainland (in fact, it's just about halfway to Turkey). This big little island is small enough to drive across in a few hours but full of wonders from mountain ranges to gorges to beautiful beaches. Take this jewel box of turquoise water near the port city of Chania for example. 'Set on the easternmost of three peninsulas that stick out like horns from the northwestern shoreline of Crete, Seitan Limania is one of the most photographed beaches on the island.

Seitan Limania is 'beautiful to behold from a distance but driving up close via the narrow switchback roads takes some nerve. And once you get to the parking lot, the rocky hike down is for only the most surefooted of beachgoers. On your way down, you'll likely meet some of the goats that populate the area. 'The narrow cove is flanked by steep rock walls that zig one way, then zag the other. When you reach the beach, you'll find yourself on one of the most unique spots on any coast—and a selfie here at Seitan Limania is hard to beat for bragging rights.
塞坦利马尼亚海滩,克里特岛
克里特岛是所有希腊岛屿中最大、人口最多的岛屿,也是离大陆最远的岛屿(事实上,它距离土耳其只有一半)。这个大大小小的岛屿很小,可以在几个小时内驾车穿过,但充满了从山脉到峡谷到美丽海滩的奇观。以港口城市查尼亚附近的绿松石水珠宝盒为例塞坦利马尼亚位于克里特岛西北海岸线三个半岛的最东端,这些半岛像角一样突出,是岛上拍照最多的海滩之一。
Seitan Limania"从远处看很美,但在狭窄的弯道上近距离开车需要一些勇气。"。一旦你到了停车场,只有最踏实的海滩游客才可以进行岩石徒步旅行。在你下山的路上,你很可能会遇到一些山羊,它们栖息在这个地区狭窄的海湾两侧是陡峭的岩壁,这些岩壁一路弯曲,另一路弯曲。当你到达海滩时,你会发现自己是任何海岸上最独特的景点之一,在Seitan Limania的自拍是很难被吹嘘的。