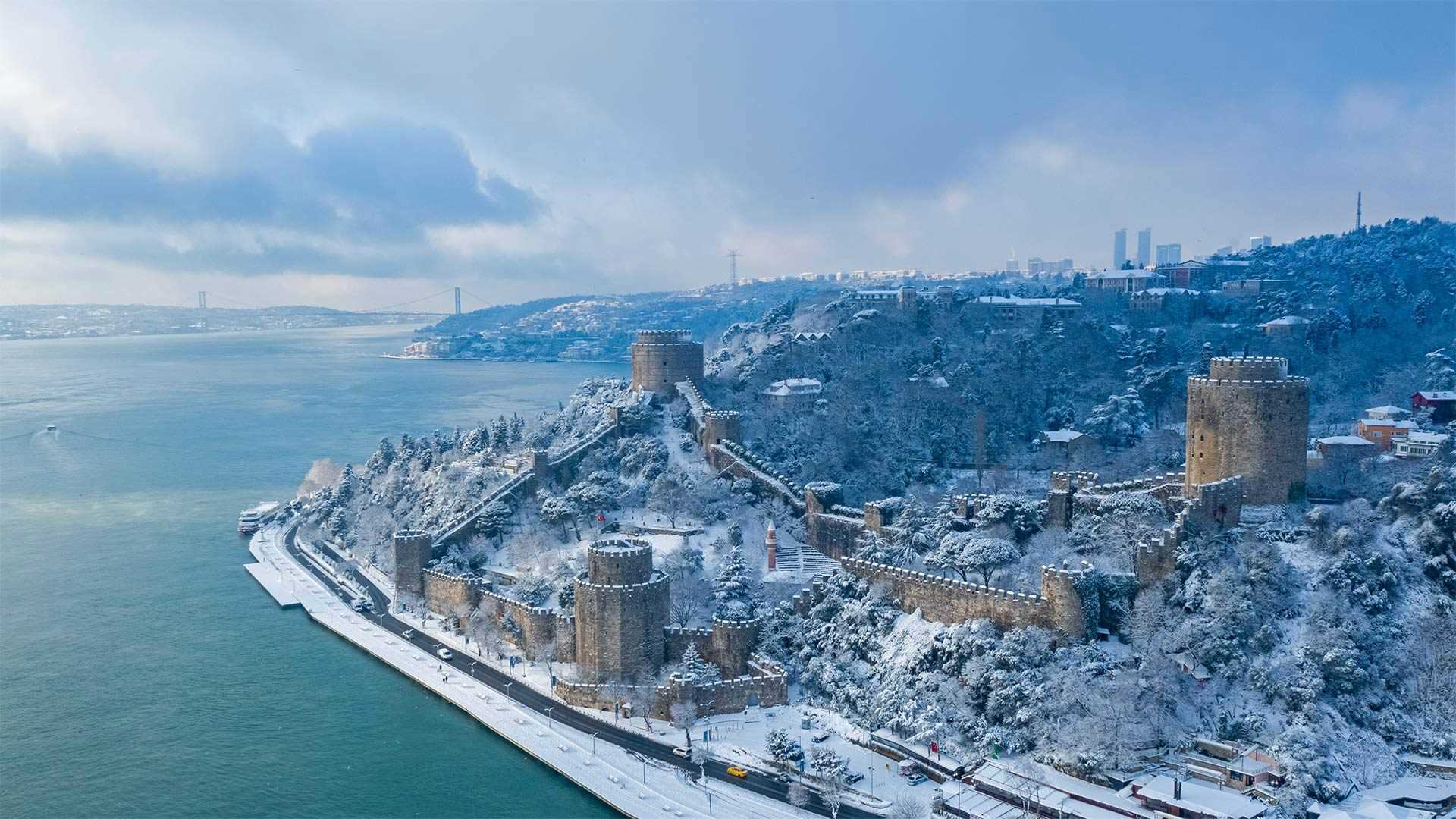 博斯普鲁斯海峡的如梅利堡垒,土耳其伊斯坦布尔 Rumelihisarı on the Bosporus Strait at Istanbul, Türkiye (© Drone in Wonderland/Amazing Aerial Agency)
两大洲交接的地方 Where two continents meet
如梅利堡垒,土耳其
土耳其是一个温暖的地中海国家,偶尔也会下雪。而今天照片里伊斯坦布尔的冬日雪景,则让如梅利堡垒的轮廓更加清晰可见。梅利堡垒是15世纪由奥斯曼帝国苏丹建造的,目的是为了掌握博斯普鲁斯海峡的海上交通。博斯普鲁斯海峡连接马尔马拉海和黑海,将伊斯坦布尔分为"欧洲一侧"和"亚洲一侧"。如今,这座堡垒不再用于向船只开火,而是用作博物馆和音乐会场地。几百年来,尽管这里已经变了很多,但这里美丽的风景依然如旧。
Rumelihisarı in Istanbul, Türkiye
Though Türkiye usually lives up to expectations as a warm Mediterranean country, snow occasionally falls here. This winter dusting of Istanbul, Türkiye's largest city, brings into sharper focus the lines of Rumelihisarı in the center of our image. The structure, also known as Rumeli Fortress, was built in the 15th century by an Ottoman sultan as a way to choke naval traffic through the narrow Bosporus Strait. The Bosporus connects the Sea of Marmara to the Black Sea, separating Istanbul into what is often referred to as its 'European side' and 'Asian side.' Today, the fortress isn't used to fire upon ships but serves as a museum and concert venue. While the place has changed over the centuries, the killer view hasn't.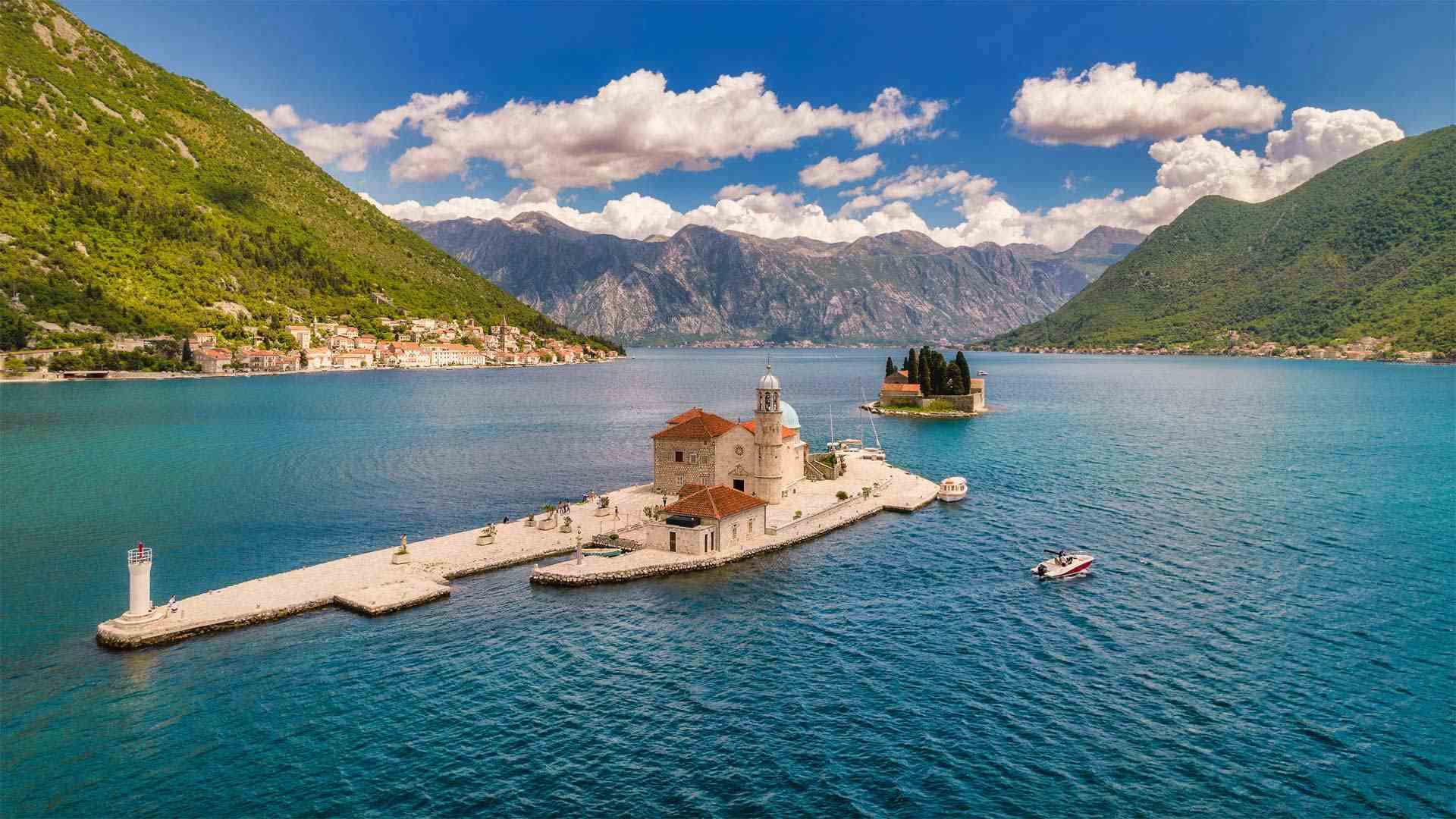 科托尔湾的圣乔治海峡和圣母湾,黑山 Saint George Island and Our Lady of the Rocks in the Bay of Kotor, Perast, Montenegro (© Dmitrii Sakharov/Shutterstock)
用誓言打造的岛屿 An island made from a vow
Our Lady of the Rocks
Local legend here in Perast, Montenegro, has it that two brothers were returning from a dangerous sea voyage in 1452 when they spotted an icon of the Virgin Mary and Child in the waters near Saint George, a natural island in the Bay of Kotor. One of the brothers had injured his leg on the journey, but in the morning it had healed. Taking this as an omen, they vowed to honor the Virgin Mary by building her a church on the spot where they'd spotted the icon. They began dropping stones there, and even scuttling old ships. A tradition was born, and over decades, the fishermen of Perast would drop a stone in the water at that spot before heading to sea.

Over time an island rose out of the bay and a church was erected on it. The centuries since have seen tumult, war, pirate attacks, and at least one devastating earthquake, but Our Lady of the Rocks still stands. The tiny isle continues to grow, as each summer on the evening of July 22, the town celebrates Fašinada, a ritual procession of barges and boats that take more stones to Our Lady of the Rocks. The church is decorated with 68 frescos by local artist Tripo Kokolja (1661-1713) and boasts more than 2,500 silver votives donated by locals.
我们的岩石女神
黑山佩拉斯特当地的传说是,1452年,兄弟俩在一次危险的海上航行后回来,在科托湾的一个天然岛屿圣乔治附近的水域发现了圣母玛利亚和圣婴的肖像。兄弟俩中的一个在旅途中伤了腿,但到了早上,腿就好了。他们以此为预兆,发誓要在发现圣母玛利亚的地方修建一座教堂,以此来纪念圣母玛利亚。他们开始在那里扔石头,甚至撞毁旧船。一个传统诞生了,几十年来,佩拉斯特的渔民在出海之前会在那里的水里扔一块石头。
随着时间的推移,一座岛屿从海湾中升起,并在其上建造了一座教堂。几个世纪以来,动乱、战争、海盗袭击,以及至少一次毁灭性的地震,但我们的岩石之母仍然屹立不倒。这个小岛还在继续发展,因为每年夏天的7月22日晚上,该镇都会庆祝法西纳达,这是驳船和船只的仪式游行,他们会把更多的石头运到我们的岩石之母那里。教堂装饰有68幅由当地艺术家特里波·科科亚(1661-1713)创作的壁画,并拥有2500多幅由当地人捐赠的银质作品。