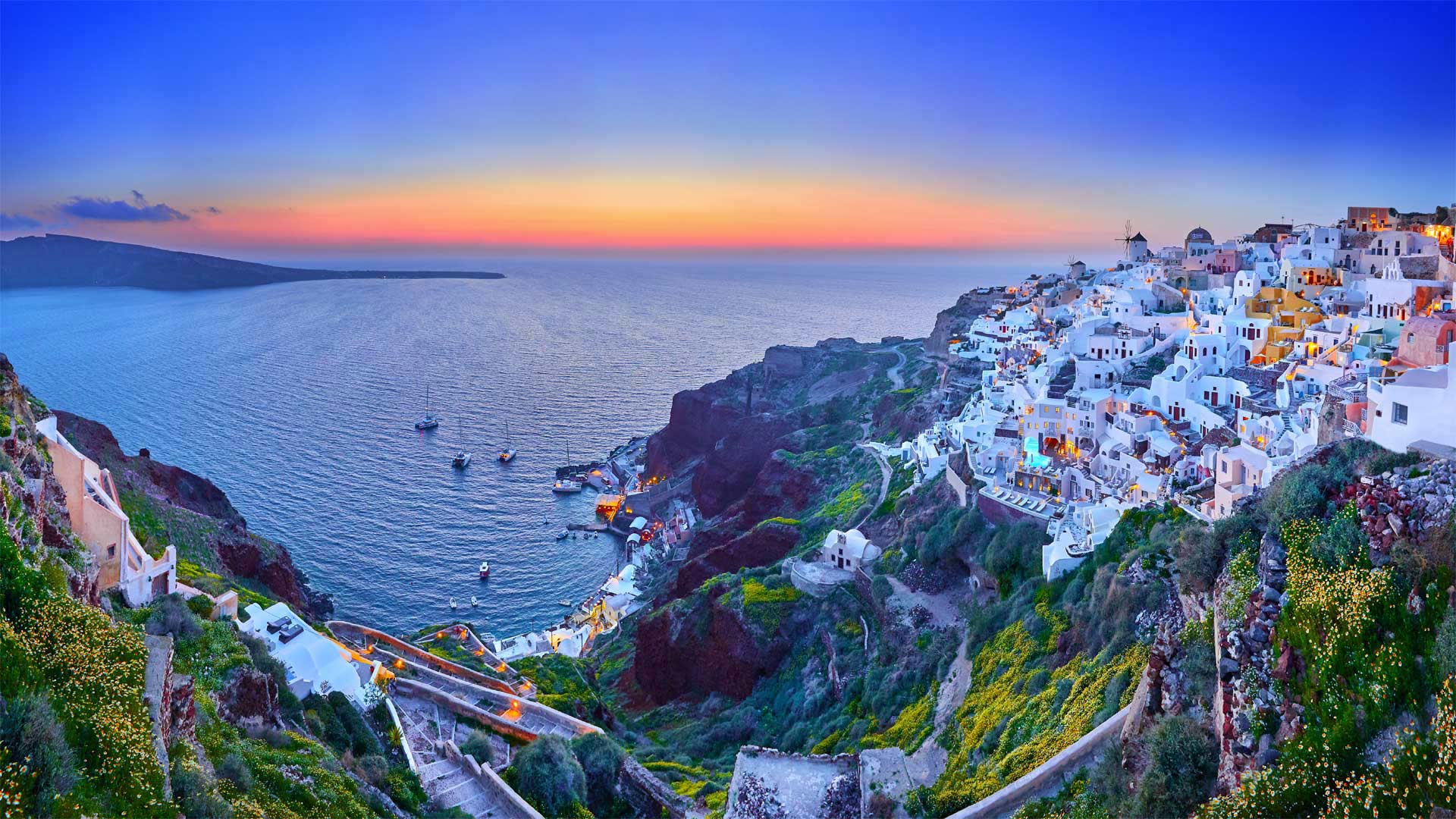 圣托里尼岛上的伊亚镇,希腊 The village of Oia on the island of Santorini, Greece (© Zebra-Studio/Shutterstock)
米诺斯人的古老家园 The ancient home of the Minoans
Santorini, Greece
Officially known as Thira, Santorini is perhaps the most famous of all the Greek Islands. Located at the southern end of the Aegean Sea, Santorini is part of the Cyclades group of islands and receives about 2 million visitors a year. That's a lot of adoring attention for a small island (only 28 square miles) of 15,000 residents, and it's no wonder why. The whitewashed, clifftop villages of Santorini, like Oia featured in this image, are postcard perfect. And so are the unlimited panoramic views of the azure Mediterranean Sea.

Its tranquil beauty belies the cataclysmic eruption that formed the island as we know it today. The Minoan eruption, about 3,600 years ago, was one of the world's largest known volcanic eruptions. It destroyed what was a thriving Minoan city and created a giant caldera that sank below the sea, leaving behind the picturesque lagoon seen here. Volcanic activity has continued since then. At the center of the lagoon is the uninhabited volcanic island of Nea Kameni, which emerged from the sea in 19 CE, according to Pliny the Elder. It's had several major eruptions over the past 300 years.

With millennia of experience, people have learned to live with the volcanic activity of these islands. Tourism is now the main activity on Santorini, along with a small winemaking industry. Throw in abundant sunshine, constant sea breezes, and meandering steps through storybook villages and you'll never run out of reasons to visit.
希腊圣托里尼
圣托里尼岛的官方名称是蒂拉岛,它可能是希腊所有岛屿中最著名的。圣托里尼岛位于爱琴海南端,是基克拉迪群岛的一部分,每年接待约200万游客。这是一个拥有15000名居民的小岛(仅28平方英里)的巨大关注,这也难怪为什么。圣托里尼被粉刷过的悬崖上的村庄,就像这张照片中的Oia一样,都是明信片上的完美之作。蔚蓝的地中海的无限全景也是如此。
它宁静的美丽掩盖了我们今天所知道的形成这个岛屿的灾难性喷发。大约3600年前的米诺斯火山喷发是世界上已知的最大的火山喷发之一。它摧毁了一座繁荣的米诺斯城市,形成了一个巨大的火山口,沉入海底,留下了这里风景如画的环礁湖。从那时起,火山活动一直在继续。根据老普林尼的说法,泻湖的中心是无人居住的火山岛尼娅·卡梅尼,该岛于公元19世纪从海上浮出水面。在过去的300年里,它发生过几次大的喷发。
经过数千年的经验,人们已经学会了适应这些岛屿的火山活动。旅游业现在是圣托里尼岛的主要活动,还有一个小型酿酒业。在充足的阳光下,持续的海风中,蜿蜒的步子穿过故事书中的村庄,你永远不会失去参观的理由。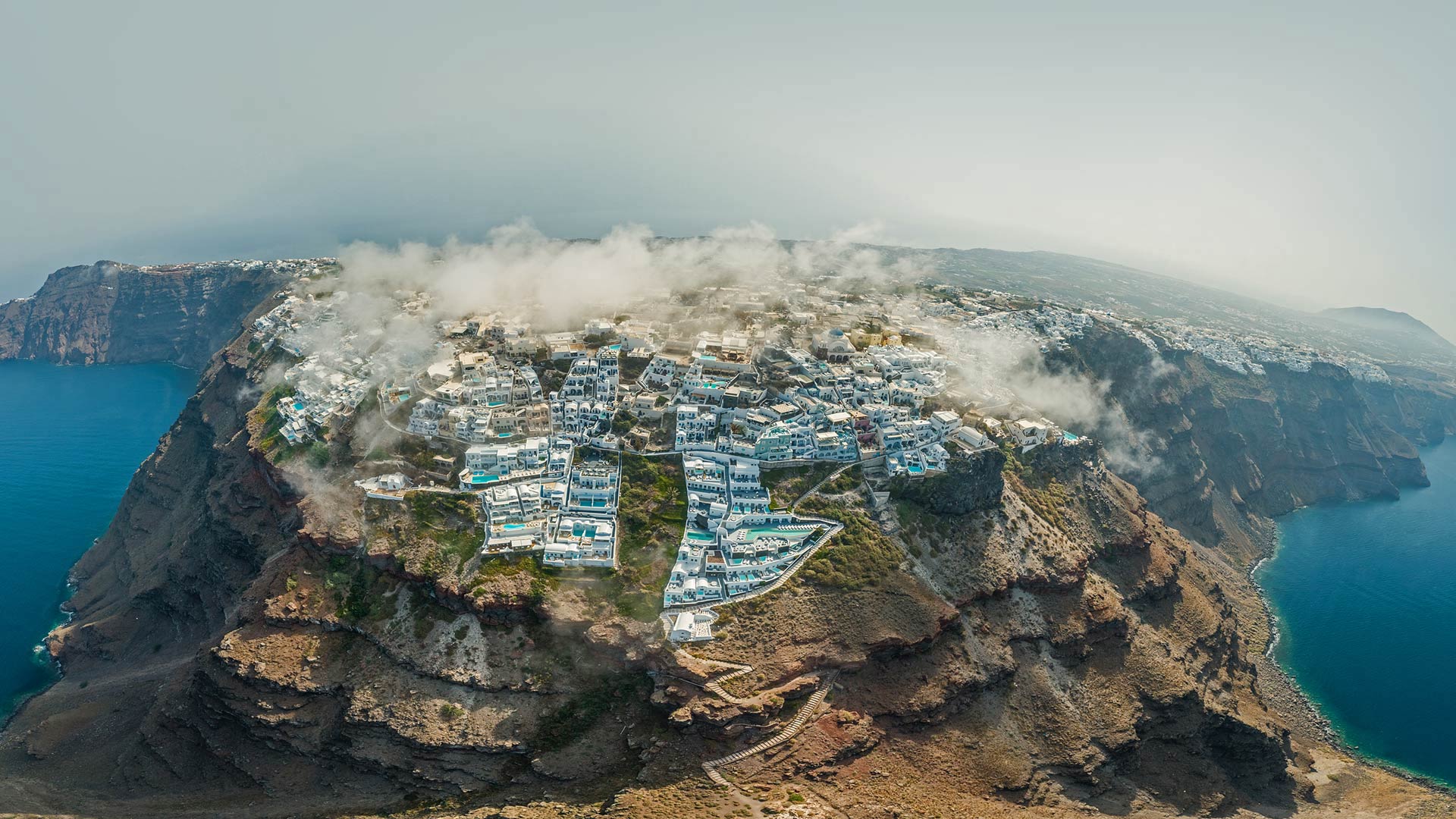 圣托里尼岛鸟瞰图,希腊 Aerial view of Santorini island, Greece (© Amazing Aerial Agency/Offset)
Santorini through the clouds
With its romantic sunsets, dazzling ocean views, and whitewashed buildings clinging to rocky clifftops, the Greek island of Santorini (aka Thera) is the very picture of an idyll in the Aegean. But this tranquil scene belies the island's explosive geologic history, for this is the site of one of the largest volcanic eruptions in recorded history. The Minoan eruption, about 3,600 years ago, caused the center of the Thera Volcano to collapse into the ocean, leaving Santorini a jagged, crescent-shaped moon atop the sea.

The impact of the eruption was more than just geologic—when the volcano blew its top, Santorini was home to a thriving outpost of the Minoan civilization. A farming and fishing community had been established at Akrotiri on the island around 7,000 years ago, and by the time of the eruption had developed into a prosperous city built largely on trade with other cultures of the Aegean. Akrotiri had paved streets, delicate pottery, a drainage system, and multistory buildings decorated in elaborate frescoes. Akrotiri's fortunes ended abruptly, however, with the Minoan eruption, which completely buried the city in pumice and ash. Extensive archaeological excavations began in 1967, revealing artifacts that were remarkably well preserved by the volcanic material; particularly notable were the elegant, colorful frescoes. It seems Santorini has always been a site for the beautiful things in life.