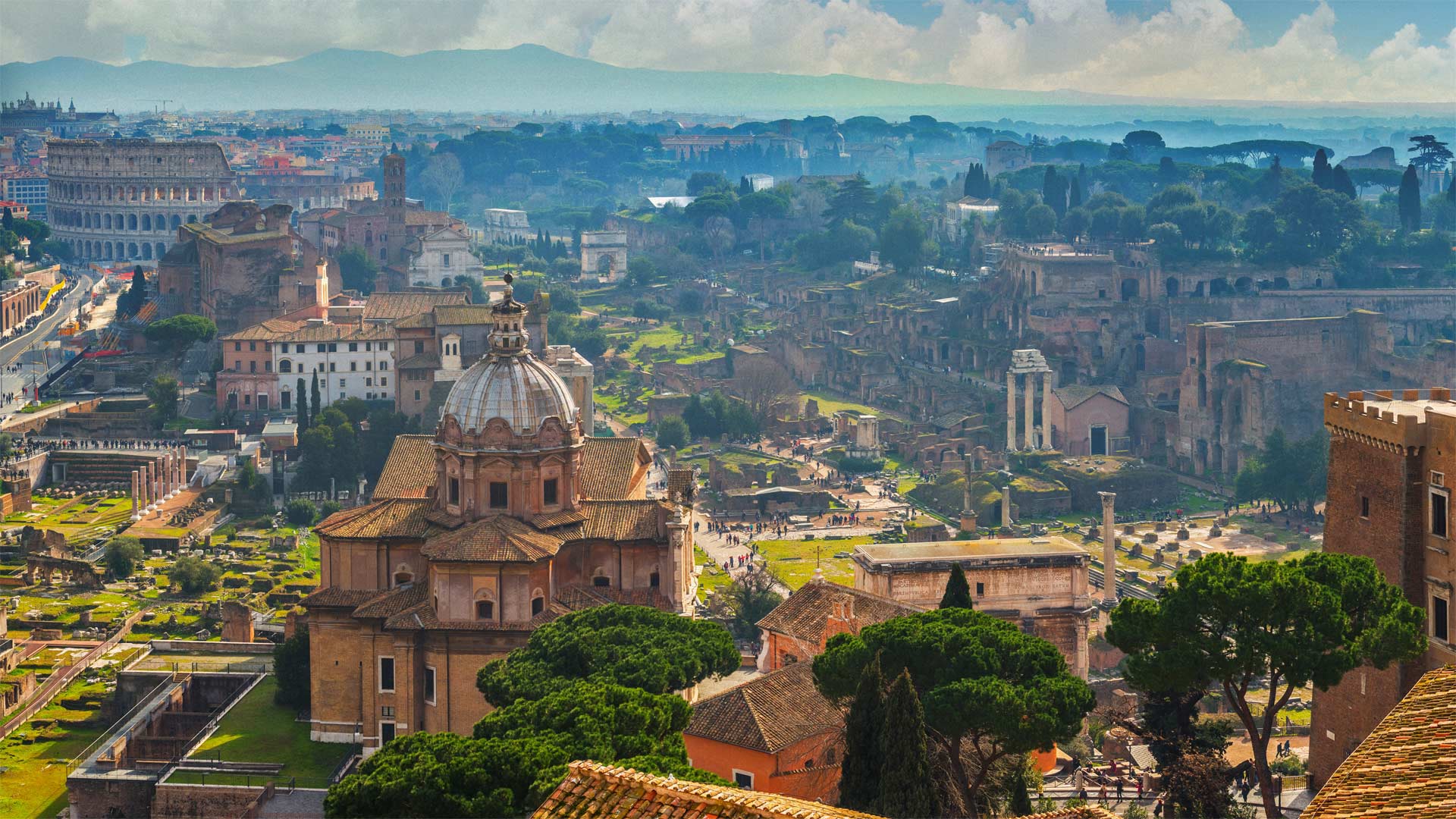 古罗马广场,意大利 The Roman Forum, Rome, Italy (© Peter Zelei Images/Getty Images)
前往罗马广场的路上发生了一件趣事…… A funny thing happened on the way to the Forum…
Beware the ides of March
We're at the Roman Forum, or Forum Romanum, for the ides of March, a day made famous as the site of the assassination of Julius Caesar. While Shakespeare's Caesar was warned to 'beware the ides of March,' historians have never attributed the phrase to those who tipped off the actual Caesar about a plot against him. We do know that before March 15, 44 BCE was over, Caesar was assassinated. Afterward, Rome descended into war, ending the Roman Republic, and leading to the rise of the Roman Empire.

The Forum was a city square in which Rome's commercial, political, and religious activity took place, along with the occasional assassination. It was a site of ceremonies and celebrations. It was where Mark Antony's famed funeral oration for Caesar was given, and where Caesar's body was burned before the public. Today the area is a popular tourist attraction, drawing more than 4.5 million visitors in an average year.
当心三月的天气
我们在罗马论坛,或罗马论坛,为三月的ides,这一天作为朱利叶斯·凯撒遇刺的地点而闻名。虽然莎士比亚的凯撒被警告要"当心三月的末日",但历史学家从未将这句话归因于那些向真正的凯撒透露了针对他的阴谋的人。我们知道,在公元前44年3月15日之前,凯撒被暗杀。后来,罗马陷入战争,结束了罗马共和国,并导致罗马帝国的崛起。
该论坛是一个城市广场,罗马的商业、政治和宗教活动以及偶尔发生的暗杀都在这里进行。这是一个举行仪式和庆祝活动的地方。在这里,马克·安东尼为凯撒举行了著名的葬礼演讲,凯撒的遗体在公众面前被焚毁。如今,该地区是一个受欢迎的旅游景点,平均每年吸引450多万游客。
古罗马斗兽场,西班牙桑蒂蓬塞镇的罗马古城遗迹 The Roman amphitheater of Itálica near Santiponce, Spain (© Amazing Aerial Agency/Offset by Shutterstock)
Birthplace of Roman emperors
Just a few miles north of Seville, Spain, you'll find the ancient ruins of Itálica, the first Roman settlement in what is now Spain and the first Roman city outside of Italy. The city was founded in 206 BCE by the Roman general Scipio as a place to house veterans from the Second Punic Wars. Itálica was also the birthplace of at least two Roman emperors.

For centuries, Itálica was an elaborate urban center with a temple, a theater, public baths, gorgeous homes for the monied elite, and a population of about 8,000 residents. This aerial view is of the city's famous amphitheater, where thousands of spectators came from near and far to watch the bloody gladiator fights, hunts of wild beasts, and public executions. The 'entertainment' here was not for the faint of heart.

Today, the modern Spanish city of Santiponce has grown up around—and even atop—the ruins. Tourists come here to walk the preserved Roman streets, admire the mosaics, and imagine the scenes of life and death that happened in this amphitheater nearly 2,000 years ago.
罗马皇帝的出生地
在西班牙塞维利亚以北几英里的地方,你会发现古老的Itálica遗址,这是现在西班牙的第一个罗马定居点,也是意大利以外的第一个罗马城市。这座城市由罗马将军西皮奥于公元前206年建立,是第二次布匿战争退伍军人的住所。伊塔利卡也是至少两位罗马皇帝的出生地。
几个世纪以来,伊塔利卡一直是一个精心设计的城市中心,有寺庙、剧院、公共浴场、摩尼德精英的华丽家园,人口约8000人。这张鸟瞰图是该市著名的圆形剧场,数千名观众从四面八方赶来观看血腥的角斗士搏斗、野兽狩猎和公开处决。这里的"娱乐"不是为胆小鬼准备的。
今天,西班牙现代城市圣蒂蓬斯在废墟周围甚至在废墟上发展起来。游客们来到这里,是为了漫步保存完好的罗马街道,欣赏马赛克,想象2000年前发生在这个圆形剧场里的生死场景。