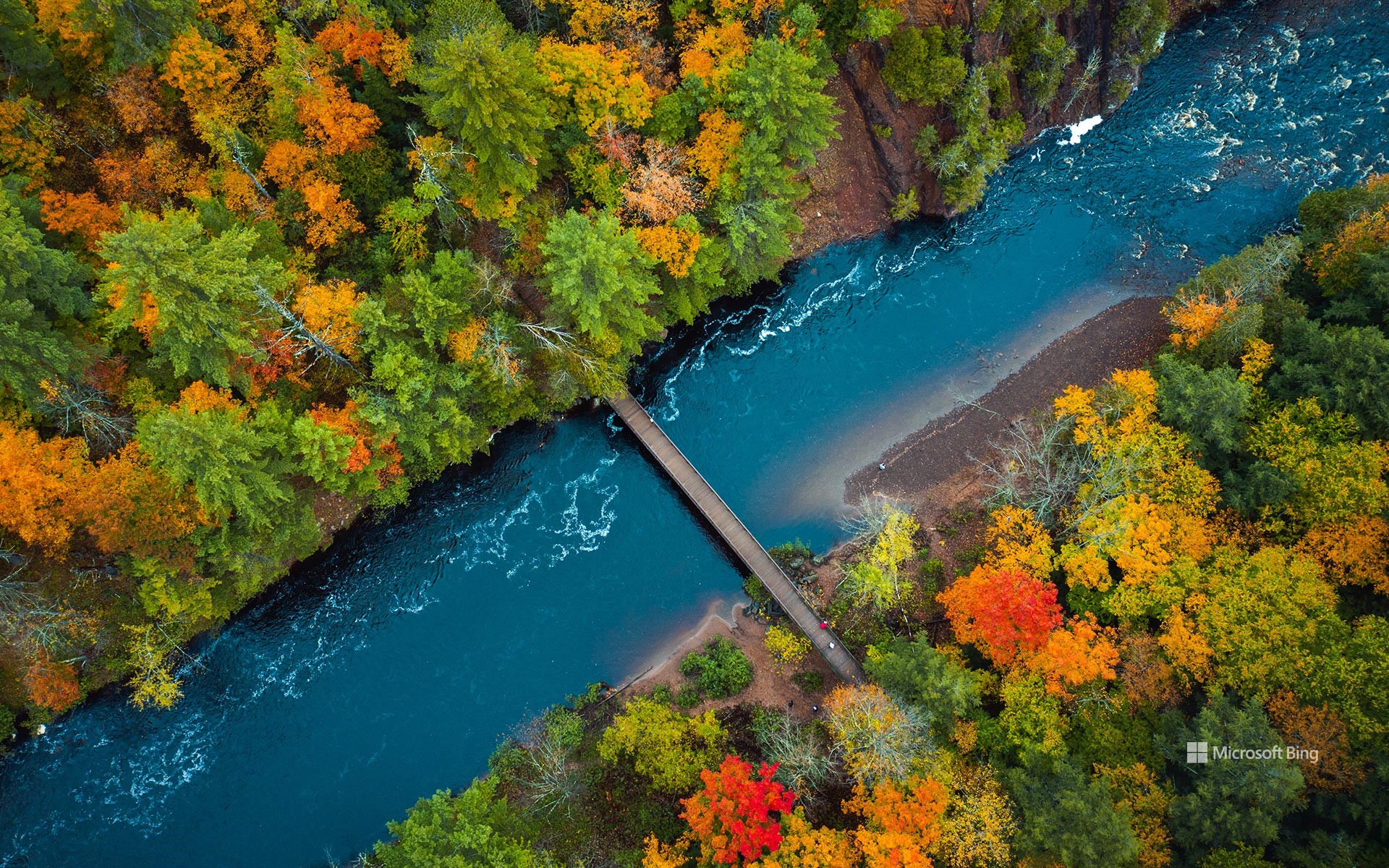 铜瀑布州立公园的巴德河,威斯康星州,美国 Bad River in Copper Falls State Park, Wisconsin (© Big Joe/Getty Images)
该给靴子系上鞋带了! Time to lace up those boots
铜瀑布州立公园的巴德河,威斯康星州
朋友们,是时候系好登山靴,一起去徒步了!早在20世纪60年代,美国的林登·约翰逊总统就签署了《国家步道系统法案》,旨在保护、推广和开发美国各地的自然和历史资源。还在犹豫去哪里徒步旅行?这里有一个选择:就是图上这座位于威斯康星州的铜瀑布州立公园。从巴德河沿岸那长达17英里步道,到瀑布和古老的熔岩流,这个公园有很多值得一去的地方。无论是崎岖的山路,宁静的林间小道,还是海滨步道,这个国家总有一条步道适合你。但请记住,一定要尊重自然,遵循"不留痕迹"的原则,除了照片什么都别留下。祝你徒步旅行愉快!
National Take a Hike Day
Take a hike, buddy! No, not the 'get out of here' version but the 'get out there' version. It's time to lace up those boots and take advantage of our national trails, which span over 91,000 miles. Back in the 1960s, President Lyndon B. Johnson signed the National Trails System Act into law, to preserve, promote, and develop scenic and historic trails across the country. Can't decide where to start? Our homepage image offers up one option which is awash with fall colors—Copper Falls State Park in Wisconsin. With 17 miles of trails along the Bad River, past waterfalls and ancient lava flows, this park has a lot to offer. Whether it's a rugged mountain path, a serene forest walk, or an oceanside stroll, this country has a trail waiting for you. But remember to respect nature, follow 'leave no trace' principles, and take nothing but photographs. Happy hiking!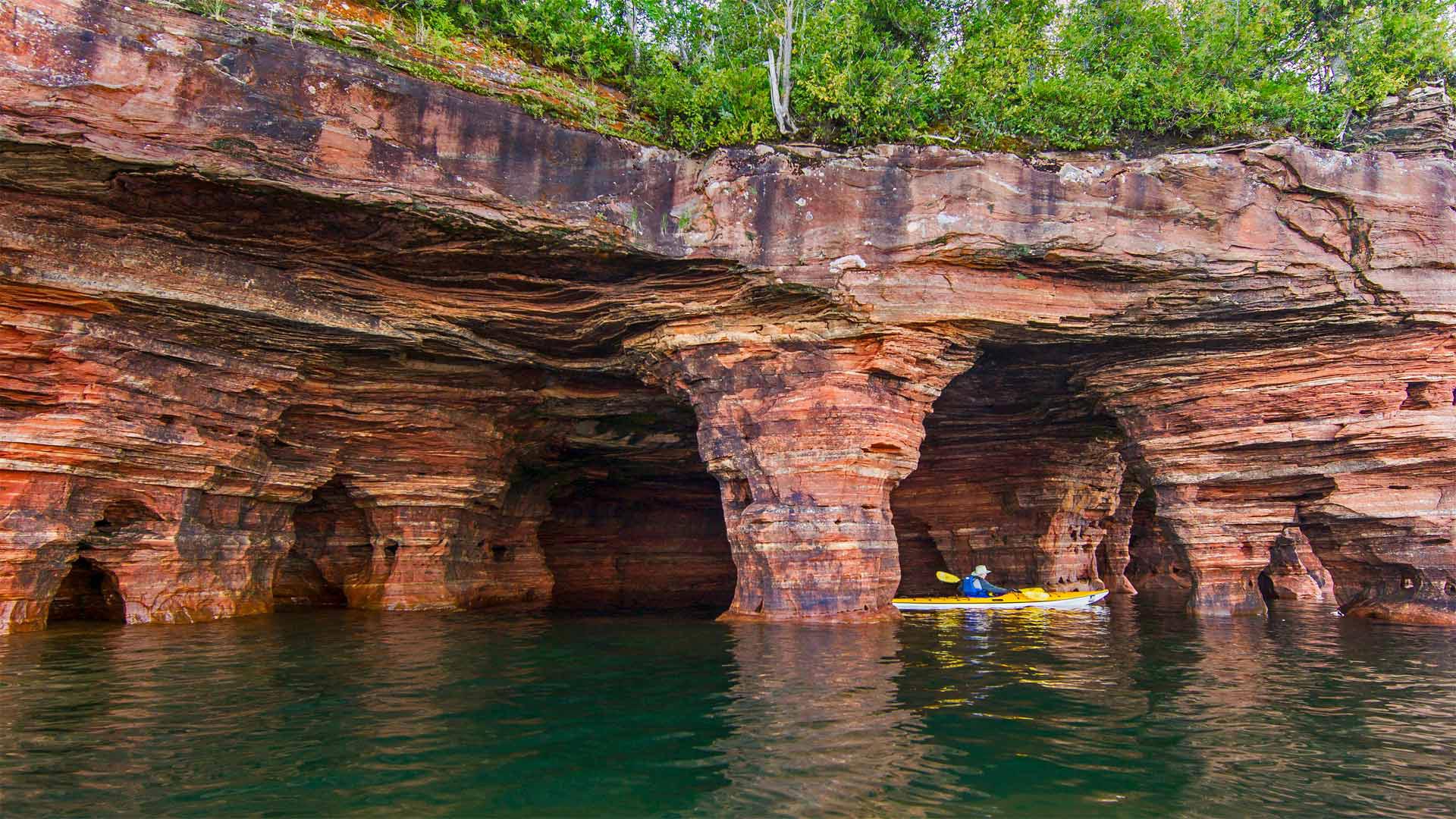 威斯康星州贝菲尔德附近的阿波斯特尔群岛国家湖岸,一只皮划艇正在探索砂岩海蚀洞 Kayaker exploring sandstone sea caves in Apostle Islands National Lakeshore near Bayfield, Wisconsin (© Chuck Haney/Danita Delimont)
A 'Superior' paddle
The Apostle Islands National Lakeshore off the northern tip of Wisconsin is a paradise for kayakers and campers, and those who like to combine the two. The park includes 21 islands which, if you're willing to transport your own gear, offer uncrowded camp sites because, well, they're islands. Once you're in a kayak, you can explore some of the red sandstone sea caves, which are best appreciated from the water.

And yet, like many wild and rugged places that offer superlative views, be warned before venturing out. This is Lake Superior, the largest, deepest, roughest, and coldest of the five Great Lakes. Even on warm summer days, the water barely rises above 50 degrees, and the winds can be as fierce as any sea. So if you plan to kayak the Apostles, take care. Enjoy the adventure but make sure you check the weather report and prepare before paddling away.