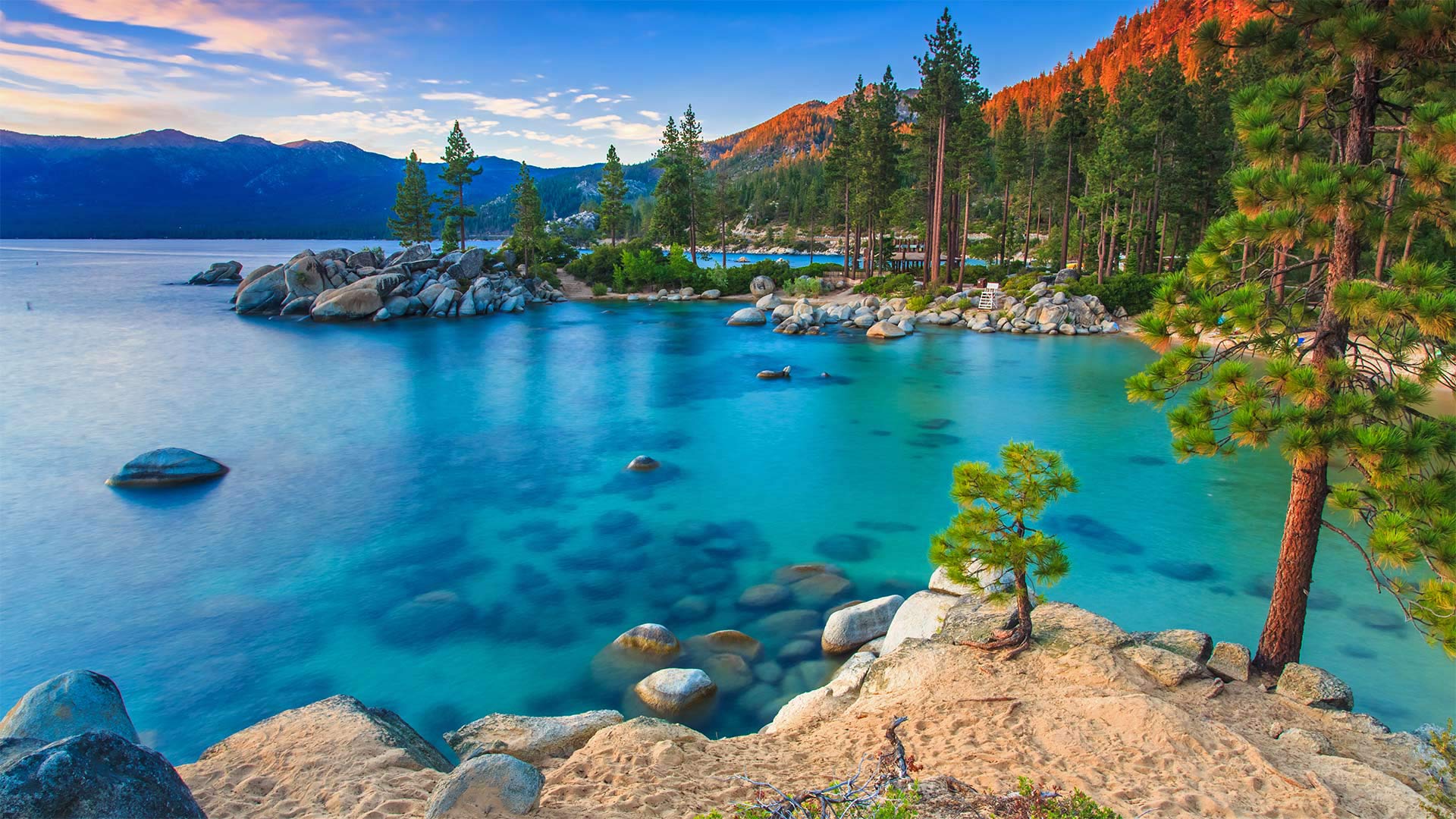 塔霍湖国家公园中的沙港,内华达州 Sand Harbor, Lake Tahoe Nevada State Park, Nevada (© Mariusz Blach/Getty Images Plus)
The Big Blue of the Sierras
High in the Sierra Nevada mountain range, straddling the border between Nevada and California, you'll find the largest alpine lake in North America, Lake Tahoe—sometimes called Big Blue. Seventy-two miles in circumference, with an average depth of 1,000 feet, it has the sixth-largest volume of any lake in the US—only the Great Lakes are larger. For at least 6,000 years, the territory of the Washoe people centered around Lake Tahoe, but the arrival of non-native people in the 19th century led to a series of armed conflicts and eventual loss of land to farms and townships.

The lake has a long history of disputes. Even its name wasn't formally agreed upon until 1945. Since the first European-American saw it in 1844, it has been called Lake Bonpland, Mountain Lake, Fremont's Lake, Fallen Leaf Lake, Maheon Lake, and Lake Bigler, after California's third governor and noted Confederate sympathizer, John Bigler. It was that name that Lake Tahoe finally supplanted on maps starting in 1862. But not everyone was enamored of the new moniker. Mark Twain famously criticized it as an 'unmusical cognomen' and that it should retain the name Bigler 'until some name less flat, insipid and spooney than Tahoe is invented for it.' Apparently, we're still waiting.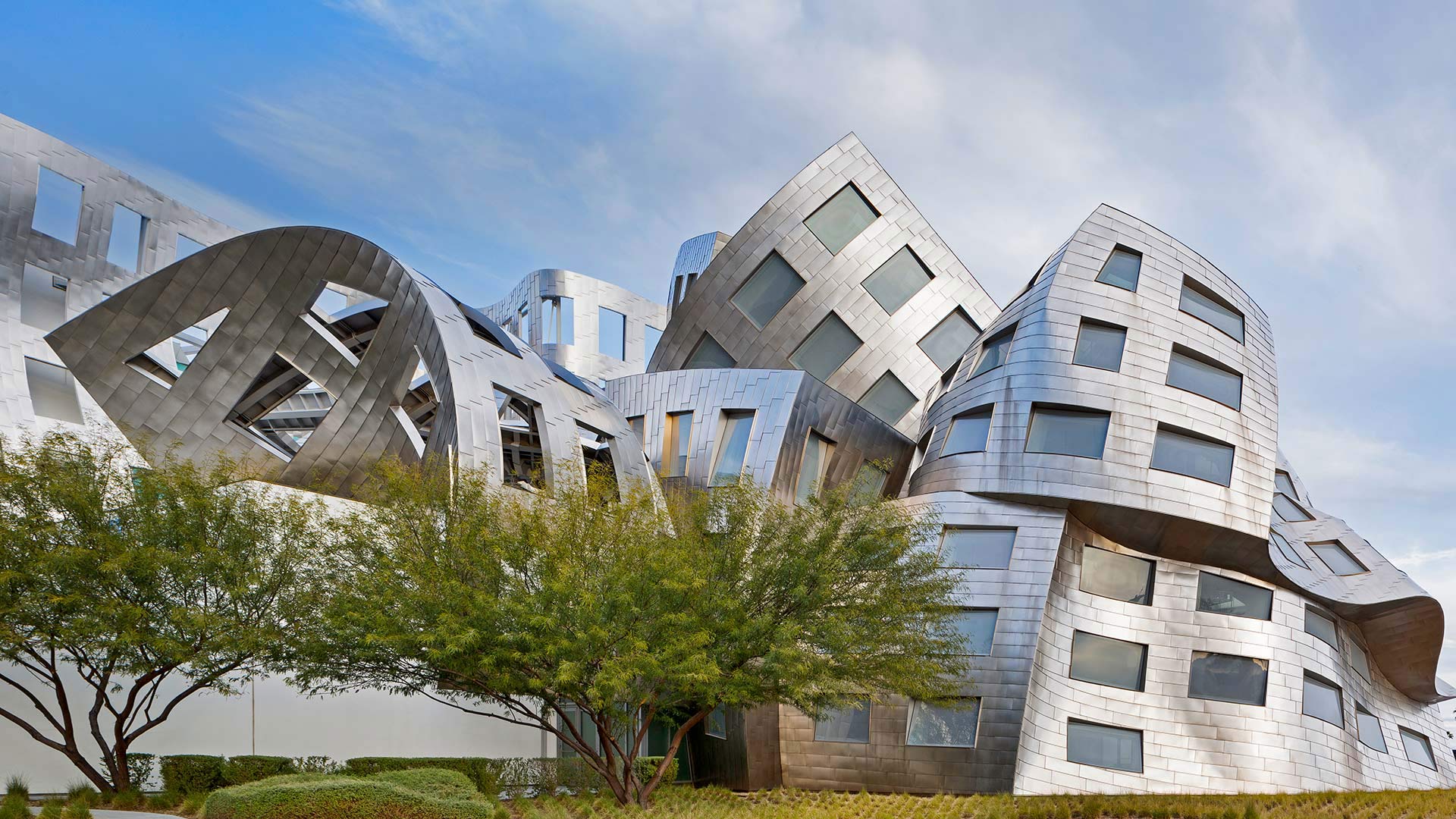 Cleveland Clinic Lou Ruvo Center for Brain Health in Las Vegas, Nevada (© Garry Belinsky/Offset)
From the mind of Frank Gehry
Today's image features the Cleveland Clinic Lou Ruvo Center for Brain Health in Las Vegas, designed by world-renowned architect Frank Gehry and his firm, Gehry Partners, in 2005. The building consists of three different elements: a medical building with spaces for patient care and research; the Life Activity Center, a for-hire event space which helps fund the center's research; and a breezeway connecting the two spaces. Some have likened these elements to the hemispheres of the brain itself, with the medical building representing rational thinking and the event space giving form to creative thinking.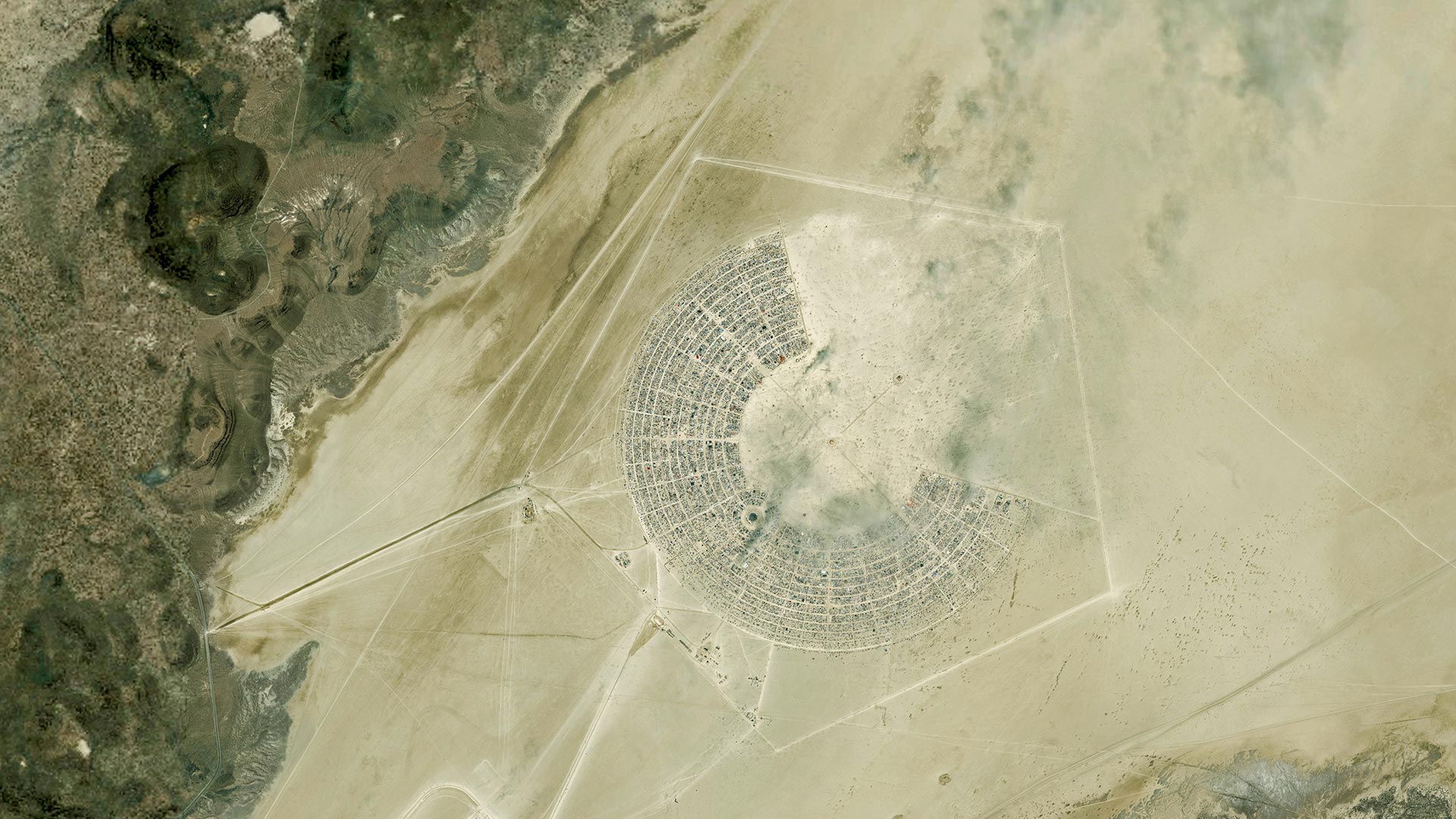 Satellite image of the Burning Man Festival in Black Rock City, Nevada (© DigitalGlobe/ScapeWare3d/Getty Images)
A desert arts pop-up, just popped up
Today we're viewing North America's largest arts and music festival—dust free—from a satellite lens. Welcome to Black Rock City, the pop-up home of Burning Man, a raucous festival that takes place in late summer each year on the sun-scorched alkali flats of Nevada's Black Rock Desert. It's an unusual set-up, a counterculture mecca where gifts reign supreme and money has no value.

Festival goers are called 'burners' in honor of the massive wooden effigy of a man they build each year, only to set ablaze on the penultimate eve of the event. Attendees may come as individuals or entire communities, planning months in advance to construct grandiose art installations, fantastical floats, cars, and other experiences that defy the logistical constraints of the harsh desert landscape. To do this they must pack in everything they'll need for nine days, with the full knowledge that it must all be packed out. Any litter left behind is considered MOOP (Matter Out Of Place), so glitter and other items difficult to retrieve from the desert floor are forbidden. Once inside, goods or services can't be bought, however volunteering and gifting are expected. Part of the mission behind Burning Man is to build a creative and connected community. A worthy goal, especially for those spending a week in the desert with 70,000 of their closest, weirdest, and dustiest friends.