一条蜿蜒穿过开满蓝铃花森林的小径,英格兰赫特福德郡 A path winding through a forest of bluebells in Hertfordshire, England (© JayKay57/Getty Images)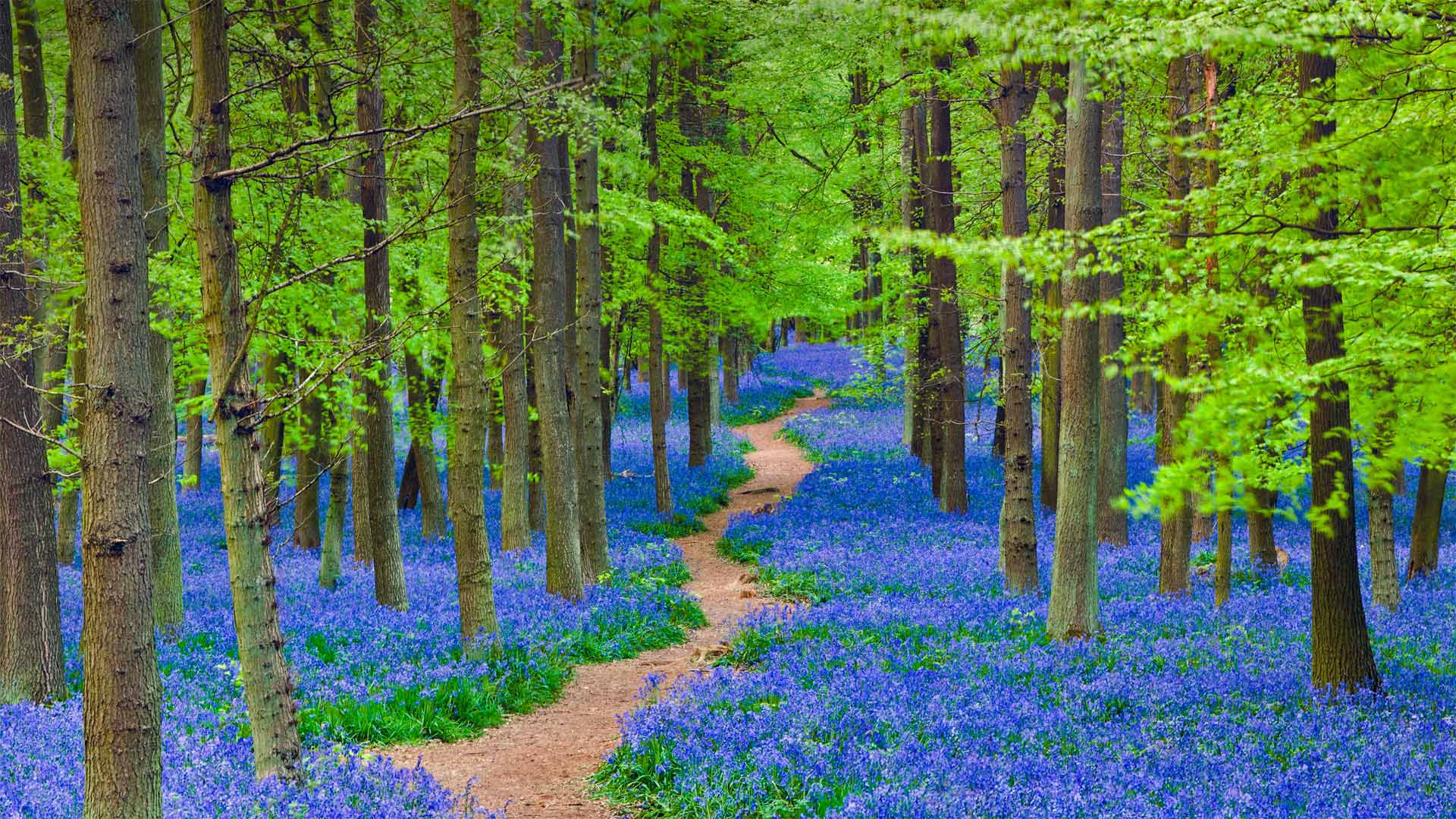 一条蜿蜒穿过开满蓝铃花森林的小径,英格兰赫特福德郡 A path winding through a forest of bluebells in Hertfordshire, England (© JayKay57/Getty Images)
是否有胆量穿过这片蓝铃花丛? Dare to tread through the fairy flower?
Bluebells in Hertfordshire, England
For just a few weeks every spring, across the pond in England and under the newly forming woodland canopy, one of the most enchanting flowers begins to bloom. The bluebell is known by many names but those who know it as the 'fairy flower' might be the most prepared to withstand its strong, sweetly scented allure. According to British folklore, a blooming bluebell carpet on the woodland floor is a mystical place where fairies live. The legends hold that fairies hang their spells on the flowers to dry, and disturbing them would unleash the magic. In earlier times, children were warned that picking bluebells would cause them to be spirited away. Even adults could fall victim to the flower, being doomed to wander the woods and never escape. And heaven forbid you ever happen to hear the fairies ring the bluebells for their gatherings—it means your death is imminent, a belief that inspired another name for bluebells: 'dead men's bells.'

The truth of the matter is that bluebells are considered toxic. Ancient folktales about fairies were a good way to make sure curious humans avoided handling them. But enjoying their beauty is a whole different matter. Walking through ancient woodland to catch a glimpse of these short-lived beauties is a popular activity throughout the United Kingdom where they are most often found, like those in today's photo of Hertfordshire, England. Rare in other parts of the world, there has been a success in transplanting them, should you want to want to tempt fate with the fairies.
英国赫特福德郡的风铃草
每年春天只有几个星期,在英格兰的池塘对面,在新形成的林地树冠下,一朵最迷人的花开始绽放。风铃草有很多名字,但那些知道它是"仙女花"的人可能最愿意忍受它强烈的、芳香的诱惑。根据英国民间传说,林地地板上盛开的蓝铃地毯是仙女们居住的神秘地方。传说中,仙女们把咒语挂在花朵上晾干,扰乱它们就会释放魔法。早些时候,孩子们被警告说,摘风铃草会导致他们被偷偷带走。即使是成年人也可能成为花朵的牺牲品,注定要在树林中徘徊,永远无法逃脱。天哪,你不会碰巧听到仙女们在聚会上敲响风铃,这意味着你的死亡即将来临,这一信念激发了风铃的另一个名字:"死人的铃铛"
事实上,风铃草被认为是有毒的。关于仙女的古代民间故事是确保好奇的人类避免接触它们的好方法。但享受它们的美丽是完全不同的事情。漫步在古老的林地,欣赏这些短暂的美女,是英国最常见的活动,就像今天英国赫特福德郡的照片一样。在世界其他地方很少见,如果你想和仙女们一起挑战命运,移植它们已经成功了。