沙漠中的骆驼,阿拉伯联合酋长国 Camels in the desert, United Arab Emirates (© Amazing Aerial Premium/Shutterstock)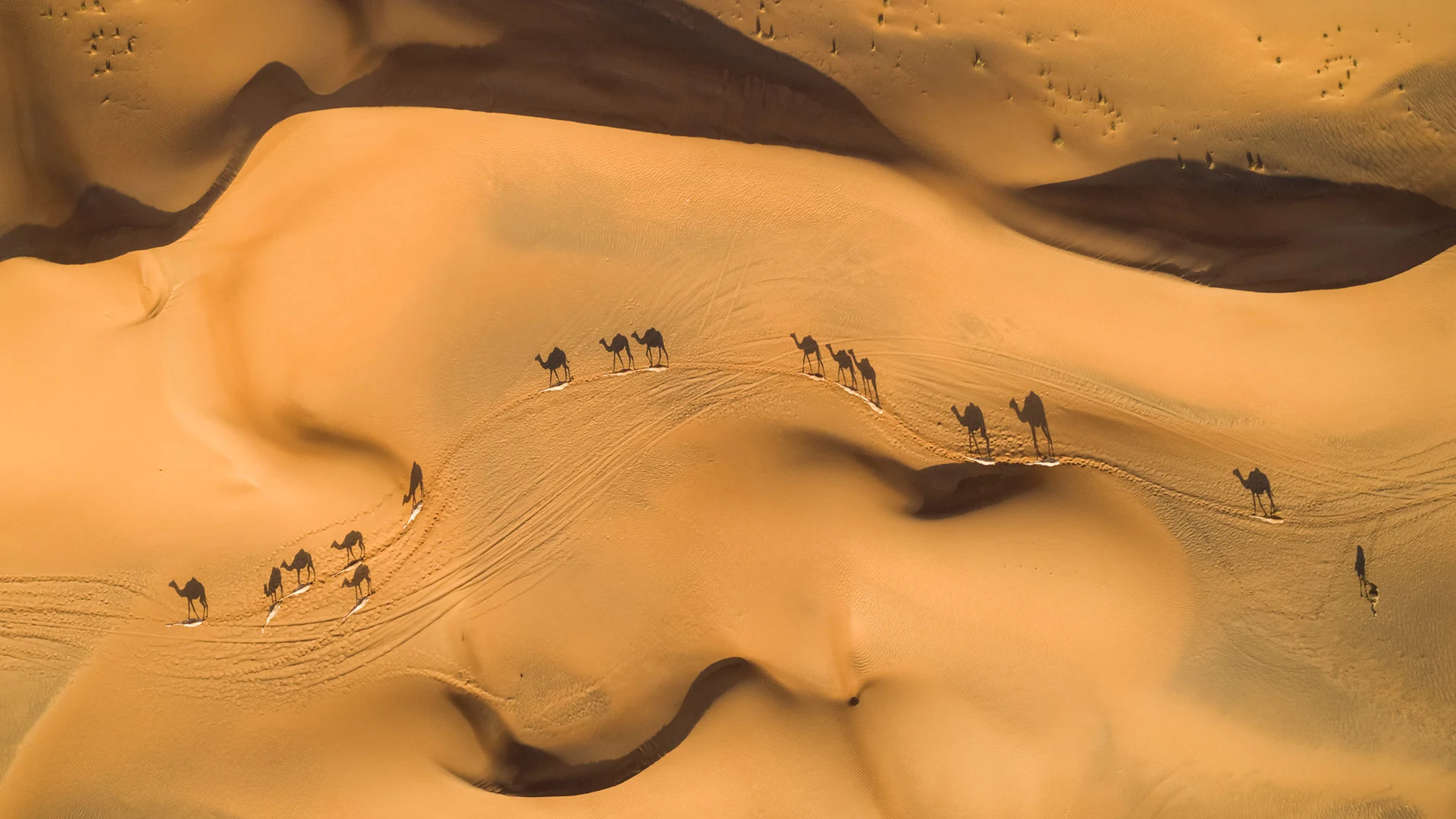 沙漠中的骆驼,阿拉伯联合酋长国 Camels in the desert, United Arab Emirates (© Amazing Aerial Premium/Shutterstock)
沙漠之舟 Ships of the desert, ahoy!
沙漠中的骆驼,阿拉伯联合酋长国
对于阿联酋人来说,沙漠中的骆驼长久以来都是至关紧要的,同时也代表着阿联酋人的文化遗产和习俗。骆驼是贝都因人运输水和物资的关键交通工具,对于穿越炙热的沙漠来说是必不可少的。这些单峰骆驼还曾经被作为货币使用,例如支付嫁妆或者天课(穆斯林每年的慈善课税)。它们还可以提供营养,骆驼奶在很多食谱中都是宝贵且营养的食材。最后,骆驼还可以供人驾骑、提供娱乐。由此可见,这些坚韧的动物实在是用途广泛。
Camels in the desert, United Arab Emirates
Desert-dwelling
camels have been central to lives in the United Arab Emirates for
thousands of years. A key mode of transportation for Bedouins, camels
long helped them traverse the sweltering sands in search of water and
supplies. These dromedaries were also used as currency to fulfill
obligations such as dowries or zakat, an annual charitable fee in Muslim
communities. Camel milk is a valuable and nutritious ingredient in many
recipes in the region, while camel racing keeps people entertained to
this day, illustrating the versatility of these hardy creatures.