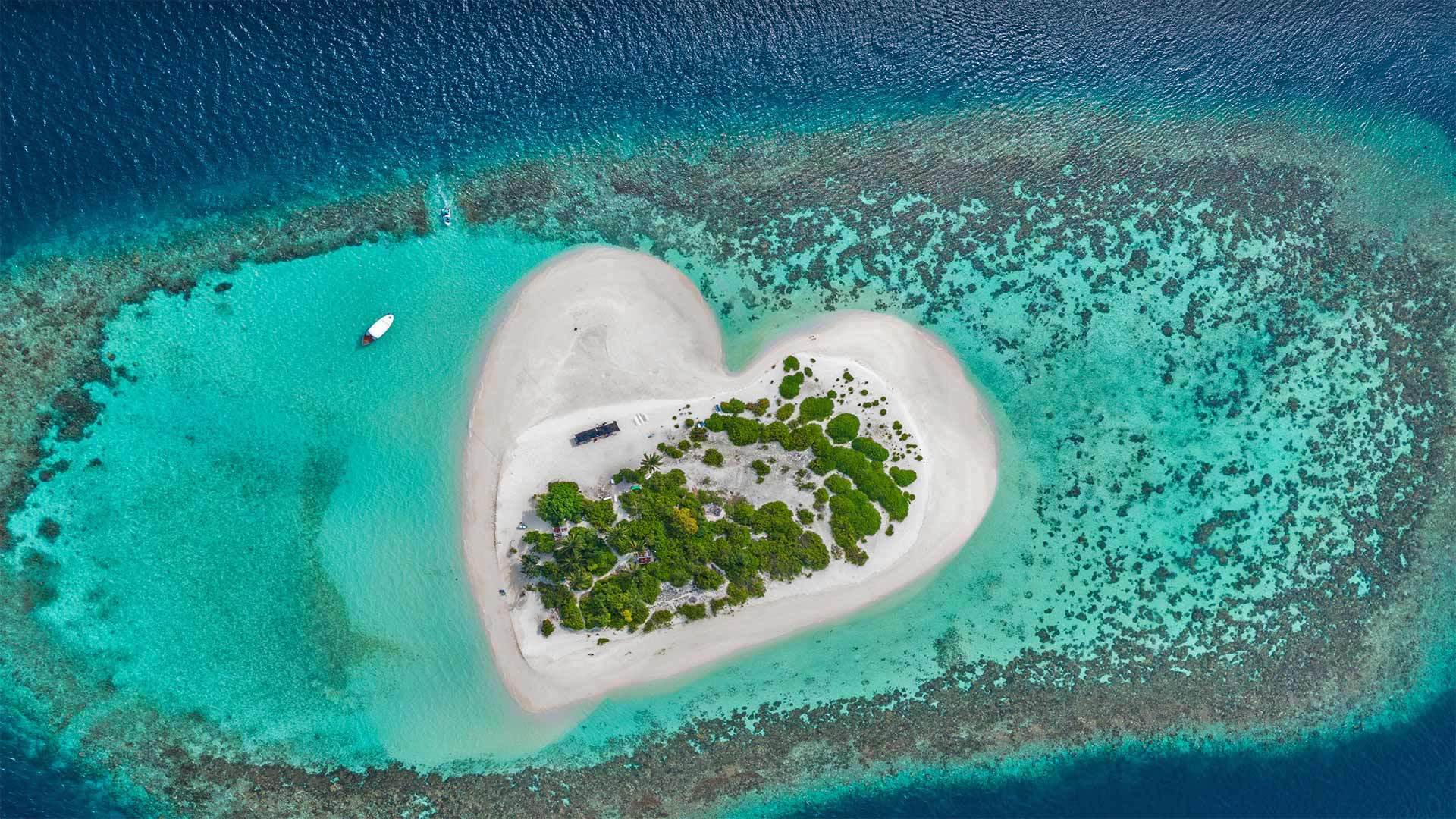 心形小岛和白沙滩,印度洋马尔代夫 Heart-shaped island with sandy beach, offshore coral reef, Indian Ocean, Maldives (© Willyam Bradberry/Shutterstock)
阿拉伯海的情人节 A Valentine in the Arabian Sea
Maldives
Heart-shaped islands are more common than you might guess and can be found at many latitudes and longitudes. This one in the archipelago nation of the Maldives is hard to top for its beauty. A flight over this tropical gem might make for the most memorable Valentine's Day ever.

The Republic of Maldives is the smallest nation in Asia, located 470 miles from the continent's mainland. The country is made up of 26 atolls, together containing more than 1,000 islands. It's one of the least populous and smallest Asian nations by land area, although it covers 35,000 square miles if you count its waters.

Highly sought after by honeymooners, the Maldives derives most of its income from tourism. However, its days as a tropical getaway might be numbered as it faces the threat of climate change. With an average elevation of just under five feet, the country is especially vulnerable to rising sea levels. If you need a reason to care about global warming, just keep this precious spot close to your heart.
马尔代夫
心形岛屿比你想象的更常见,在许多纬度和经度都可以找到。这个位于群岛国家马尔代夫的岛屿,因其美丽而难以超越。飞越这颗热带宝石可能会成为有史以来最难忘的情人节。
马尔代夫共和国是亚洲最小的国家,距离大陆470英里。该国由26个环礁组成,共有1000多个岛屿。按陆地面积计算,它是亚洲人口最少、面积最小的国家之一,尽管如果算上它的水域,它的面积为3.5万平方英里。
马尔代夫深受蜜月爱好者的追捧,其大部分收入来自旅游业。然而,由于面临气候变化的威胁,它作为热带避风港的日子可能屈指可数。该国平均海拔不到5英尺,尤其容易受到海平面上升的影响。如果你需要一个关心全球变暖的理由,那就把这个珍贵的地方放在你的心里吧。