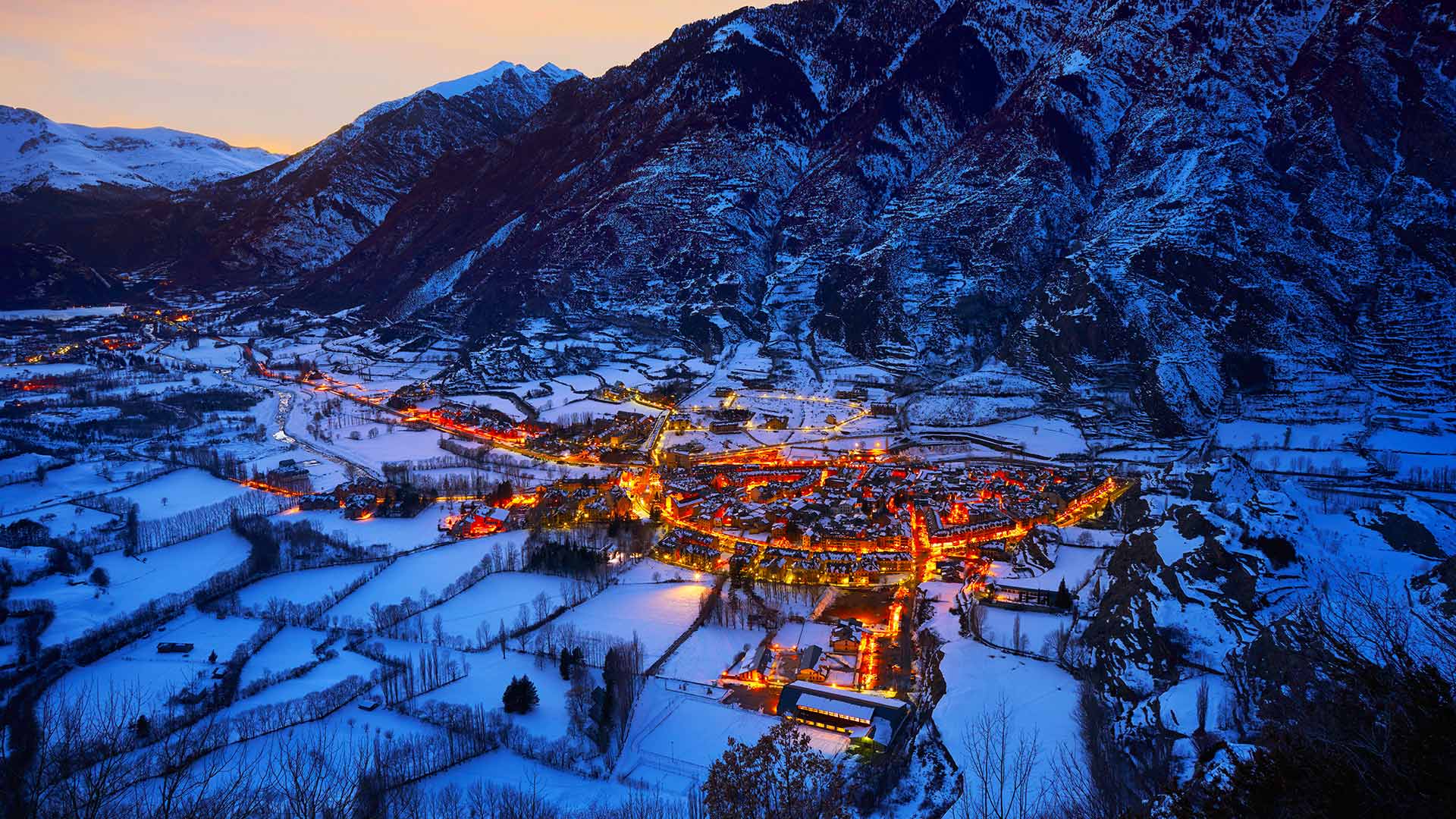 贝纳斯克,西班牙韦斯卡 The village of Benasque, Huesca, Spain (© Miscelleneoustock/Alamy)
A cozy winter village
When snow blankets the steep slopes of the Pyrenees—the mountain range that forms a natural border between Spain and France—the cozy Spanish village of Benasque offers a cheerful refuge on a winter's eve. Beautifully preserved Romanesque and Renaissance manors and churches line the narrow cobblestone streets, and it's easy to feel as though you've stepped back in time. Aside from these cultural charms, most visitors come to Benasque for outdoor adventure. Surrounded by the highest peaks of the Pyrenees, the Benasque Valley receives heavy snowfall and is a popular skiing destination. Summer attracts even more visitors to the area, when hiking, mountain biking, paragliding, and river rafting are big draws.
当积雪覆盖比利牛斯山脉的陡峭山坡时(该山脉是西班牙和法国之间的天然边界),舒适的西班牙村庄贝纳斯克(Benasque)在冬天的前夜提供了一个避风港。 保存完好的罗马式和文艺复兴时期的庄园和教堂排在狭窄的鹅卵石街道上,让您有种时光倒流的感觉。 除了这些文化魅力外,大多数游客都来贝纳斯克(Benasque)进行户外探险。 贝纳斯克山谷被比利牛斯山脉的最高峰所环绕,下大雪,是一个受欢迎的滑雪胜地。 夏天是徒步旅行,山地自行车,滑翔伞和漂流的热门之地,吸引了更多的游客前往该地区。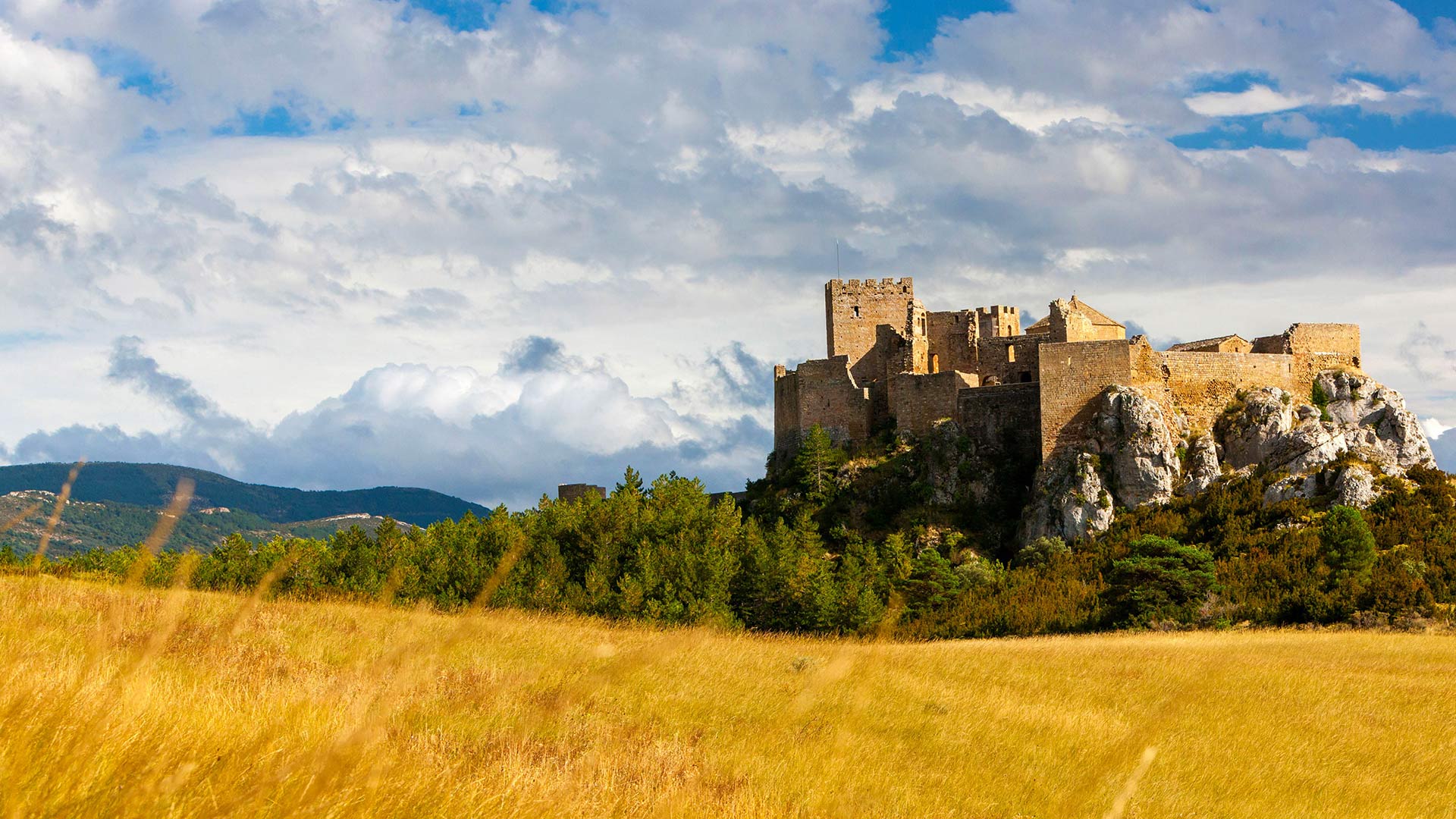 洛阿雷城堡,西班牙韦斯卡 Castle of Loarre, in Hoya de Huesca, Aragon, Spain (© Sebastian Wasek/Alamy)
Floating in time
The castle of Loarre we show you today is a Romanesque jewel that has remained suspended in time for almost a thousand years near the Spanish side of Pyrenees mountain range. It was built by king of Navarre Sancho 'the Great' in the 11th century and there's no other equal or better preserved fortress of that style in all of Europe.

Once finished, in 1070, it became an unbreakable bastion that played a crucial role in the "Reconquest" of the Aragonese territories occupied during the Arab invasion three centuries before, since it was in the battle frontline and mounted on a rocky hill that made it impregnable. From there Sancho's grandson troops took back the city of Huesca and managed to advance near Zaragoza. And once the battleground had moved further in the south, the castle became a monastery, was expanded two times and surrounded finally by an outer wall to protect the population settled at its feet.

Today, Loarre is a protected national monument that can also be visited. And actually 100,000 people do it every year. If you like epic cinema, you will surely recognize this place, as it has served as stage in several films, like for instance 2005's "Kingdom of Heaven" directed by Ridley Scott.