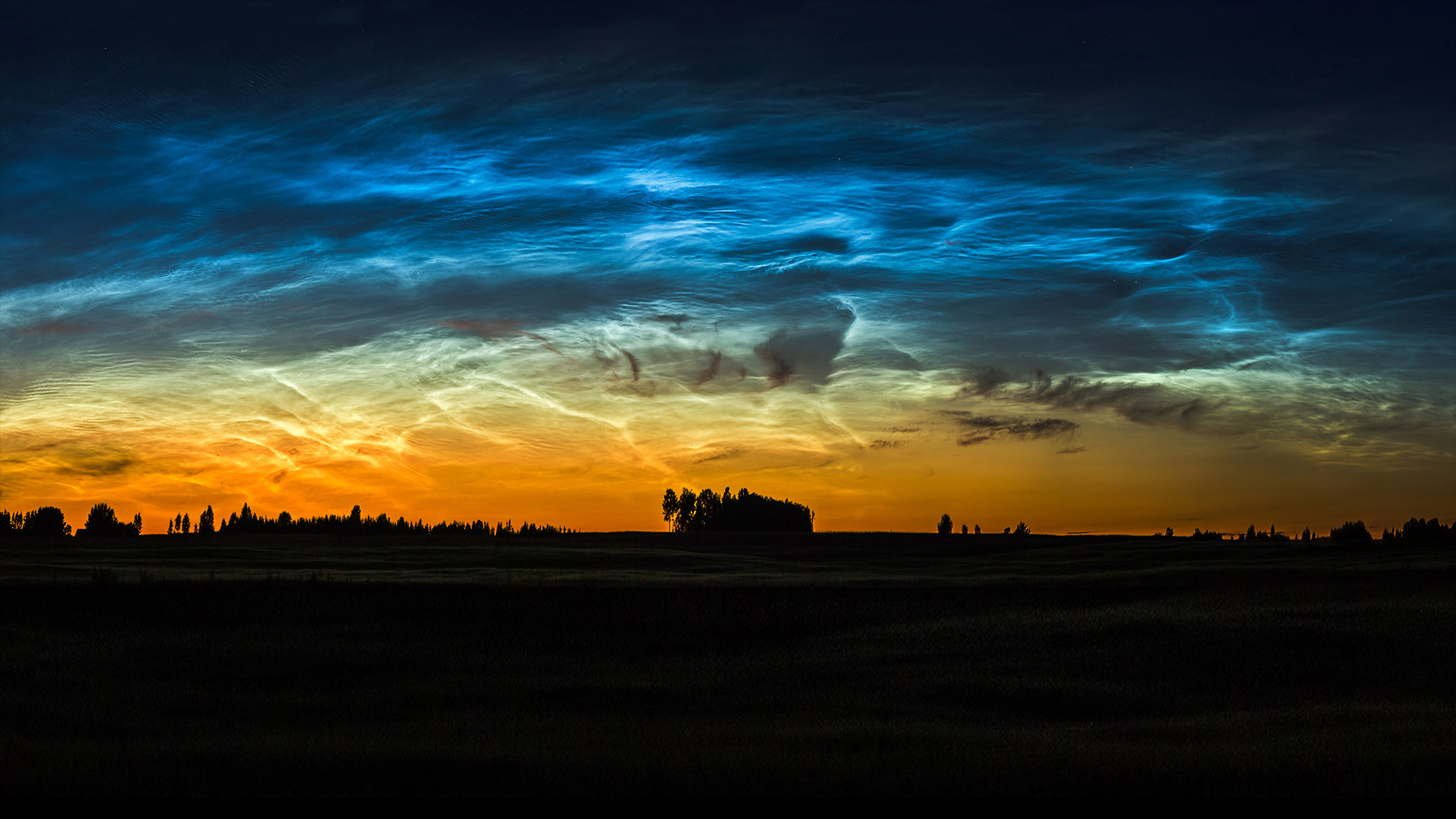 立陶宛的夜光云 Noctilucent clouds in Lithuania (© ljphoto7/Getty Images)
"夜光"云 'Night shining' clouds
Noctilucent clouds
It's around this time of year when some lucky people get to witness these rare, wonderous clouds. Known as noctilucent, or 'night shining,' clouds, they're the highest clouds in our sky and are only visible during summer. They're made up of icy dust glowing at the edge of space, roughly 50 miles above the planet's surface. The trick to seeing them is to gaze up into the sky at twilight, when the sun has already set on the Earth's surface, but the high-altitude noctilucent cloud is still in sunlight. These clouds occur almost exclusively at high latitudes, roughly between about 50° and 70° North or South.
Generally colorless or light blue, noctilucent clouds are distinct in their patterns of streaks, waves, and whirls. It's not fully known why they happen, though some recent studies suggest methane levels could contribute to atmospheric water vapor that rises high into the mesosphere where they form. What is known is that they were first observed in 1885, making them the newest cloud type.
夜光云
大约在每年的这个时候,一些幸运的人看到了这些罕见的、奇妙的云。夜光云是我们天空中最高的云,只有在夏天才能看到。它们是由在太空边缘发光的冰尘组成的,距离地球表面大约50英里。看到它们的诀窍是在黄昏时抬头仰望天空,这时太阳已经落在地球表面,但高海拔的夜光云仍在阳光下。这些云几乎只出现在高纬度地区,大约在南北50°到70°之间。
通常无色或淡蓝色,夜光云的条纹、波浪和漩涡图案不同。虽然最近的一些研究表明,甲烷含量可能会导致大气中的水蒸气上升到它们形成的中间层,但目前还不完全清楚它们为什么会发生。已知的是,1885年首次观察到甲烷含量,使其成为最新的云类型。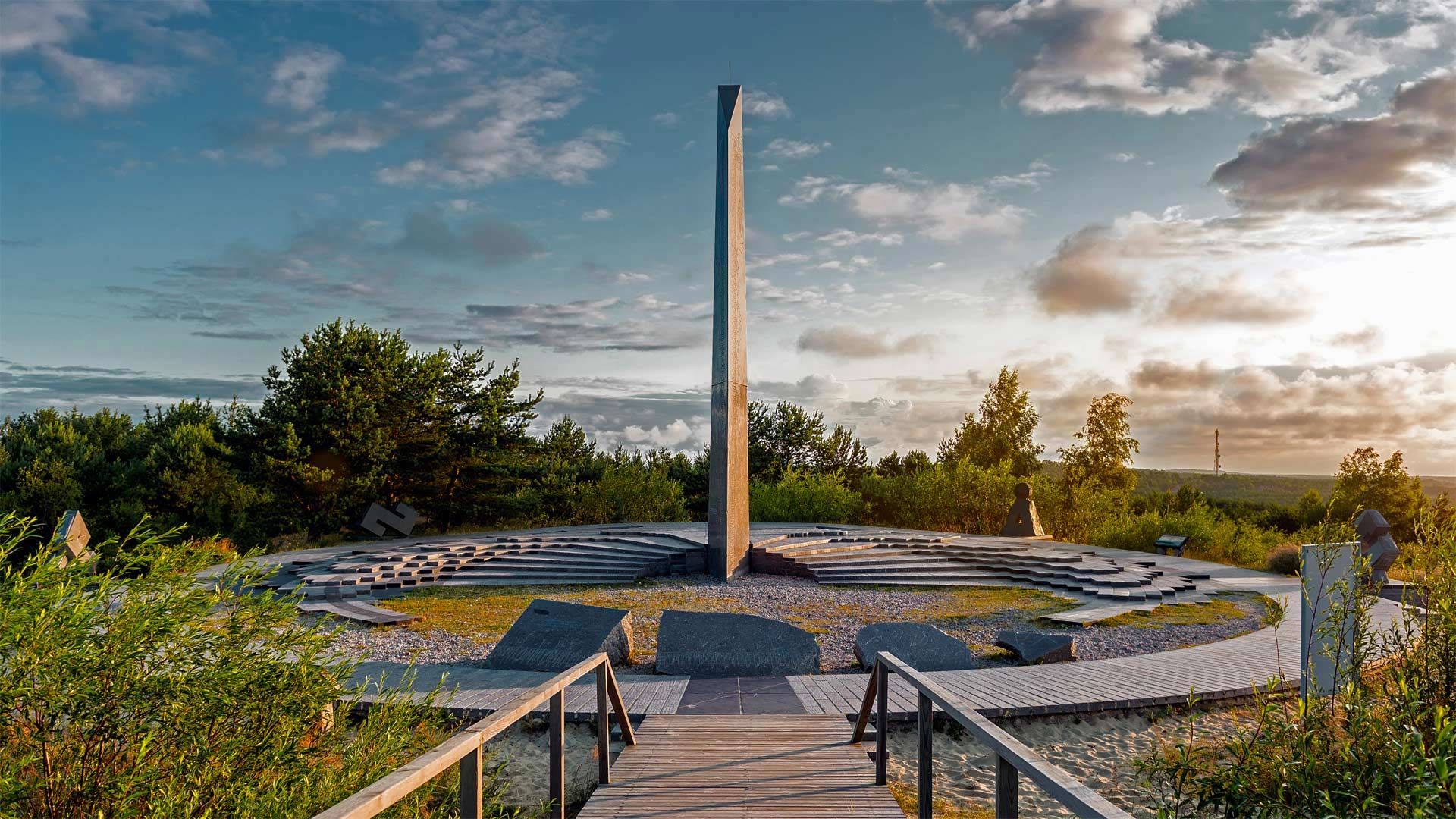 帕尼迪斯沙丘上的日晷,立陶宛库尔斯沙嘴 Sundial on Parnidis Dune, Curonian Spit, in Lithuania (© amoklv/Getty Images)
It's time for spring
This 40-foot sundial stands atop the Parnidis Dune, one of the scenic highlights of Curonian Spit, a UNESCO World Heritage Site shared by Lithuania and Russia. Built in 1995, the sundial was damaged by a hurricane a few years later and rebuilt in 2011. It accurately tells time by creating shadows on the steps, with notches for hours and half hours, as well as months, equinoxes, and solstices.

March 20 marks the spring (or vernal) equinox in the Northern Hemisphere, meaning that for the next six months daylight hours will outlast nighttime darkness. When it's winter in the Northern Hemisphere, those of us above the equator are tilted away from the sun, giving us shorter days and longer nights. In summer, we're tilted toward the sun, but the equinox is right in between. It's the moment during Earth's annual revolution around the sun when its axis is neither tilting away nor tilting toward the sun, giving everyone on the planet an equal split of day and night. This phenomenon happens twice a year—in March and again in September. In the Southern Hemisphere, everything's flipped. There, it's the autumnal equinox today—and, yes, winter is coming.
春天到了
这座40英尺高的日晷矗立在帕尼迪斯沙丘上,这座沙丘是立陶宛和俄罗斯共同拥有的联合国教科文组织世界遗产库伦吐谷(Curonian Spit)的一大亮点。日晷建于1995年,几年后被飓风破坏,2011年重建。它通过在台阶上创建阴影来准确地显示时间,刻痕为小时和半小时,以及月份、分点和至点。

3月20日是北半球的春分(或春分),这意味着在接下来的六个月里,白天的时间将比夜间的黑暗时间还要长。当北半球是冬天的时候,我们这些在赤道以上的人会远离太阳,使我们白天变短,夜晚变长。在夏天,我们向太阳倾斜,但春分正好在两者之间。这是地球每年绕太阳公转的一个时刻,它的轴既不向太阳倾斜,也不向太阳倾斜,使地球上的每个人都有一个平等的日夜之分。这种现象每年3月发生两次,9月又发生一次。在南半球,一切都在翻转。在那里,今天是秋分,是的,冬天来了。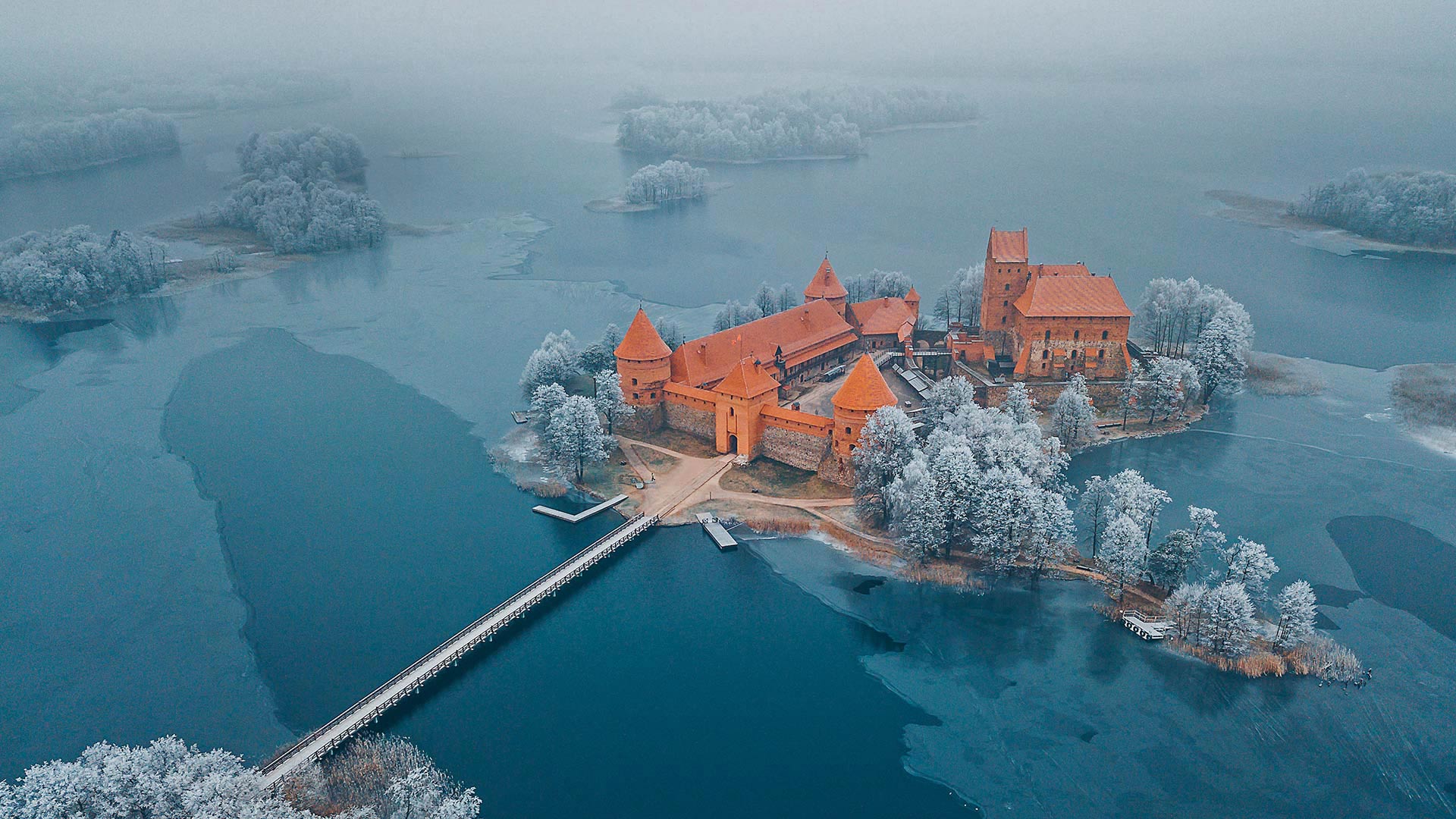 特拉凯城堡博物馆,立陶宛特拉凯 Trakai Island Castle Museum in Trakai, Lithuania (© Andrius Aleksandravicius/Alamy)
'Have fun storming the castle'
Our headline quote comes from 'The Princess Bride' film, of course, but our homepage castle is found in Lithuania, the largest of the three Baltic states. Construction on this fortress began in the 14th century by the Grand Duke of Lithuania and was completed years later by his son. It served as a strategic and bustling center of the Grand Duchy of Lithuania, a former European state. Like much architecture from so long ago, the castle was damaged and fell into disrepair, only to be reconstructed and reopened as a museum. These days it's known as one of the most charming medieval castles in Europe.